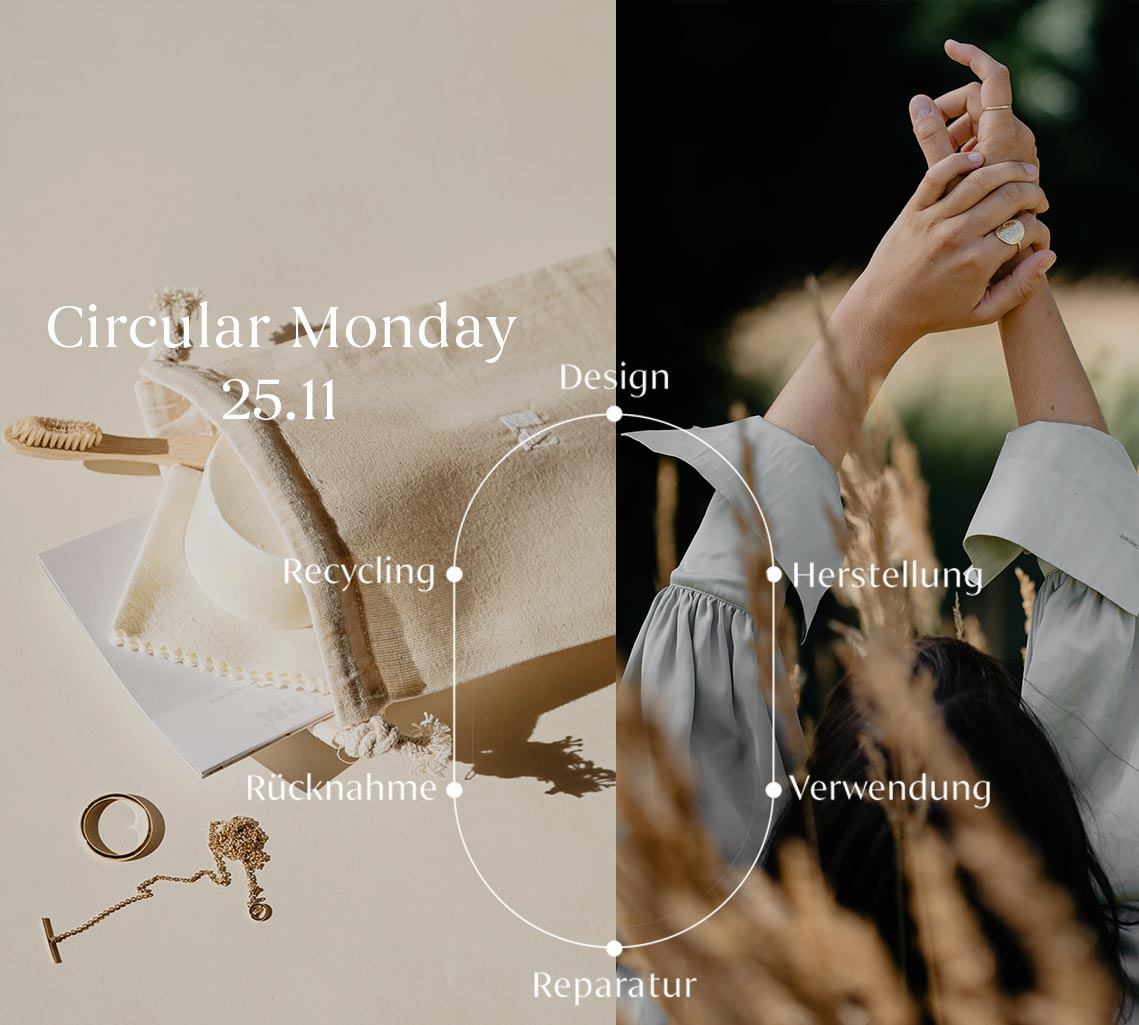 We celebrate Circular & White Monday!
Circular or White Monday is the sustainable answer to the hectic Black Friday. It encourages you to rethink your own consumption and ask yourself whether everything you own is really needed and why you buy new instead of reusing old.

Today on November 20th, 2023, to celebrate Circular and White Mondays, we are giving you a free jewelry care set when you purchase one of our pieces of jewelry. This way you can protect the beauty of your valuable pieces in the long term and preserve them for eternity. Together we are setting an example for a sustainable future!
We are part of the Circular Monday community, all working towards the common goal: to spread the common circular basic values ​​of"Reuse, Repair & Rent" - i.e. reuse, repair and rent. Because the primary goal of Circular Monday is to establish a circular economy in which our products can be used for as long as possible - and if not, given a new life in other ways.
Maren Jewelery focuses on conscious consumption and sustainability. Our jewelry is designed with circular economy in mind. We use sustainable, recycled materials that can be easily repaired, reused and recycled. We offer repairs, redesign services and polishing to preserve jewelry. With pure, recycled gold and silver, we promote the tradition of value preservation in the jewelry industry. This is how we support the circular economy and Circular Monday
Our jewelry services like ReDesign, ReFresh and ReSize play a central role in our mission to keep jewelry in circulation longer and prevent waste. Through these services we can adapt your jewelry to changing needs, redesign and refresh old jewelry, thereby extending the life of the jewelry. This supports our efforts to promote a sustainable circular economy
On Circular Monday, November 20, 2023, we are offering our sustainable jewelry care set for free when you purchase a piece of jewelry from us today. We would like to do our part to ensure that jewelry can be worn for as long as possible. This set, consisting of a natural cotton bag, solid dish soap, bamboo brush, microfiber cloth and step-by-step care instructions on recycled paper, is the ideal solution for maintaining the beauty of your jewelry.
Frequently asked questions about Circular Monday
ANSWER:
Circular Monday is the day for circular consumption, always on the Monday before Black Friday, this year on November 20, 2023. Supporters share pictures with #CircularMonday and give discounts on circular goods. An initiative that promotes sustainable consumption and supports the circular economy.
ANSWER:
Circular Monday is a great opportunity to actively contribute to the circular economy. Today you can: > Consume consciously: Buy sustainable products and services. > Treasure and care for your possessions to extend their lifespan. > Swap, donate or recycle unused items. > Find out about circular economy and share your knowledge. > Support companies that are committed to sustainability.
What can I do on Circular Monday?