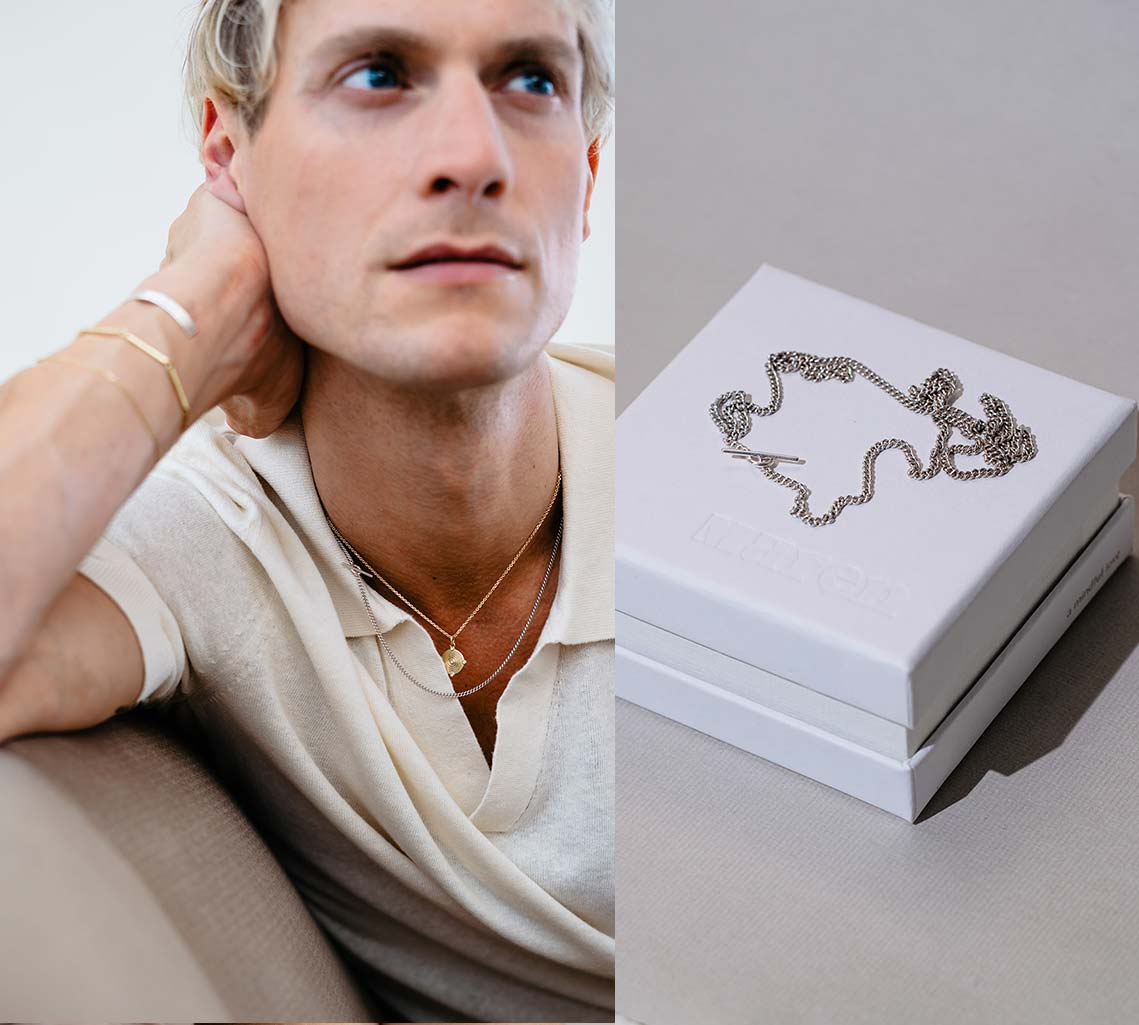 Jewellery for Men - Lasting Gifts for Him
Gifts for him - the search for a suitable gift can present the giver with a smaller or larger challenge. How about showing the gentlemen in your life how much they mean to you with an individual and lasting gesture? Simply by choosing jewelry from our unique selection of gifts for him made from recycled gold or silver .
Our biggest source of inspiration when it comes to designing new jewelry collections is nature. And the world of jewelry is just as multifaceted as she is. Accordingly, without question, she also has beautiful and personal gifts ready for him. It doesn't matter whether you want your present to be a masculine highlight or a filigree and reserved addition to the rest of the style, in our high-quality selection you can choose the perfect piece of jewelery from sustainable and handmade chains, pendants, ear studs, bracelets and rings. And to top off your gift-giving gesture, you'll receive your gifts for him in one of our beautifully designed and also sustainable packaging. Ready to give the recipient a special treat and to emphasize their personality every day from now on.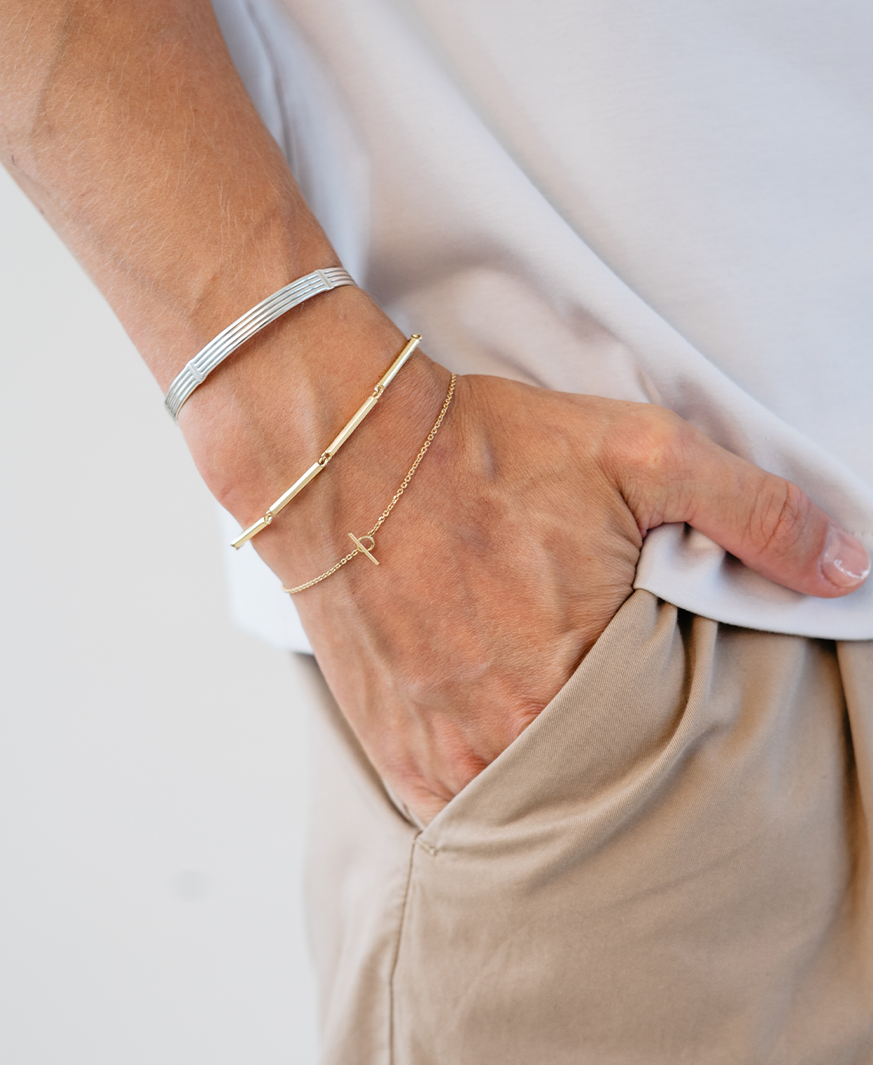 For good reason, we do not try to build up stocks of our jewellery. This would mean tying up and consuming unnecessary resources, something we always try to avoid as a sustainable company. Instead, we only manufacture to order. Nevertheless, there are a small number of pieces that we have needed for photo shoots or press releases, for example, and that are now waiting to enrich the life of someone special. Among this selection are beautiful necklaces, bracelets, ear studs and rings that are perfect as individual gifts for him and can find their way to you at short notice.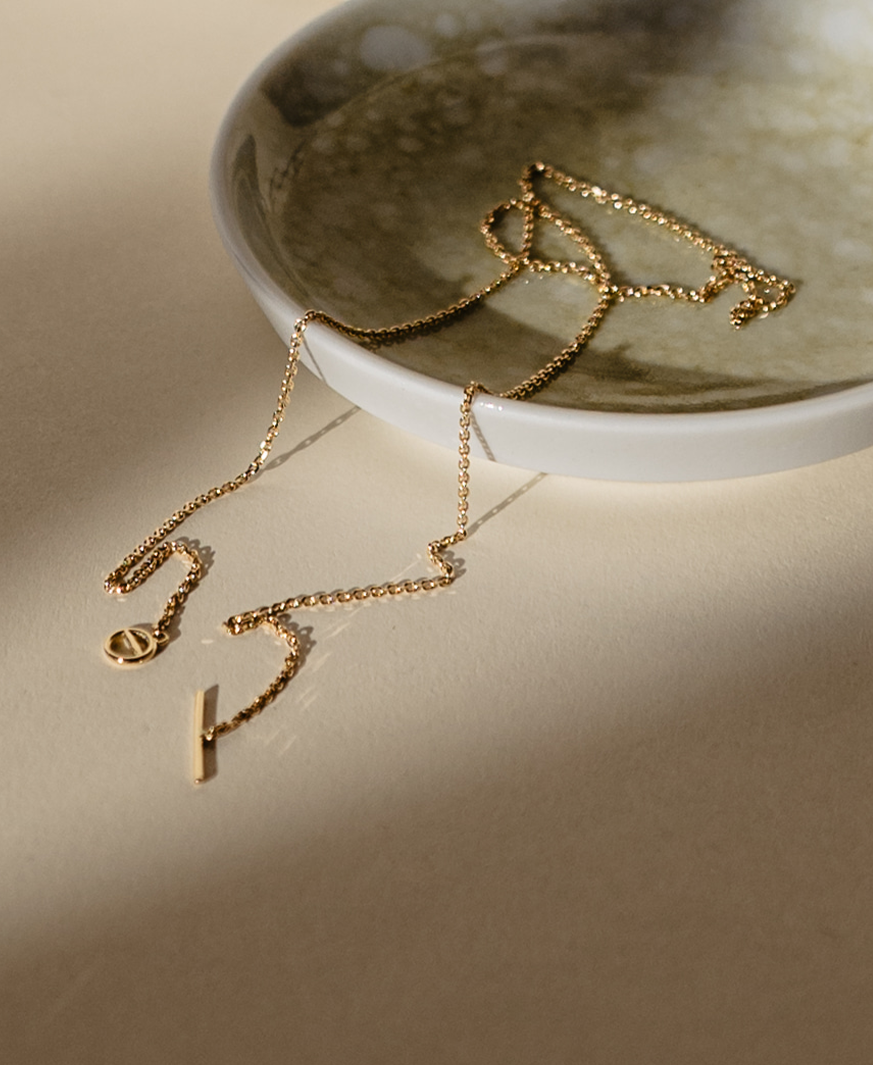 Give him a limited-edition jewelery bowl by Anna Badur with the jewelery gift. Inspired by the raw beauty of the sea, it was created in cooperation with the talented designer and is called"Speech. The simple porcelain bowl sets the scene for your gifts for him in the form of jewelery and is a perfect complement to our pieces of jewellery. No matter whether it is for a birthday, a very personal occasion or perhaps for Christmas.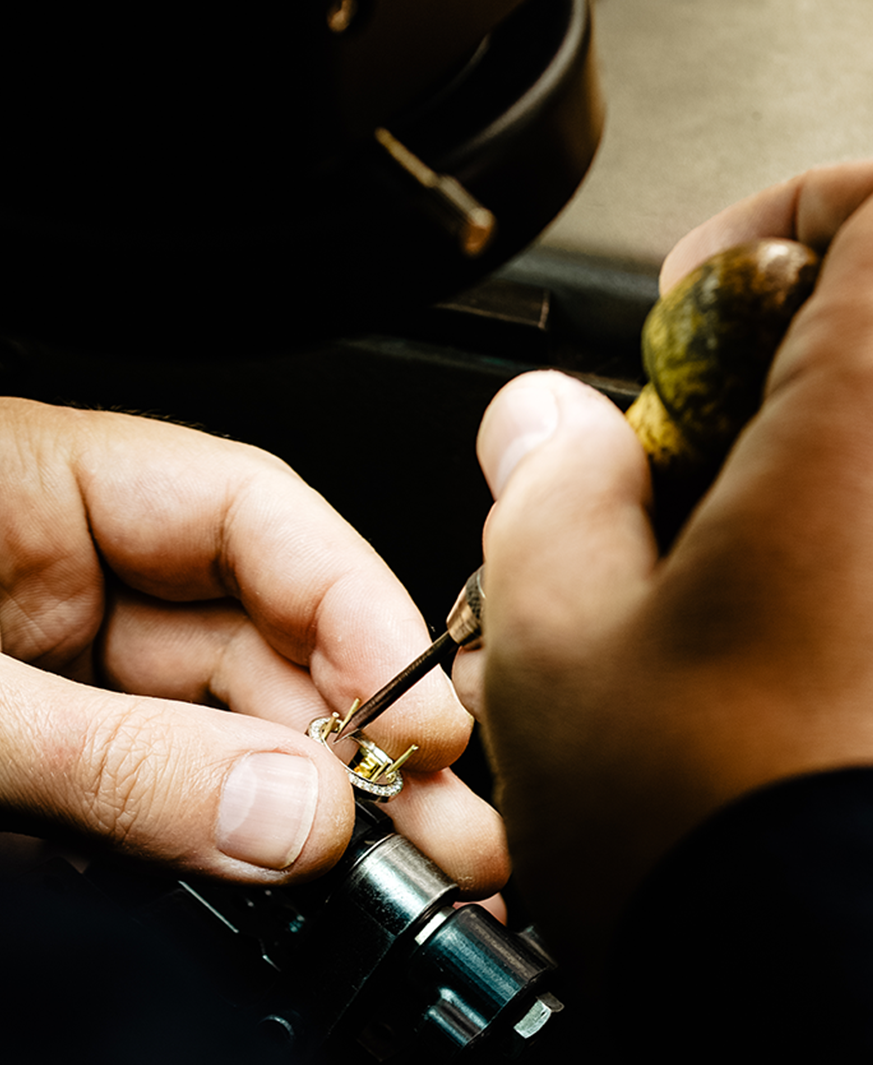 To make your individual gifts for him even more personal, we have recently started offering our Make it yours - engraving service. With a very personal message in the form of words, initials or numbers, every piece of jewellery becomes a very special and unique piece for eternity. Contact us without obligation and we will discuss together which form of engraving is suitable for which piece of jewellery and what exactly you have in mind. A personalised gift for a very special person in your life.
Frequently asked questions about gifts for men
What makes sustainable gifts for men?
When it comes to sustainable gifts for him, it comes down to - just as with sustainable Gifts for women the most important factors are the materials used and the conditions under which they are produced. For jewellery, this means that only fair trade or recycled precious metals, such as gold and Silver are used. The most sustainable form of used diamonds are diamonds grown in the laboratory. At Maren Jewellery we only use such mentioned gold and silver as well as synthetic diamonds. In terms of quality and appearance, these diamonds are in no way inferior to their natural counterparts. In our journal on the subject you can read more about the Diamond quality.

All other materials and tools used should also be as sustainable as possible, i.e., for example, not of animal origin, free of plastic and, if possible, recycled as well as recyclable. Sustainable production also takes place locally and exclusively under fair working conditions. These include wages, working hours, equal rights and occupational health and safety.

These are probably the most important factors that make up a sustainable company and thus products that can be considered as sustainable gifts for men. However, there are many other small adjustments that can be made for a more sustainable future. In our journal on the topic Sustainable jewellery label you can find out how we also try to put our sustainability efforts into practice every day.
What jewellery is suitable as gifts for him?
Which jewellery is suitable as gifts for men is an extremely individual question to be answered. In short: any form of jewellery. Because every man and every man may wear what he likes and what he feels comfortable with. Of course, this also applies to jewellery. It ultimately depends on the taste and style of the person receiving the gift.

In general, it can be said that larger jewellery is often preferred by men and more androgynous men like to reach for more filigree pieces of jewellery. Nevertheless, there are also completely opposite preferences. Rings can be spread over both hands and, just as with women, it is of course also permitted to wear several rings on one finger. This jewellery trend is called ring stacking. In our journal on the topic Ring Stacking you will find more inspiration and information. The same applies to combining chains, which is called chain layering. Also on the topic of chain layering we have written an informative and inspiring journal.
Where do the materials for Maren Jewellery's packaging come from?
We are happy to be able to offer sustainable packaging for our sustainable jewellery since the foundation of our label. To achieve this, we have teamed up with consciously selected partners who care about sustainability as much as we do. If you decide to buy our jewellery as gifts for him, you can choose from two different types of packaging.

We offer a linen packaging version, our Linen Case, and a paper packaging version, our Paper Case. And because it's so important to us that our products reach you in the most environmentally friendly way possible, our sustainable approach also applies to the paper liner, our filler and shipping labels, and even the ink on our wrapping paper. If you're interested in more details about our packaging and the companies we partner with for our shipping materials, you can read our journal on the Topic Packaging .