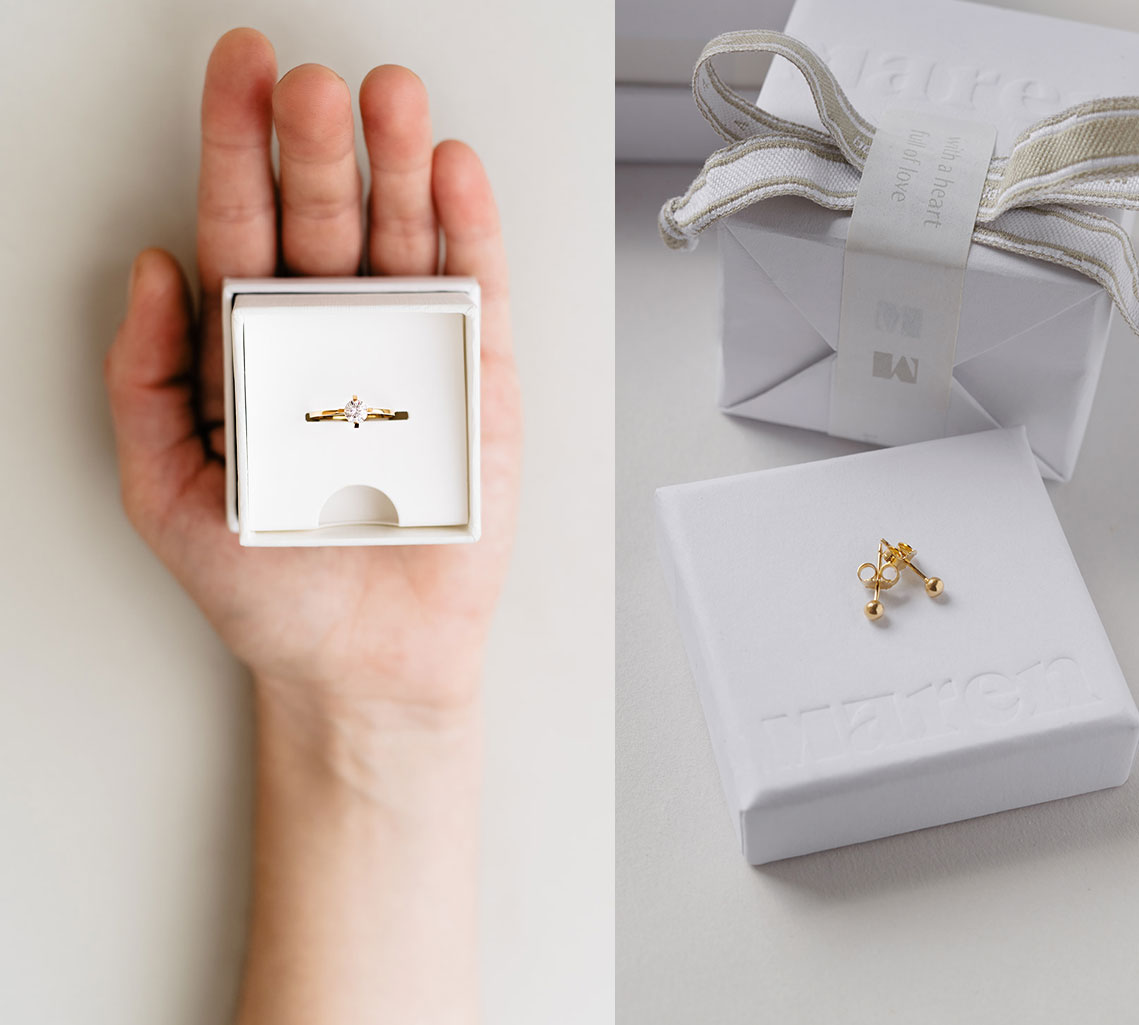 Sustainable gifts for your loved ones
If you want to give your loved ones a special treat, sustainable gifts are the perfect choice. For many different reasons, jewelry is excellent for expressing your love, affection and gratitude in a very special way.
Jewelery is for eternity and therefore a timeless gift that will be preserved far into the future - usually for a lifetime. With its individual and often sentimental meaning, it is often given away or inherited. This sustainable gift idea even lasts a lifetime and the memorable stories that each piece of jewelry tells will be passed on to future generations. Hardly any other sustainable gift is as valuable and durable as jewellery, so let yourself be inspired by our lovingly selected pieces of jewelery made of recycled gold and silver, handmade in Germany for you and your loved ones. Sustainable gifts. Lasting Memories.
Are you looking for a high-quality Christmas present for a special woman in your life? Be it for your wife, your fiancee, a friend, your sister, mother, mother-in-law or aunt, with a fair and environmentally friendly gift you will undoubtedly conjure up a long-lasting smile on the face of the recipient. Because you are giving her a gift that she benefits from every day. At the same time, you save a large part of the emissions compared to giving away conventional jewelry and are not responsible for any further negative consequences for our nature. With a sustainable jewelry gift that is manufactured in harmony with our environment, you are spot on.
Browse through our lovingly compiled selection of jewelry for men and discover the right and at the same time sustainable gift for a special man in your life. Depending on the interpretation, our sustainable gift ideas can underline masculinity as well as exude a certain lightness and decorate every look with their timeless design - without being obtrusive. An understated statement made of recycled gold or silver that He uses every day and is good for both Him and our earth.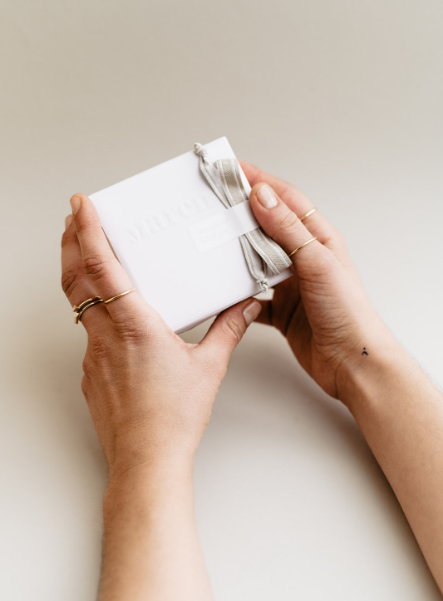 For many people, the gesture of giving to celebrate love symbolizes an important and emotional tradition that they do not want to do without. If you want something special and at the same time responsible for Christmas this year, you are undoubtedly in the right place with our sustainable gift ideas in the form of timeless pieces of jewellery. Because our jewelry as a gift is not only sustainable, but also personal and value-preserving! For us, ethics and aesthetics are inextricably linked, which is why you are guaranteed to be able to present our stylish, handcrafted pieces of jewelery with a clear conscience as sustainable gifts to your loved ones.
Frequently asked questions about sustainable gifts
ANSWER:
Gifts are sustainable when they are made from sustainable materials and produced responsibly. Jewelery as a sustainable gift idea should therefore always be made from fair trade or recycled precious metals . The gemstones, in turn, must be fairly traded, certified and traceable. In the best case, they are grown directly in the laboratory . All other materials, such as packaging, should also contain as little plastic as possible and no animal components. Production should be local, for fair payment and in strict compliance with occupational safety measures.

Furthermore, the jewelry should be durable. A certain quality standard must therefore apply and the sustainable gift must outlast trends. While short-term fads may seem like a nice gift at first glance, they will most likely soon end up in a drawer or even be thrown away. Timeless and minimalist design - like that of our jewelery - can be easily combined in the long term and can therefore be worn for a long time. A clear and at the same time unexcited design language also leads to a reduction in resource consumption.

And last but not least:Giving sustainable gifts also means giving only what is actually used and valued. Unfortunately, giving someone who doesn"t wear any jewelry a valuable necklace with a pendant – possibly with a personal engraving – makes little sense and should be reconsidered.
ANSWER:
Sustainable gifts can look very different. If you would like to give one of our pieces of jewelry as a gift but can't decide which one is the right one, our gift finder quiz might be able to help you. In addition to the possibility of giving away a beautiful, sustainable piece of jewelry, e.g. for Valentine's Day , you could also give a very individual gift of time together, for example. Vouchers or something homemade could also be a nice way to respond to the very personal hobbies and preferences of the person you want to give presents to. You can find more helpful tips in our journal on the subject of sustainable gifts .
ANSWER:
Even when we were founded, we considered what sustainable packaging for our jewelery could look like. One thing was clear:we need a different approach than just packaging that is then disposed of. So we looked for partners who share this vision with us. When you buy one of our pieces of jewelry, you can choose from two different types of packaging. There is a linen version and a paper version. The linen for our linen case and the cardboard for our paper case come from sustainable partners. In addition, this applies to our paper insert, filler, shipping labels and even the ink on our gift wrap, something we are very proud of. Your sustainable gifts will therefore arrive in the most environmentally friendly way possible and can be given away directly in their packaging.
ANSWER:
As soon as we receive an order, we start production and ship within 1-3 weeks. As a sustainable and responsible company, we do not have any stock items, but only produce your sustainable gift by hand for you 'Made to Order' once you have placed your order. In this way, we conserve valuable resources and you can be sure that you will receive a valuable, unique item. The subsequent shipping time is usually 1-3 working days.
ANSWER:
All of our jewelry is shipped exclusively insured, so you don't have to worry about the shipping route. If, despite our detailed descriptions, you are not satisfied after receipt, you are welcome to make use of your 2-week right of return and send the jewelery back to us - also insured.
When are gifts sustainable?
How can I give a sustainable gift?
What kind of packaging will my sustainable gift from Maren Jewellery come in?
When can I expect to receive my sustainable gift?
Is it safe to order precious jewellery online?