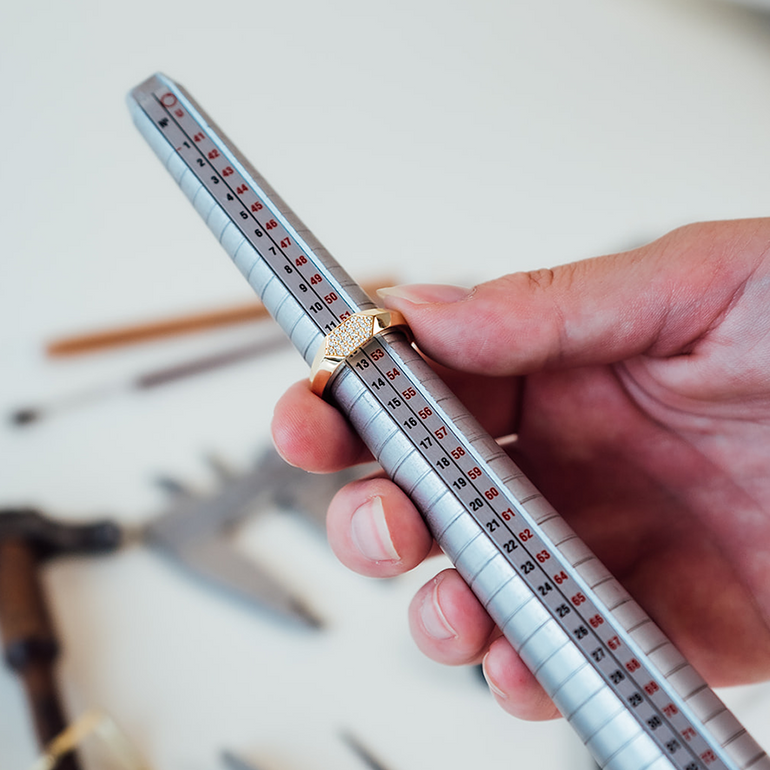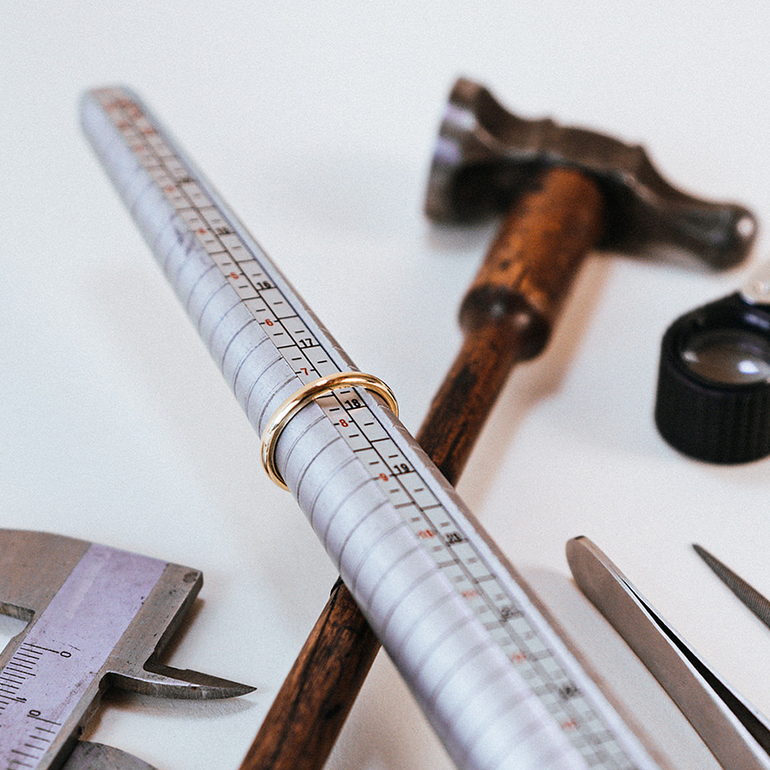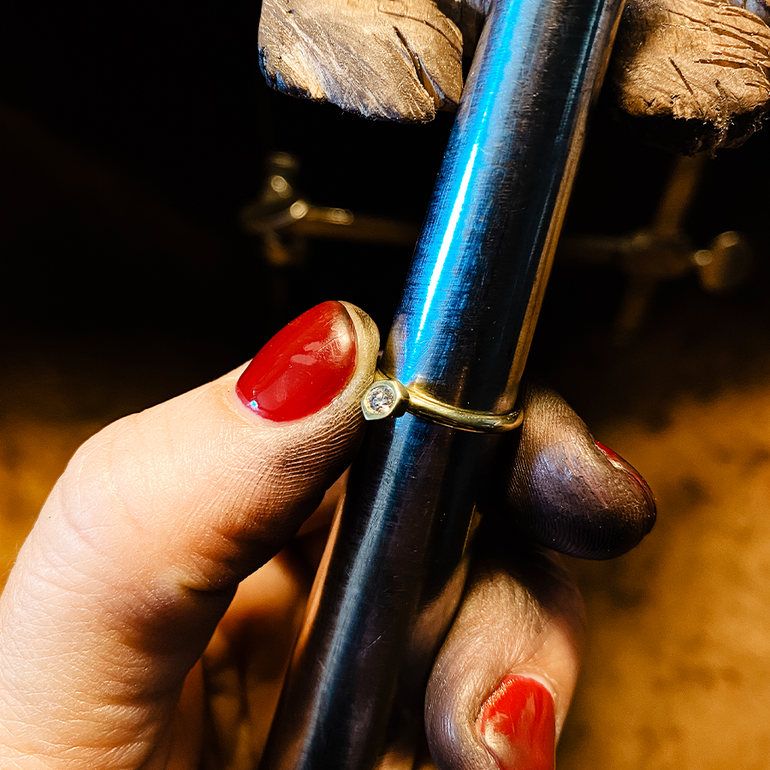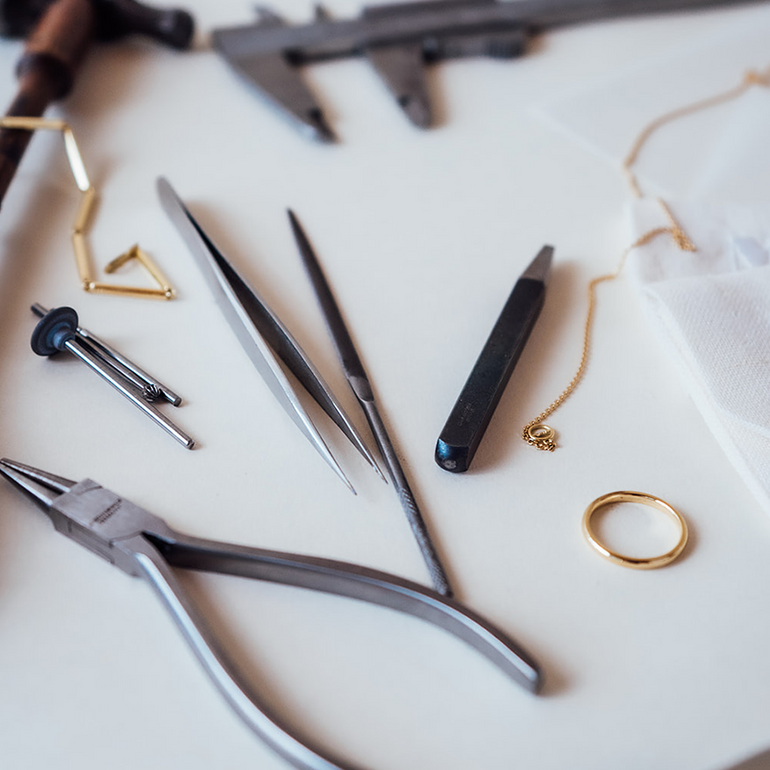 ReSize - Change ring size

Professional handmade in DE

Packaging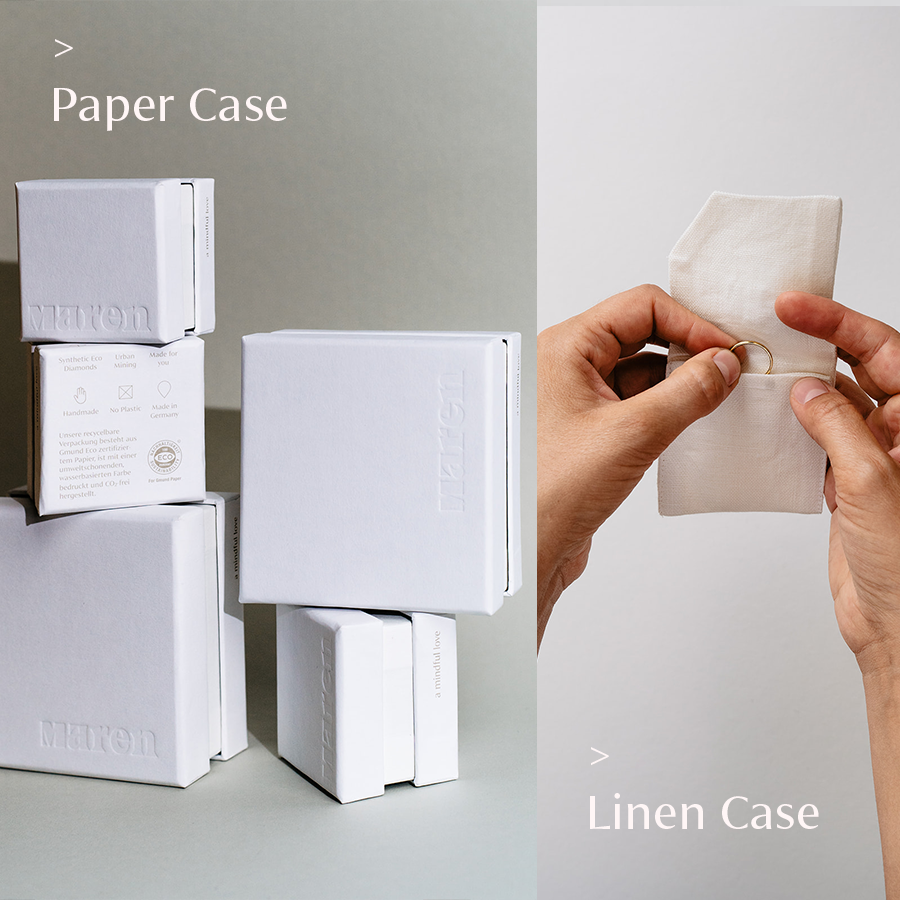 ---
Different circumstances can cause one of your beloved rings to no longer feel like it fits. Or perhaps you've received a personal heirloom or gift in the form of a ring that unfortunately doesn't fit ideally. Whether the ring slips or is too tight, both affect the comfort of wearing it. By using our resize service, you can easily have the ring size of your ring reduced or enlarged and enjoy wearing it again.
Procedure of our Resize Service:
> You want to have your ring size changed and order our resize service through our website.
> You will then receive an email asking you to tell us your desired new ring size. The email will also include an insured shipping label.
> Your ring arrives at our studio and we perform the professional ring sizing.
> Your ring will make its way back to you - also insured, of course.
Suitable jewelry:
Unfortunately, you can not easily change the ring size for all ring models. It depends on the model, how many sizes are possible. We can evaluate this based on your description or a photo. Our resize service is also only suitable for real jewelry made of gold or silver. Gold-plated rings, costume jewelry, rings with pearls, rings with diamonds all around and rings made of platinum can unfortunately not be processed.
Secure jewelry shipping:
Round-trip shipping is included in the price.
ReSize - Change ring size
we mind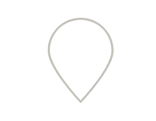 Made in Germany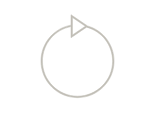 urban mining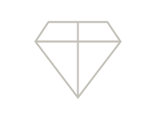 Eco Synthetic Diamonds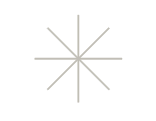 Made for you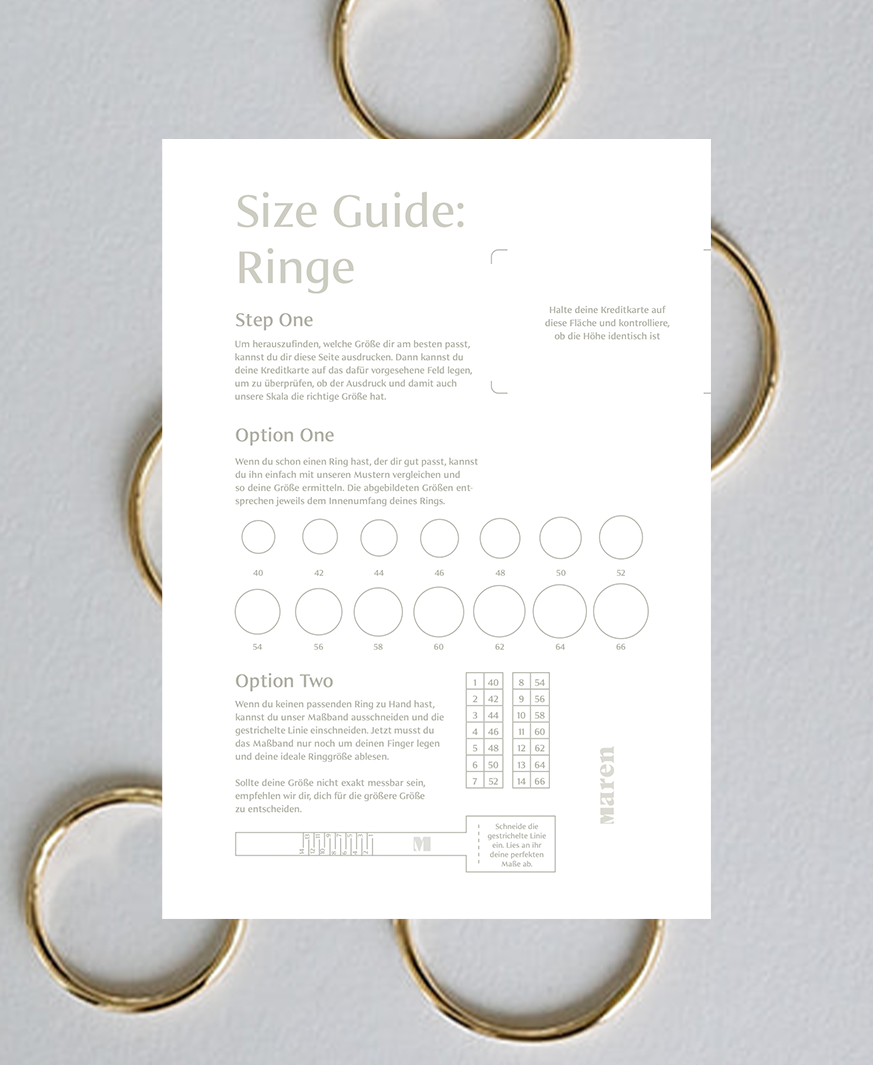 If you let us adjust your ring size, it should be perfect afterwards. To determine your individual ring size, we have developed our Size Guide. You can easily download and print it out. Either you take one of your existing rings as a yardstick and simply read off your ring size, or you use the measuring tape of our Size Guide, put it around the desired finger and determine your ideal ring size this way.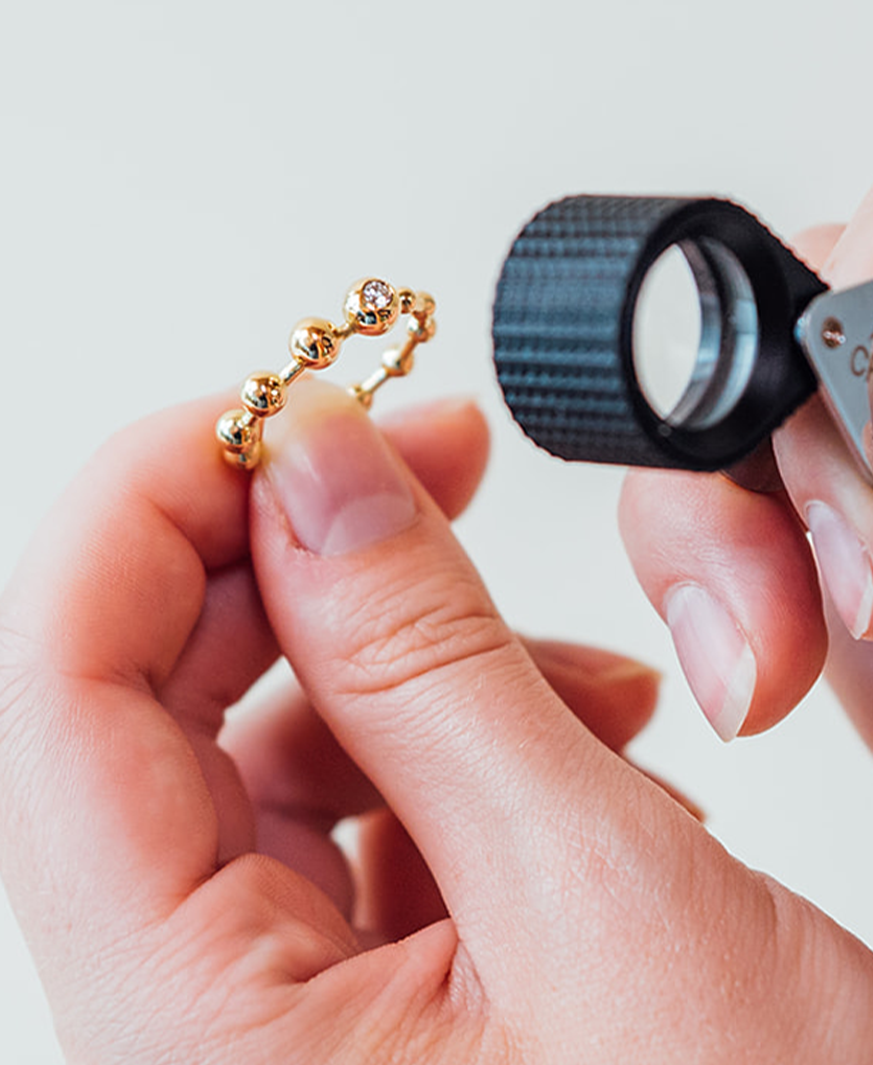 Because we love jewelry, we know that every piece of jewelry tells a very personal story. The requirements you have for your individual piece of jewelry are as varied as these stories. That's why you can not only have your ring resized with us, but also choose the service that suits you best from our other jewelry services. Discover our services and trust in our expertise and professionalism.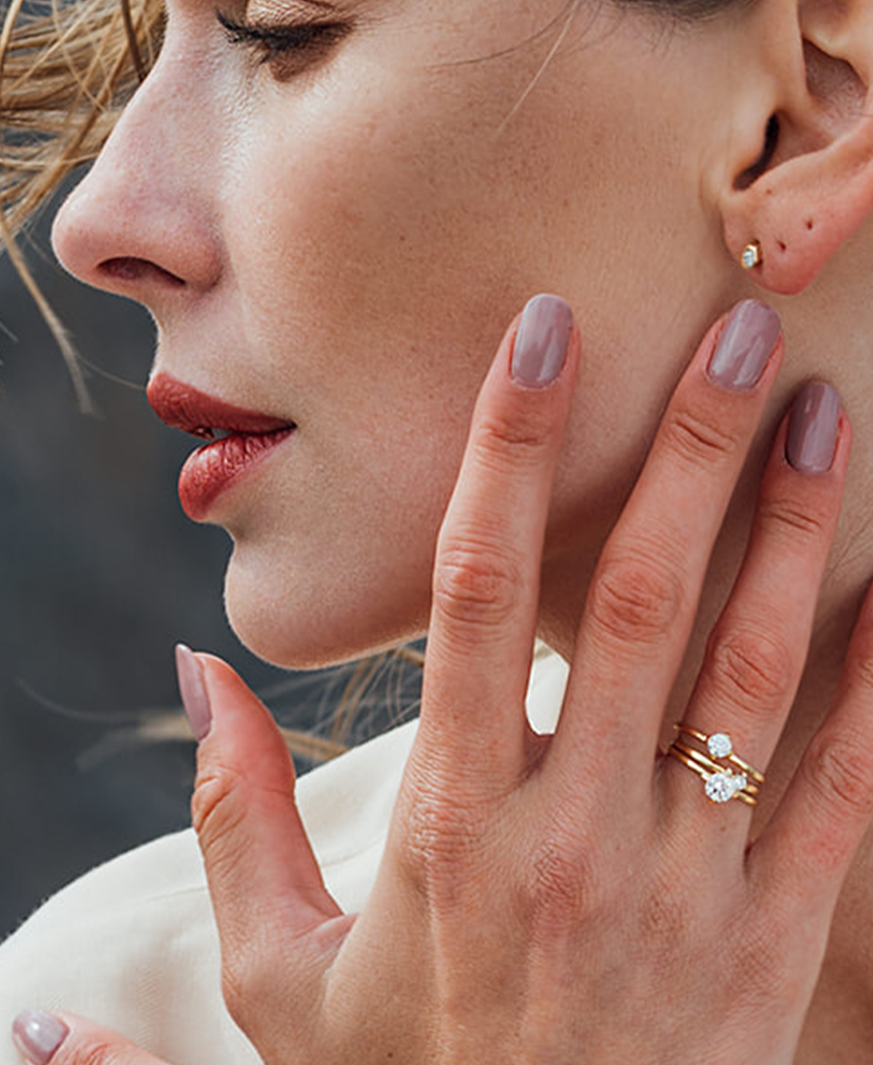 Do you already know the multi-talented stacking ring? This is a - usually rather minimal ring - which is put on the same finger in front of another ring. In this way, beautiful and creative ring combinations are created. For example, it also plays a distinctive role in the jewelry trend of the Ring Stacking and brings a breath of fresh air into your jewelry collection.
Frequently asked questions about ring resizing
Can I resize my ring myself instead of having it resized?
We know that especially on Youtube you can find some tips and hacks with which you are supposed to be able to adjust your ring size yourself. However, we definitely advise you not to do so. With the methods suggested there, you run the risk of permanently damaging your ring. In addition, these tricks are rarely crowned with success. It is without a doubt worthwhile to invest a little and have your ring size adjusted. This way you don't take any risks and the best possible result is guaranteed.
How many sizes can I have my ring resized?
The number of sizes you can have your ring resized depends on the model of your ring. If there is a larger size difference, resizing is often not possible due to the associated loss of quality. However, we can best judge this based on your description and photos. Please feel free to contact us without obligation.
How much does it cost to have my ring resized?