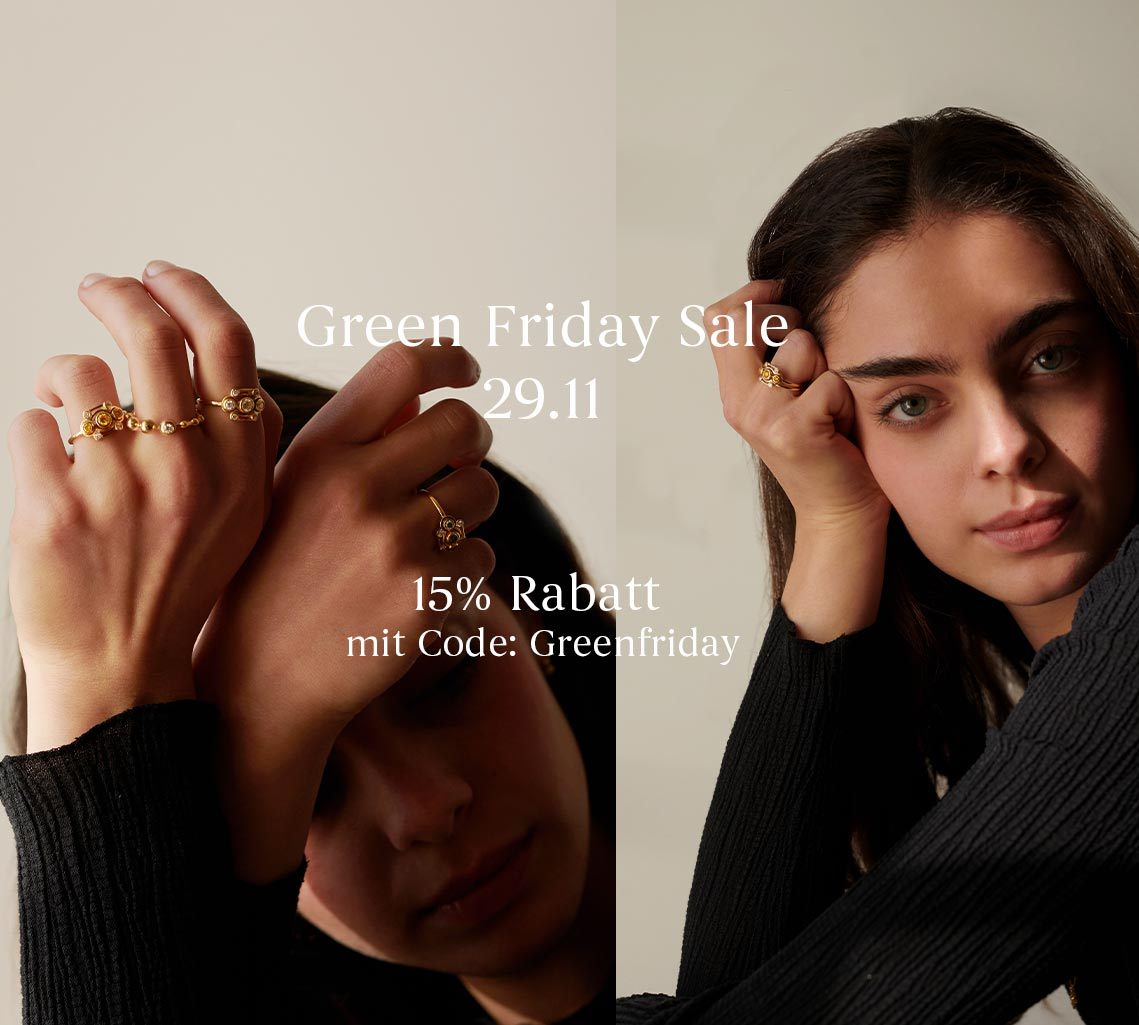 Green friday instead of black friday 2023
Be part of our mission for a greener future and set an example for sustainable consumption together with us.

We invite you to celebrate Green Friday with us on November 24th, not Black Friday. Support a woman-led startup that focuses on sustainable, local design and high-quality handcraft.

In order to share our passion for exquisite jewelry with you, we are giving you a 15% discount on our sustainable 18 carat real gold jewelry with laboratory diamonds. Simply use the code "Greenfriday" .
Presale for newsletter subscribers from Wednesday November 22nd at 8:00 p.m.
Green Friday is more than just a day of shopping. Companies that declare November 25th Green Friday promise that consumer spending will serve a sustainable purpose. We are proud to be part of this movement and to do our part to protect our environment. By purchasing from Maren Jewelery today, you are not only supporting sustainable design and craftsmanship, but also our efforts to minimize the environmental impact of the jewelry industry. We only use recycled 18k real gold and lab-grown diamonds to ensure our products are not only beautiful but also ethical and environmentally friendly. Green Friday is an opportunity to shop consciously while adding a piece of timeless elegance to your life. Use the code"greenfriday" to save 15% on our jewelry and join our movement for sustainable consumption. Together we can make Green Friday a tradition that's not only good for your style, but also for our planet.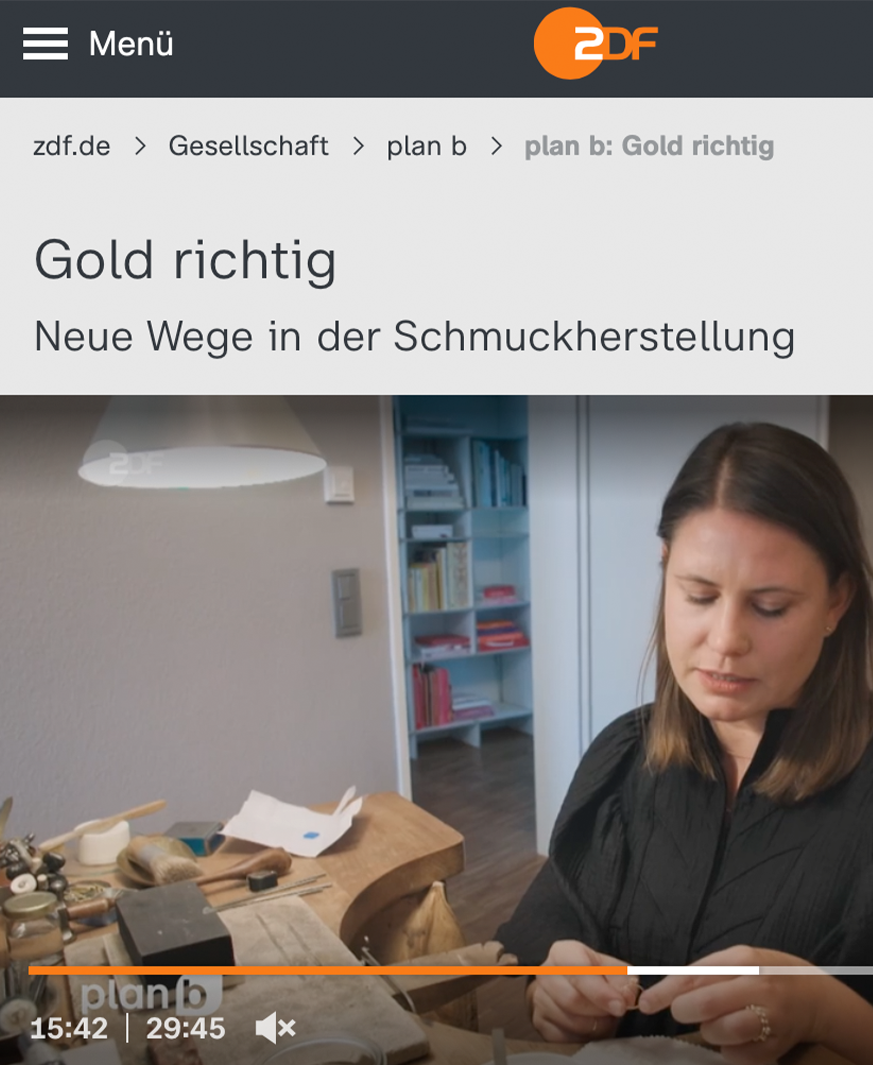 Maren Jewelery was recently featured in the ZDF documentary "Gold aktuell" by plan b. There we were able to present our vision for sustainable jewelry and environmentally conscious consumption to a broader audience. As Green Friday approaches, we want to continue to emphasize this mission for a greener future. That's why we're celebrating Green Friday on November 24th, in contrast to the traditional Black Friday. On this special day, we would like to invite our customers to become part of our efforts. For this reason, we are giving you a 15% discount on our sustainable jewelry made of 18 carat real gold with laboratory diamonds.
At Maren Jewelery we consistently focus on sustainability. Our pieces of jewelry are more than accessories - they are a connection to nature and a commitment to responsibility. We carefully select our materials, pay attention to ethical and environmentally friendly origins and design the entire production and packaging of our products sustainably. Our mission is to combine beauty and sustainability.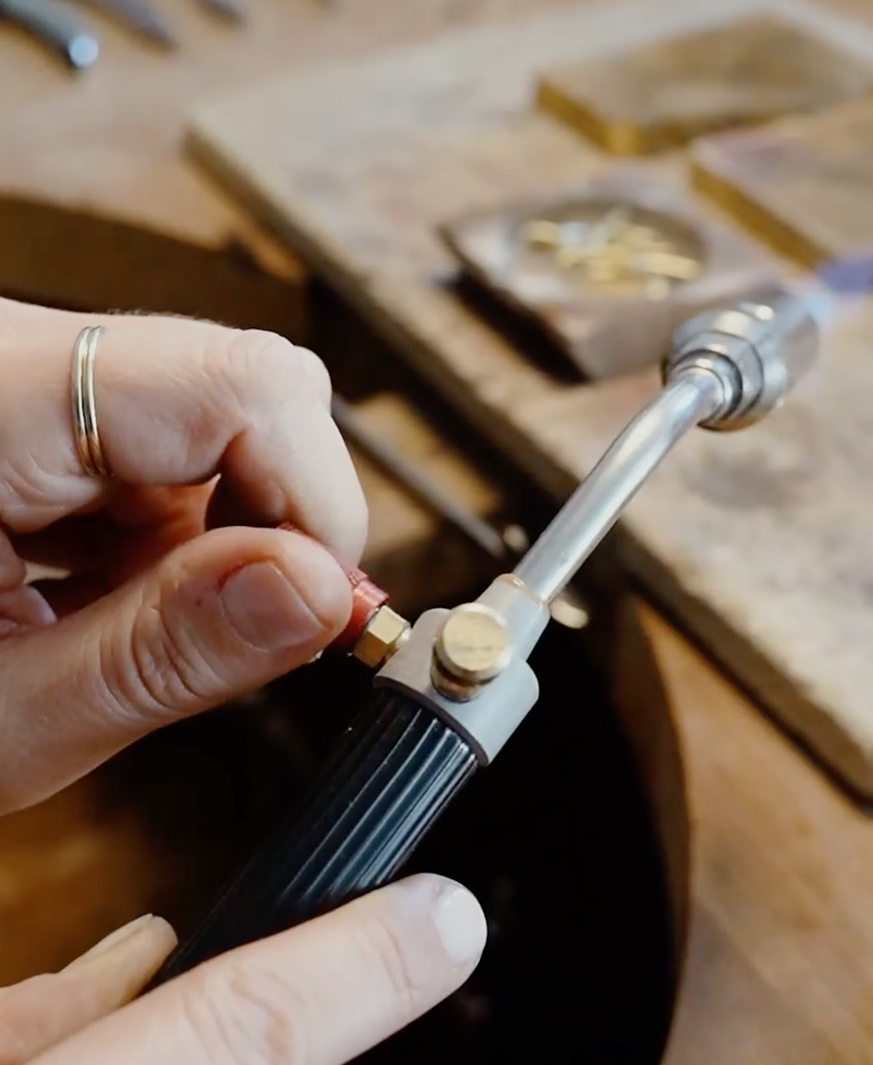 All Maren jewelry pieces are personally designed and designed by our founder and jewelry designer Helge Maren. We believe in the art of craftsmanship and share the enthusiasm for the world of craftsmanship, which is expressed in each of our unique pieces of jewelry. Our jewelry is the result of this dedication to craftsmanship, where every detail is made by hand. In a world where mass production often prevails, we value the uniqueness and craftsmanship that goes into each of our jewelry pieces. We invite you to be enchanted by our handmade art and to experience a piece of this fascinating world of craftsmanship.
Questions about Green Friday
ANSWER:
"Green Friday" is an initiative that emerged in some countries as an alternative to the so-called "Black Friday". Black Friday is a day that traditionally occurs after the Thanksgiving holiday in the United States and marks the start of Christmas shopping. On this day, retailers often offer significant discounts and special offers to attract customers to their stores. Green Friday, on the other hand, has a more environmentally friendly focus. Instead of encouraging mass consumption and over-purchasing, Green Friday encourages people to make more conscious and sustainable purchasing decisions. This could mean, for example, supporting local businesses, buying products with sustainable or environmentally friendly features, or generally going back to basics and avoiding excessive consumption. Green Friday is primarily an initiative aimed at conscious consumption and environmental protection. It is intended to help reduce the impact of consumption on the environment and draw attention to sustainable alternatives. Depending on the country and region, Green Friday can take different forms, but the overall goal usually remains the same: to focus on sustainability and environmental protection rather than on reckless consumption.
ANSWER:
Green Friday is typically not a set date event like Black Friday, which always occurs the day after Thanksgiving in the United States. Green Friday is more of an initiative or movement that calls for people to make more sustainable consumption decisions and shop more consciously. Therefore, Green Friday can occur at different times of the year depending on the organizers and initiatives in different countries or regions. In some cases, Green Friday may take place alongside Black Friday to offer a more environmentally friendly alternative to bulk buying and discount wars. In other cases, Green Fridays are organized at certain times, for example to draw attention to environmental issues or sustainable products. The exact dates and promotions associated with Green Friday may vary from year to year and depend on the initiatives and activities in your region. It may be helpful to contact local environmental and sustainability organizations or stores for information about planned Green Friday events in your area.
ANSWER:
The main difference between Green Friday and Black Friday lies in their purpose and impact on society and the environment:
Objective:
Black Friday: Black Friday is traditionally a day of mass consumption, with retailers offering special deals and steep discounts to attract customers to their stores. The main intention is to increase sales and maximize profits.
Green Friday: Green Friday has a more environmentally friendly objective. He encourages people to make more conscious and sustainable purchasing decisions, to focus on environmental protection and to reduce consumption. The main goal is to reduce the environmental impact of consumption and promote sustainable shopping.
Effects:
Black Friday: Black Friday is often accompanied by overconsumption, which can lead to crowds in stores, online shopping frenzy and increased waste. This can have a negative impact on the environment by consuming more resources and creating waste.
Green Friday: Green Friday promotes sustainable consumption and more conscious purchasing decisions. This can help reduce the environmental footprint, support local economies and focus on environmentally friendly products and practices.
It is important to note that Black Friday and Green Friday do not necessarily compete with each other, but rather represent different approaches to shopping and consumption. Some consumers and companies are using Green Friday as an opportunity to promote sustainable alternatives to traditional Black Friday consumption. In some cases, they may even occur together, with Green Friday acting as a greener alternative to Black Friday.
ANSWER:
If you want to do something on Black Friday but don't want to support mass consumption, there are many sensible alternatives. Here are some ideas:
Conscious shopping:
If you need certain things, you can shop consciously that day. Be careful about what you buy and choose products that meet your needs and are of long-lasting quality.
Support local businesses:
Instead of shopping at big box retailers, explore local stores in your area. This supports the local economy and creates a more sustainable purchasing decision.
Secondhand or vintage purchases:
You could look for thrift stores or vintage stores to purchase used items. Not only is this eco-friendly, but it's also a great way to discover unique and special finds.
Donations and Charity Work:
Instead of consuming, you could invest money or time in charities. Many organizations hold fundraisers on Black Friday.
Creative activities:
Use the day to pursue creative hobbies or spend time with family and friends. You could do crafts, cook, play games or just enjoy nature.
Education and development:
Use the time to educate yourself about important topics that are important to you. This could mean reading books, watching documentaries, or attending events that address environmental issues, social issues, or other causes.
Mindfulness and relaxation:
Use Black Friday as an opportunity to relax and be mindful. You could practice yoga, meditate, or take a walk in nature.
By considering these alternatives, you can make Black Friday meaningful while honoring your values ​​and beliefs without encouraging mass consumption.
What is the difference between Green Friday and Black Friday?
What can you do on Black Friday to avoid supporting mass consumption?