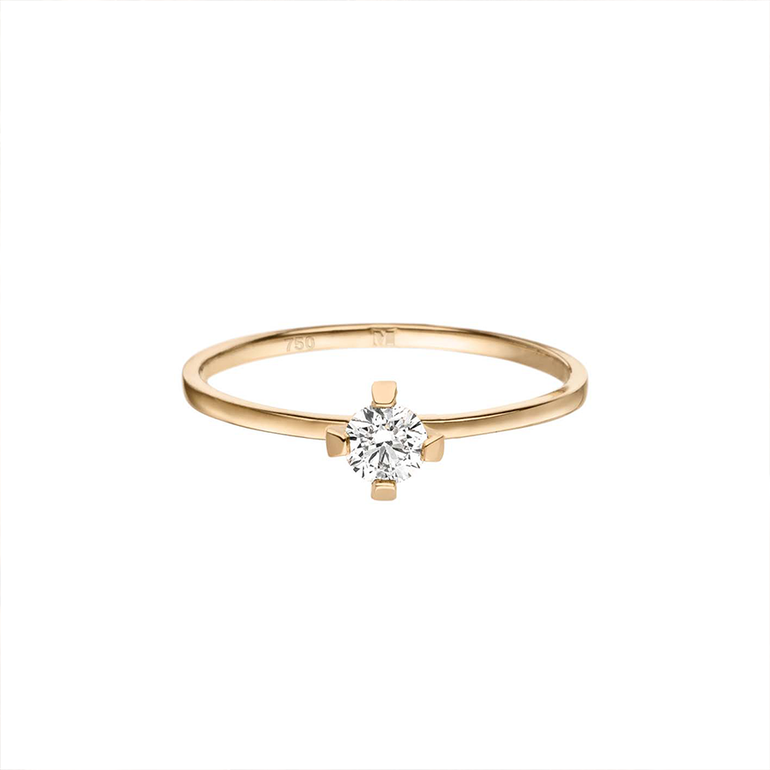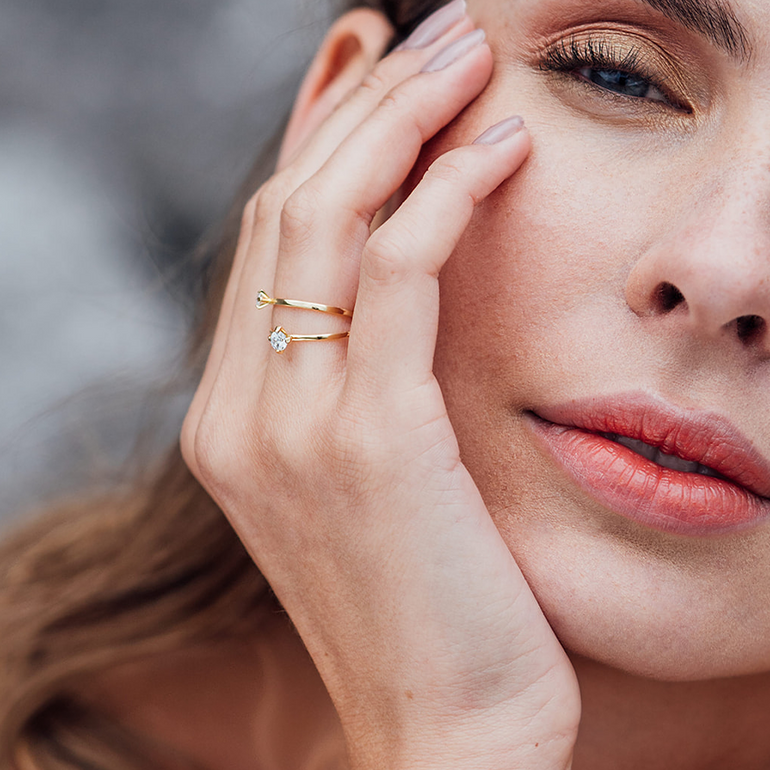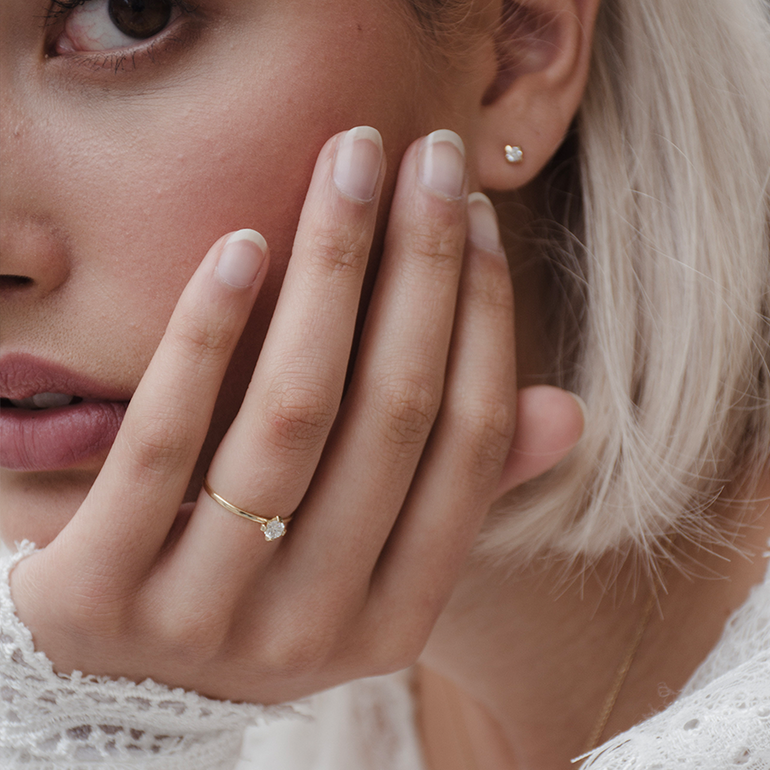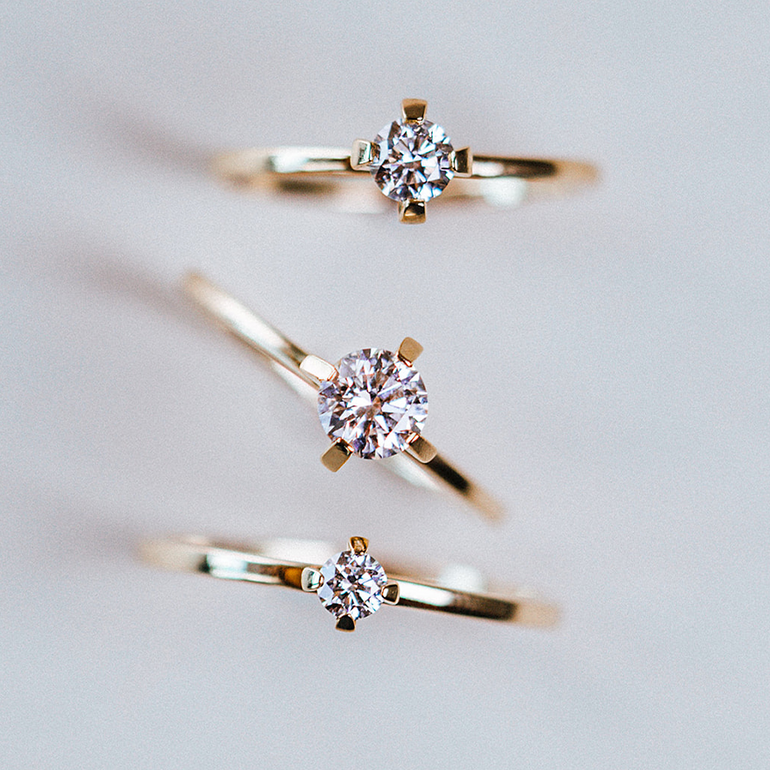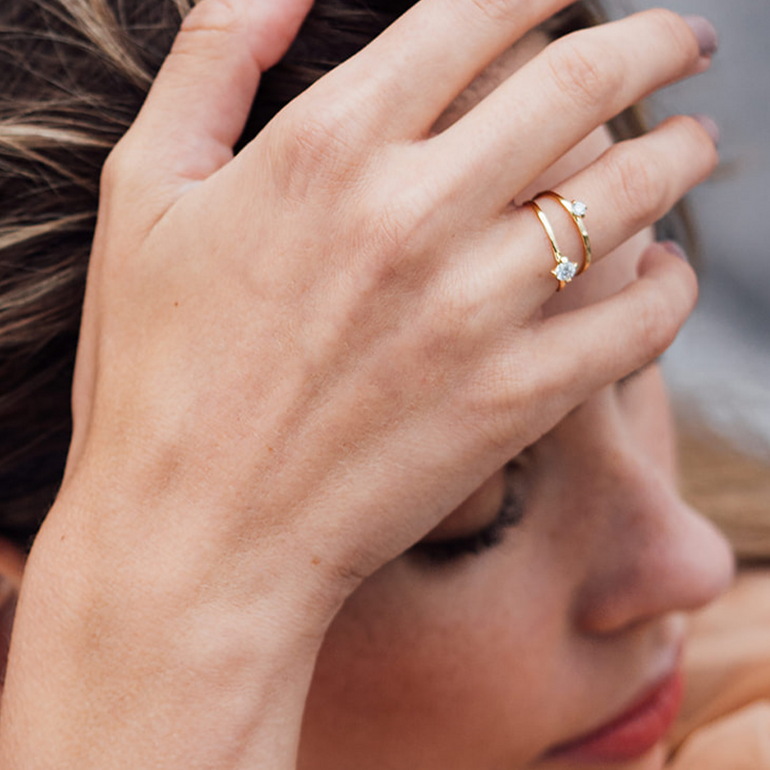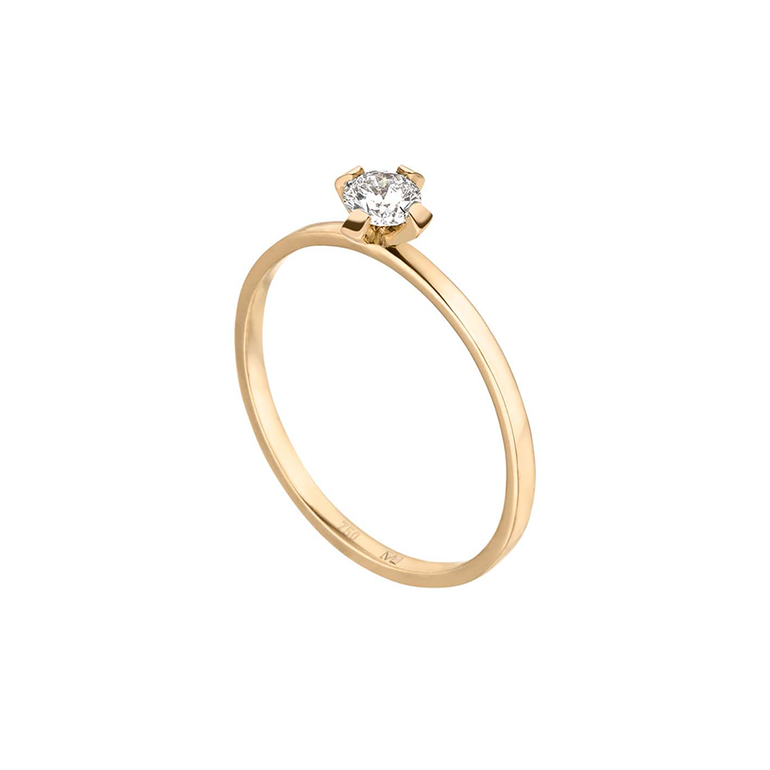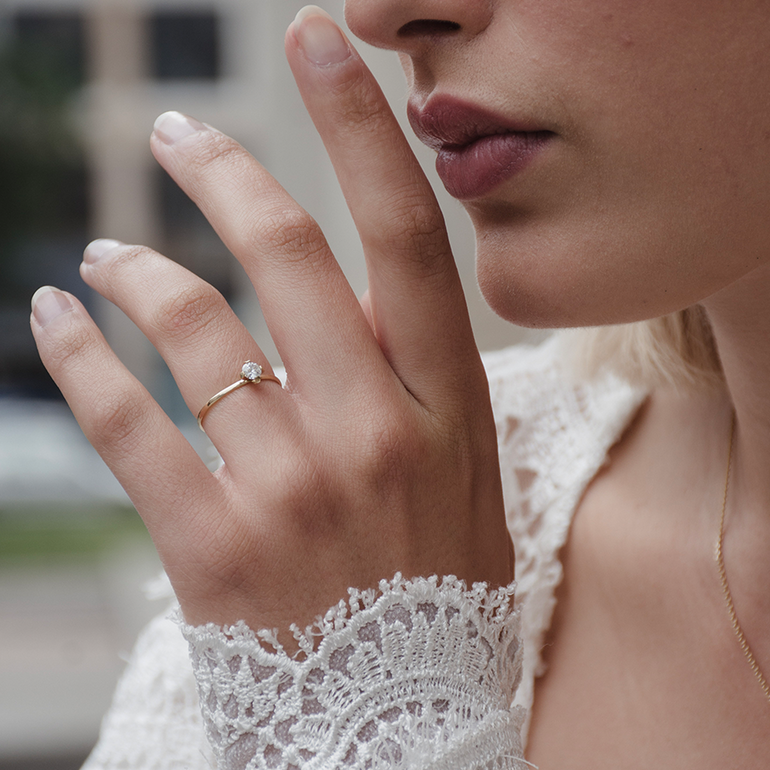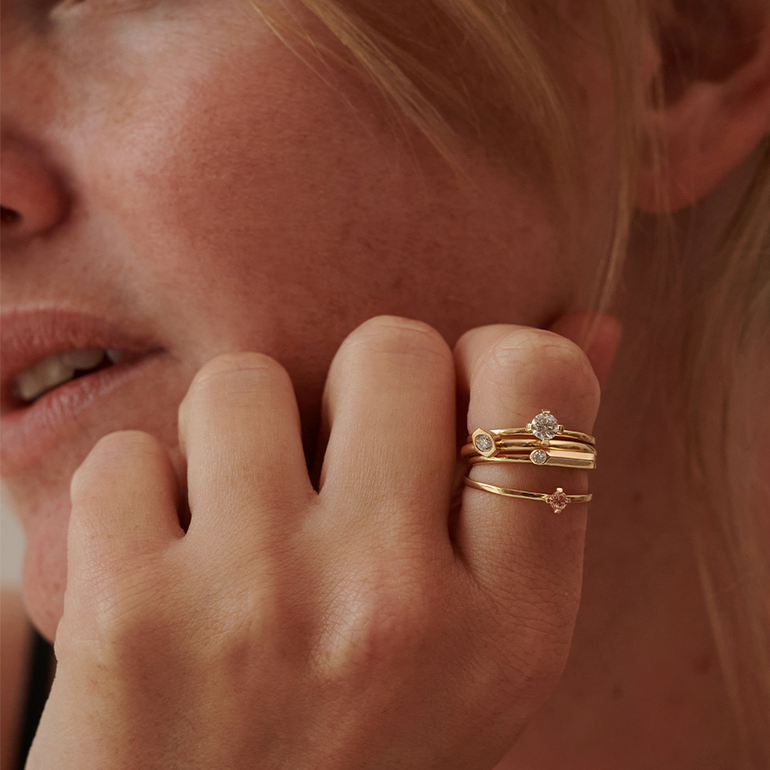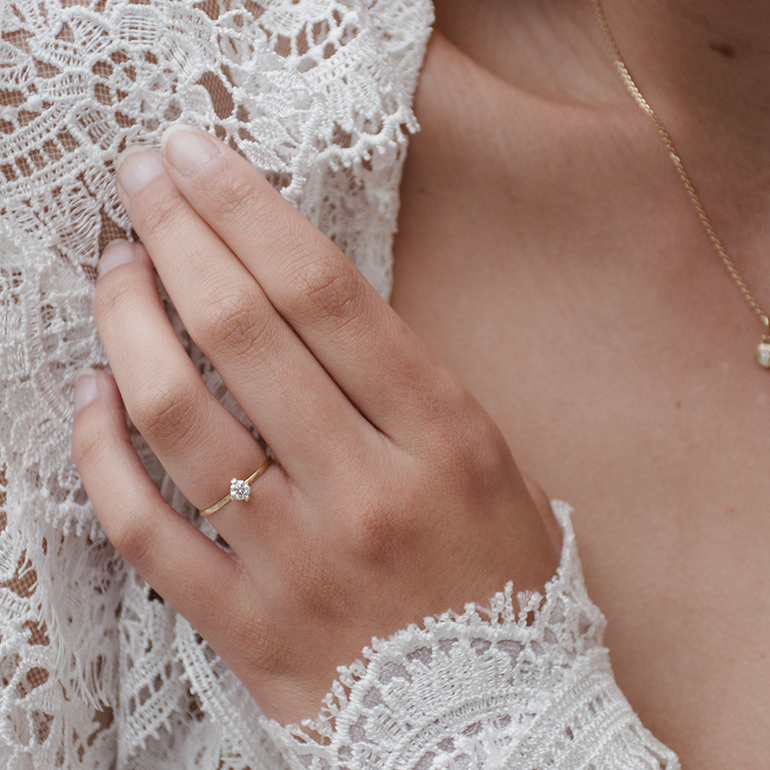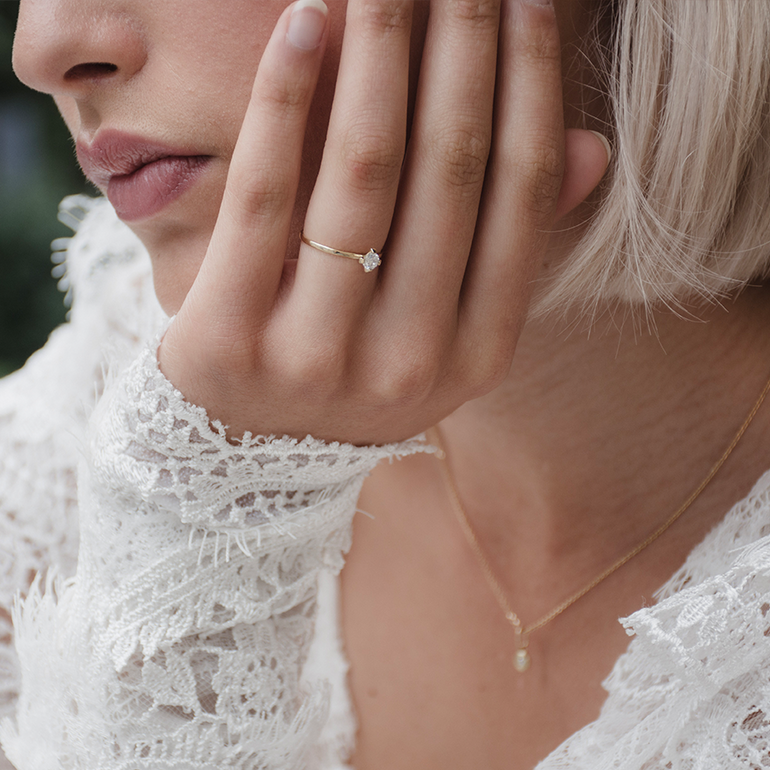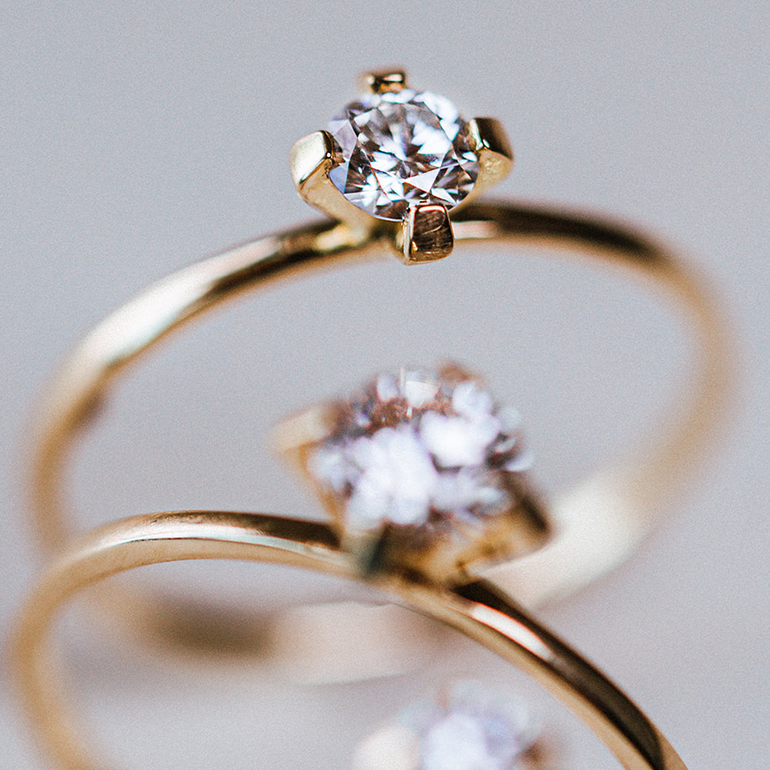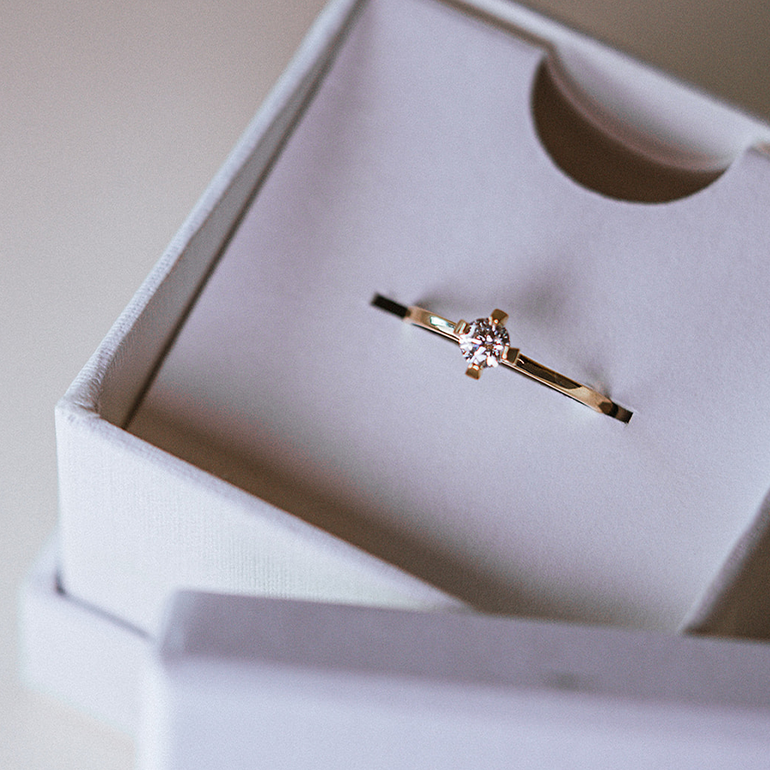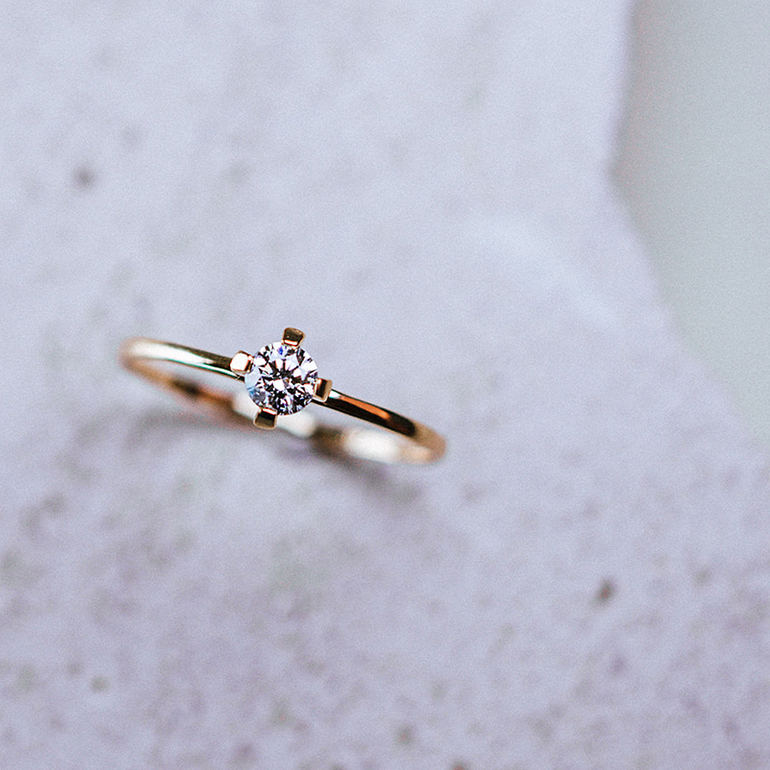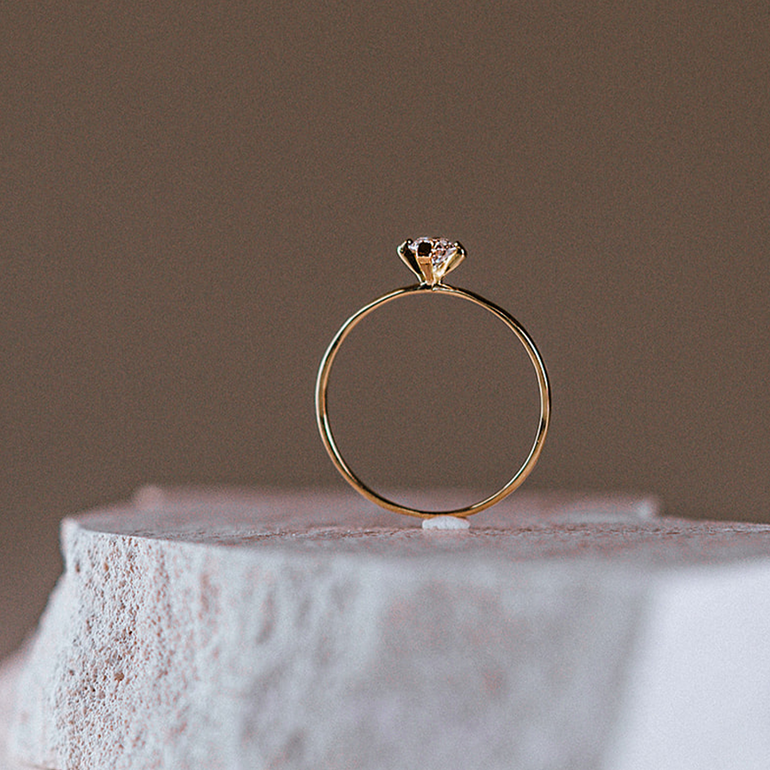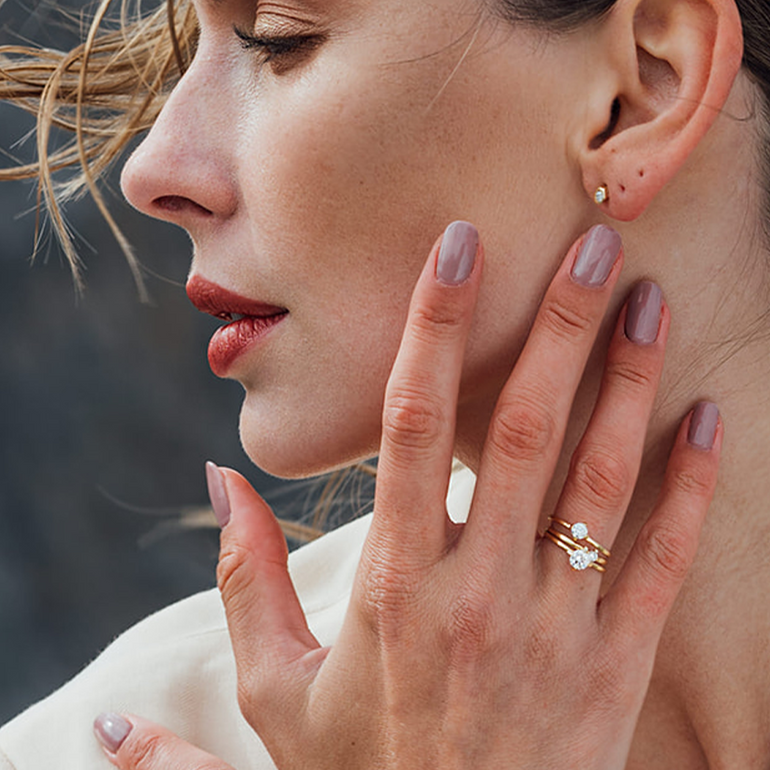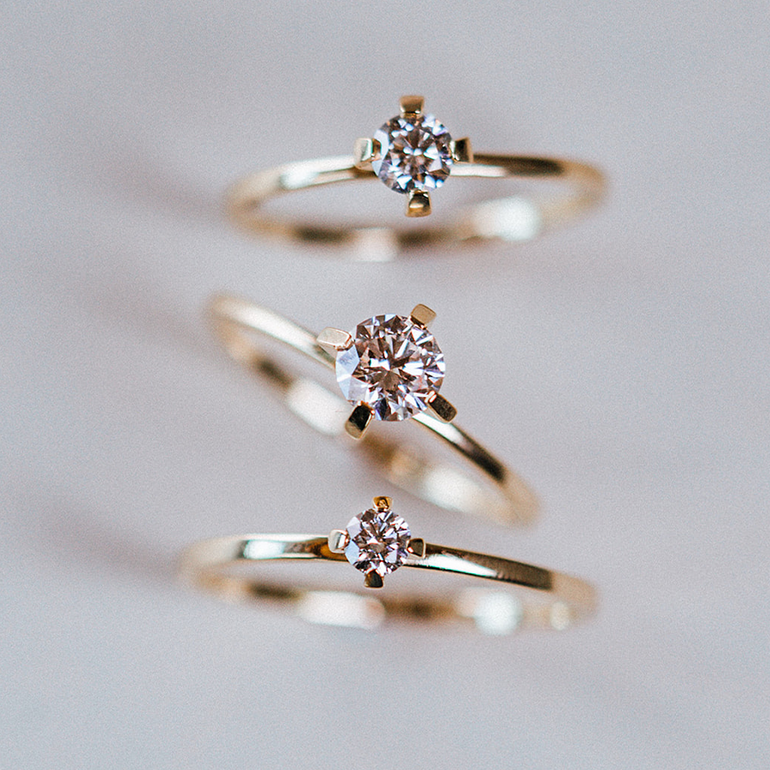 Classic Engagement Ring: ReMind Medium Solitaire

Handmade:delivered in 3 weeks in DE

Packaging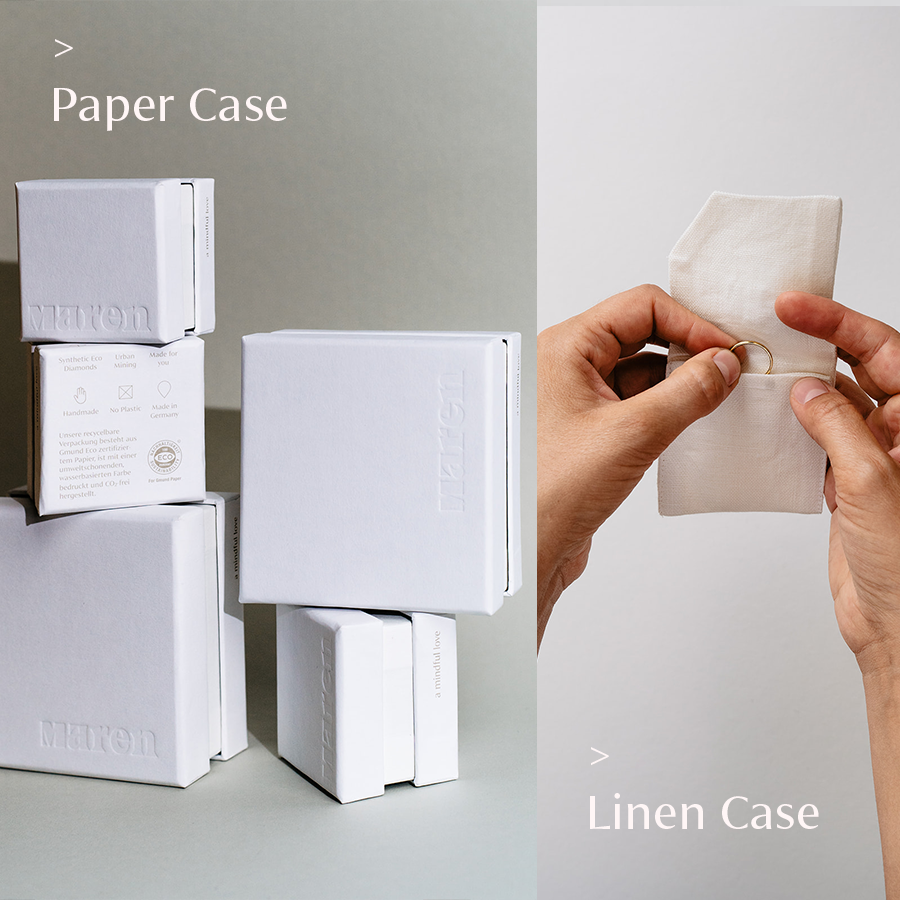 ---
The beautiful, classic ReMind Medium Solitaire engagement ring is the medium size version of our popular diamond engagement ring with a lobster setting. Handcrafted in Germany as part of the ReMind collection, it is made of German recycled 18 karat gold and a 3.8 mm hand-set synthetic Eco diamond from Switzerland. There is an option to choose between yellow gold and white gold, as well as different diamond colors. Our medium version of the classic engagement ring is the perfect choice if you like it somewhere between flashy and subtle.
Read more about ReMind collection and
classic medium engagement ring
.
Ring: width 1.3 mm / height 1 mm / Top: width 5.5 x5.5 mm / height 4.5 mm

Material:
recycled gold 18 carat from Germany
synthetic eco diamonds 1 diamond 3,8mm round from Switzerland
cut: excellent - color: G - clarity: VS1 - carat: 0.2 total
> more about diamond valuation

Our Solitaire ring is handmade for you by:
Designer Helge Hauptmann, Germany
Foundry, polishing company, gem setter from Pforzheim, Germany
Impact:
The production and material of this classic engagement ring require about 2.8 kg of CO2
We offset 100 kg of CO2 when you buy the piece of jewelry
You save approx. 87% CO2 compared to conventionally manufactured jewelry
Classic Engagement Ring: ReMind Medium Solitaire
we mind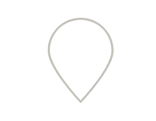 Made in Germany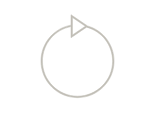 urban mining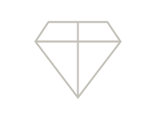 Eco Synthetic Diamonds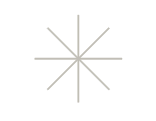 Made for you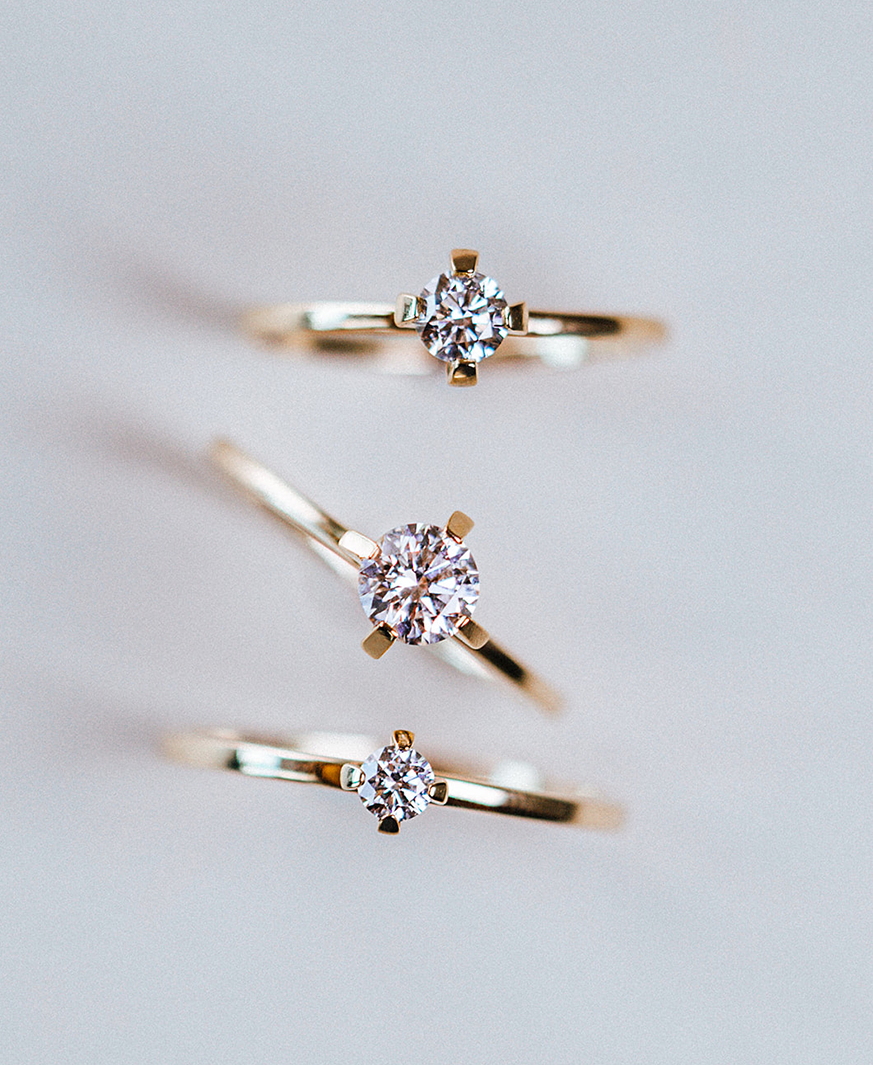 We have designed three different models of the classic ReMind Solitaire engagement ring, Mini, Medium and Regular. They differ in the size of the set diamond. So you can choose the classic engagement ring according to your personal preferences. Whether flashy is your thing, you like to wear your love discreetly on your finger, or somewhere in between: choose the diamond size that best suits you and your style.

In addition to the size of the diamond, you can choose between different diamond colors and also for the material of the ring you have the choice between high quality 18 carat yellow gold or white gold.

As individual as love, so individual is the ring that expresses it!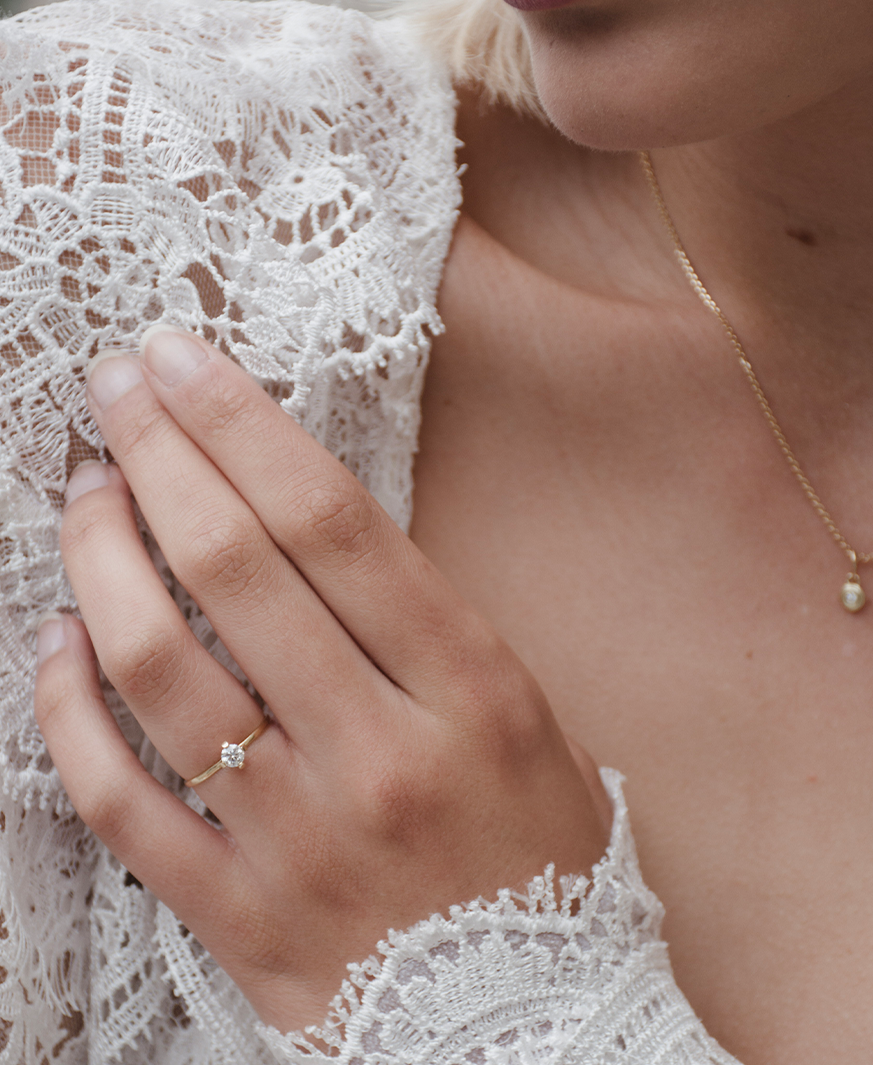 Our classic solitaire engagement rings are all made of 18 karat gold. Whether you choose yellow gold or white gold, a more valuable gold alloy is not used in jewelry manufacturing. Our engagement rings are thus all luxury items, for the production of which in the industry so far, unfortunately, often have to suffer people and the environment.

We would like to change that!

You should be able to wear our traditional engagement rings at any time with a clear conscience!

So, using our holistic approach to sustainability, we craft jewelry that is as pure, honest and long-lasting as your love.

Convince yourselves!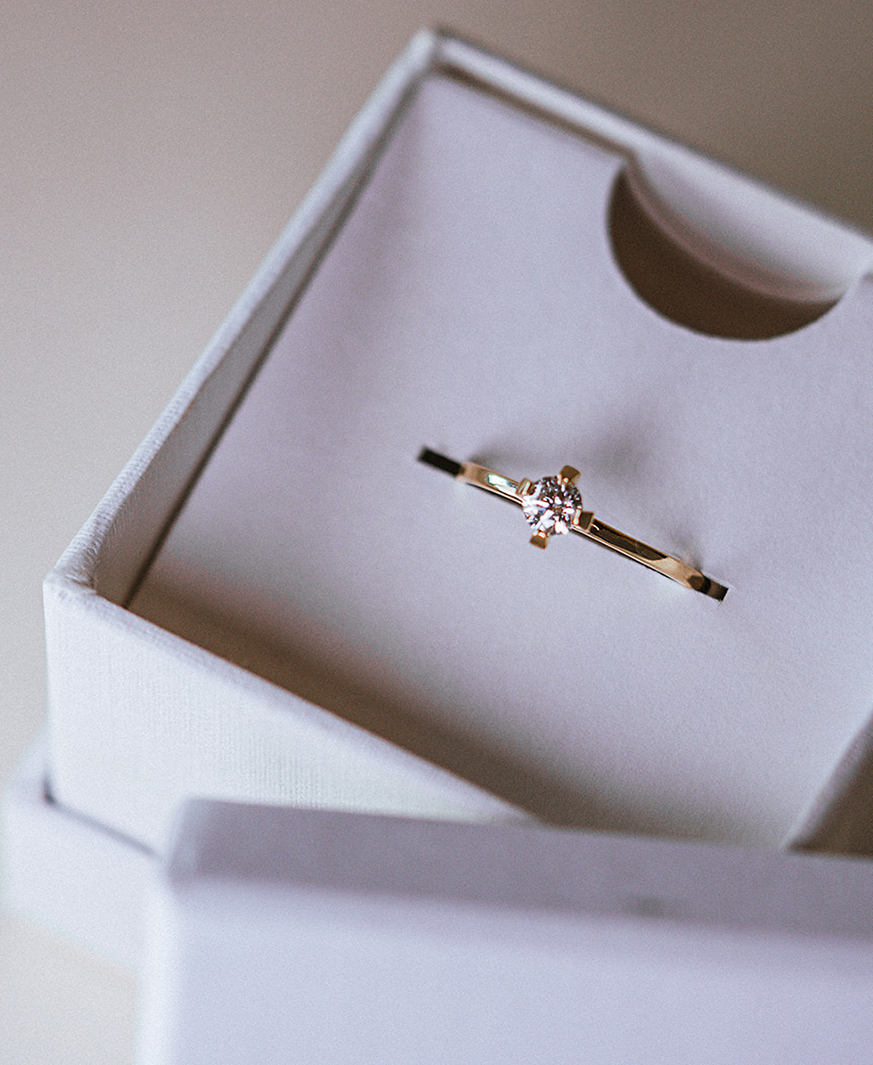 What better place for small messages or memories than hidden in a ring that you carry with you every day?

We think it's wonderful when our engagement rings carry your story and we'll be happy to engrave it in the ring after consulting with you. Just tell us your specific ideas and we will see how we can integrate them into your solitaire engagement ring.
Frequently asked questions about the classic engagement ring
How do I find out the ring size for the classic engagement ring?
AThe best thing to do is to take a ring of your partner as a yardstick, which already fits perfectly on the desired finger. On all product pages of our Solitaire engagement rings you will find a link to our Size Guide next to the size selection field, which helps you with samples to determine the required size of our rings. If you don't have a ring to use as a gauge, you can use the measuring tape in our Size Guide to find out the optimal ring size. Directly to the Size Guide
Do all of Maren Jewellery's solitaire engagement rings have a prong setting?
We use claw settings on all of Maren Jewellery's classic solitaire engagement rings to secure the synthetic diamonds to the ring. Four wire-shaped bars - called claws - hold the diamonds we set in place in such a way that they remain visible in their full size and light can penetrate them unimpeded from all sides. The resulting light reflections allow the diamonds to sparkle in their full color splendor, giving the Solitaire engagement rings their very special brilliance.
What makes the Solitaire engagement ring a classic?
The popularity of engagement rings, in which a diamond is the central and exposed design element, goes back in history to the 15th century. At that time, the Archduke Maximilian of Austria gave his future wife Mary of Burgundy a diamond ring to express his love with the preciousness and uniqueness of the stone. However, due to the rarity of diamonds at that time, such a gesture was reserved for only a few rich people until the 19th century. From the 19th century, the solitaire engagement ring then enjoyed in the wake of falling gemstone prices ever-increasing popularity. One could let the ring speak nevertheless wonderfully symbolically for the radiating, pure and precious connection to a dear person. Even today, the solitaire ring is considered one of the most popular engagement rings worldwide and a true classic!