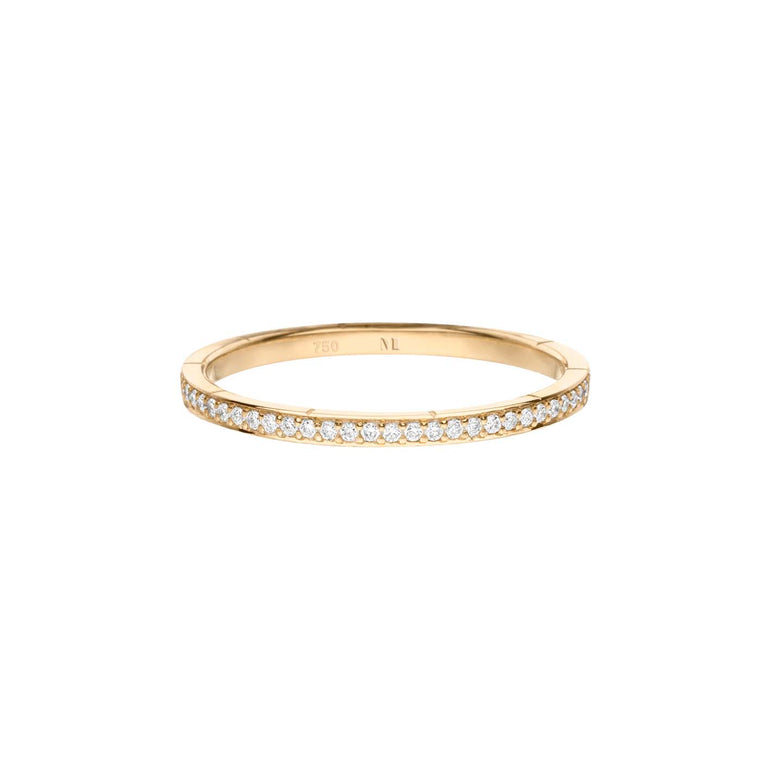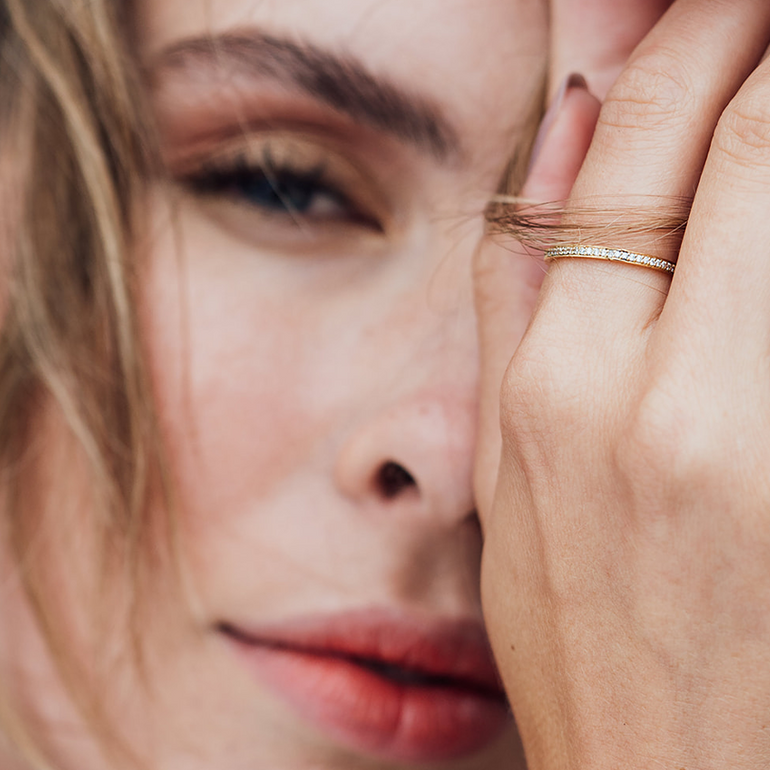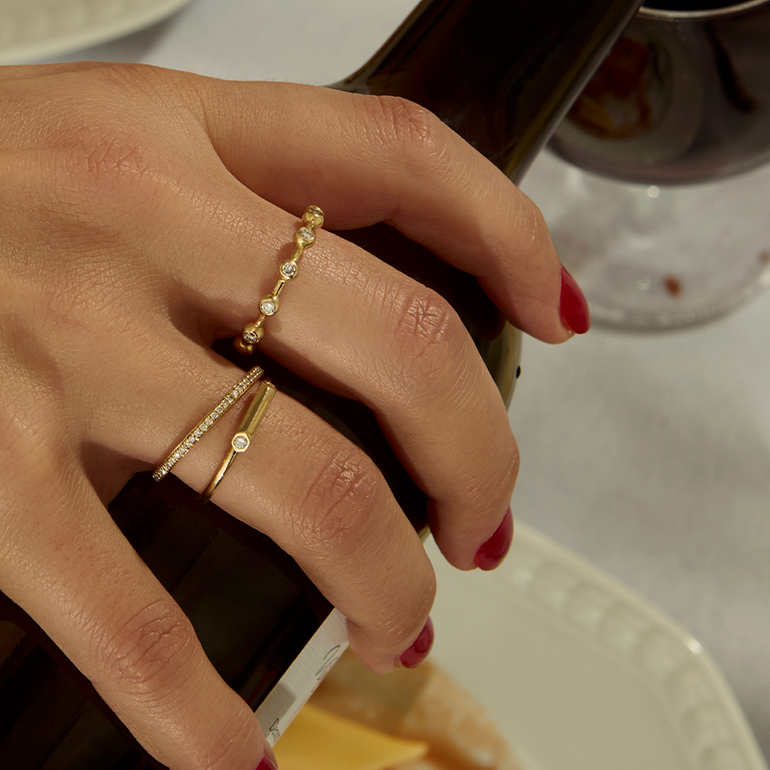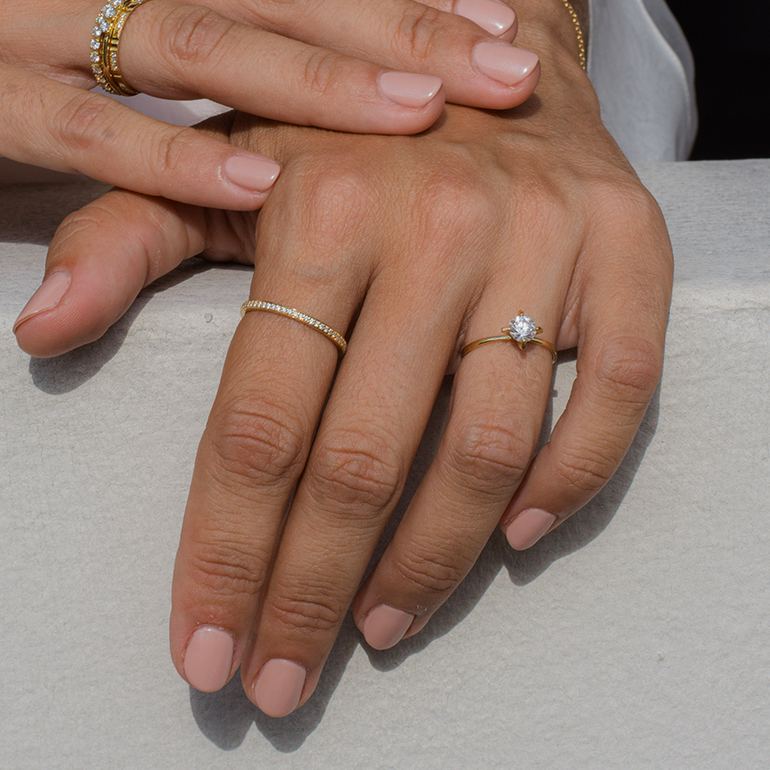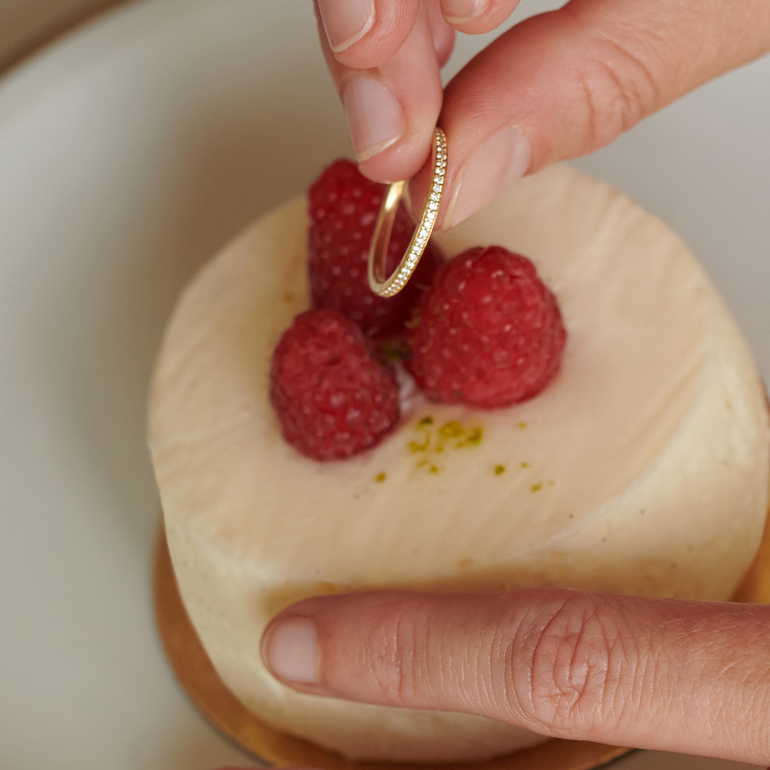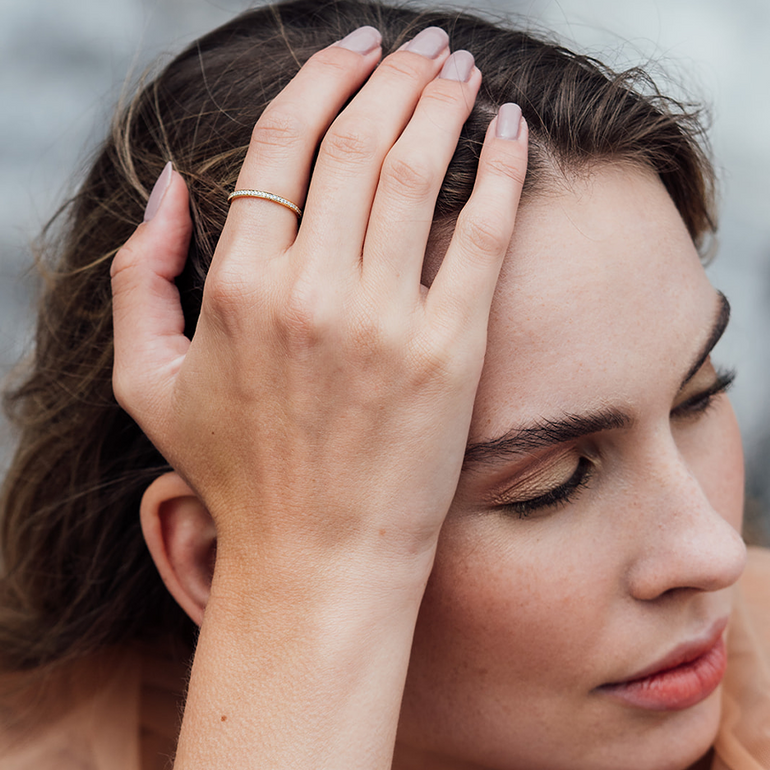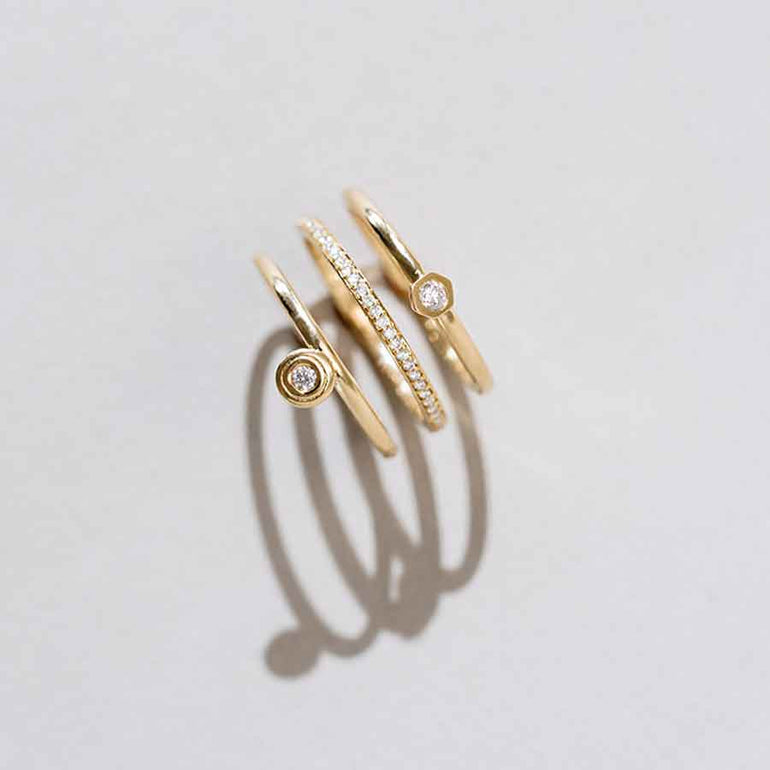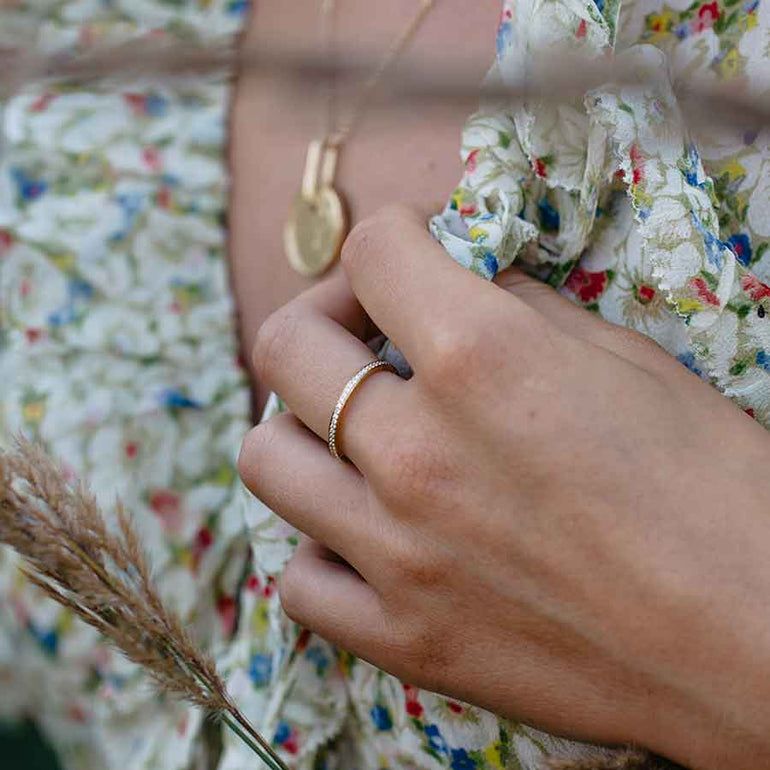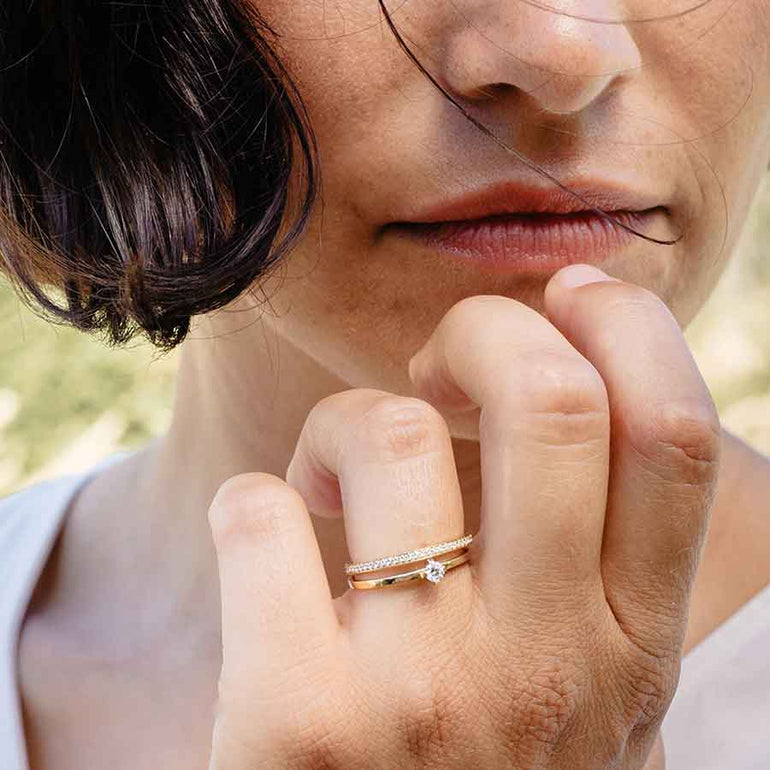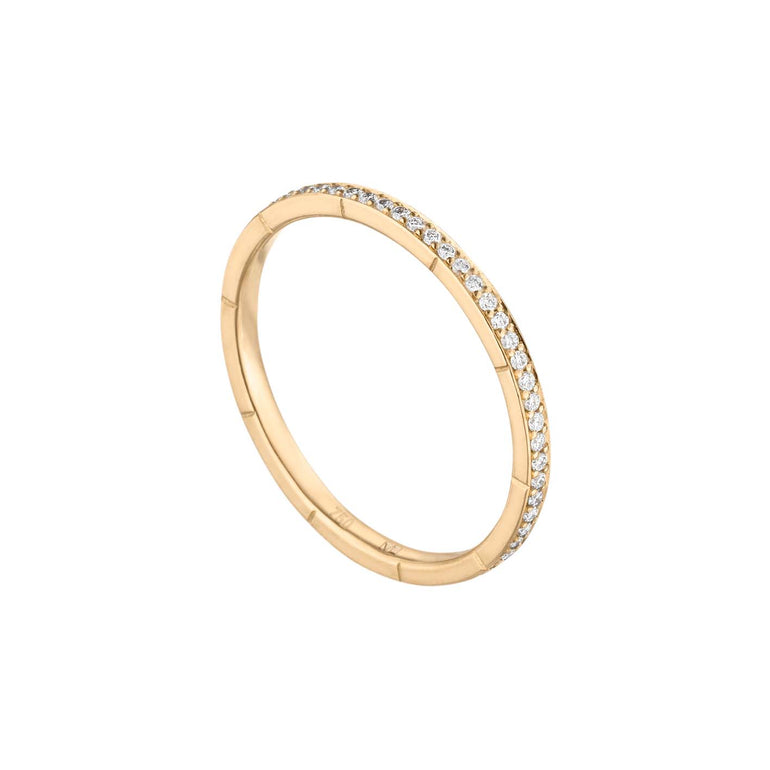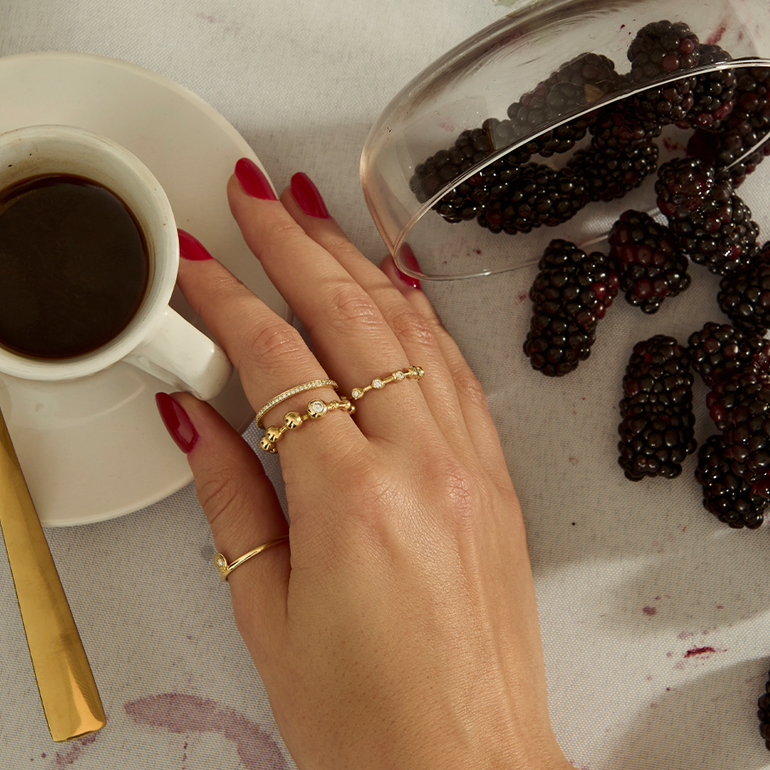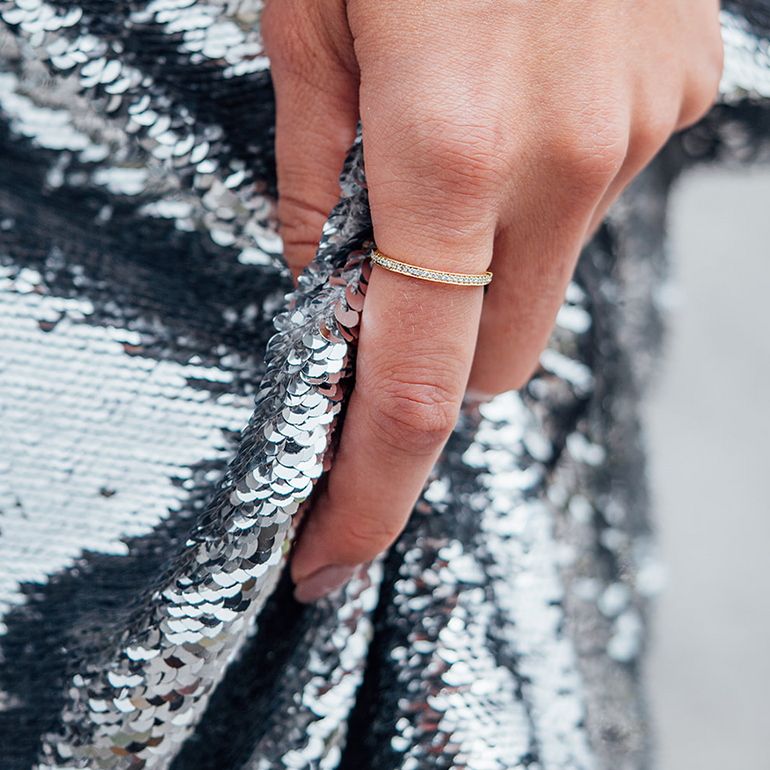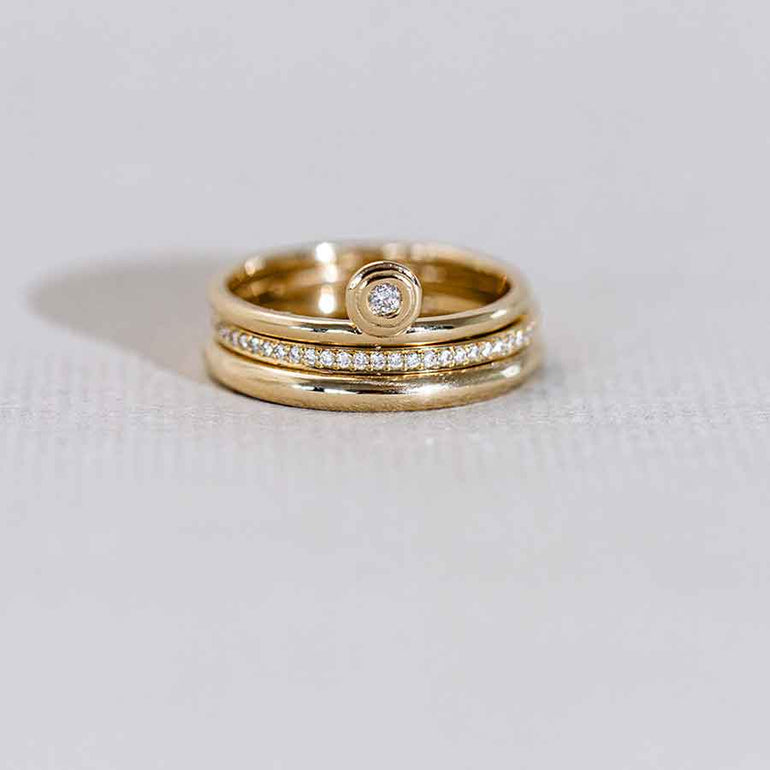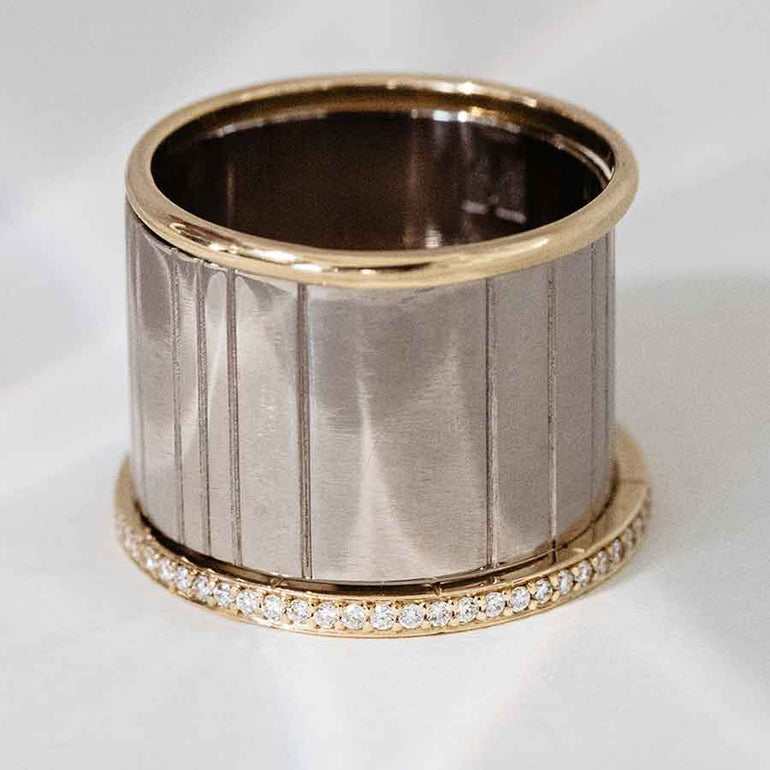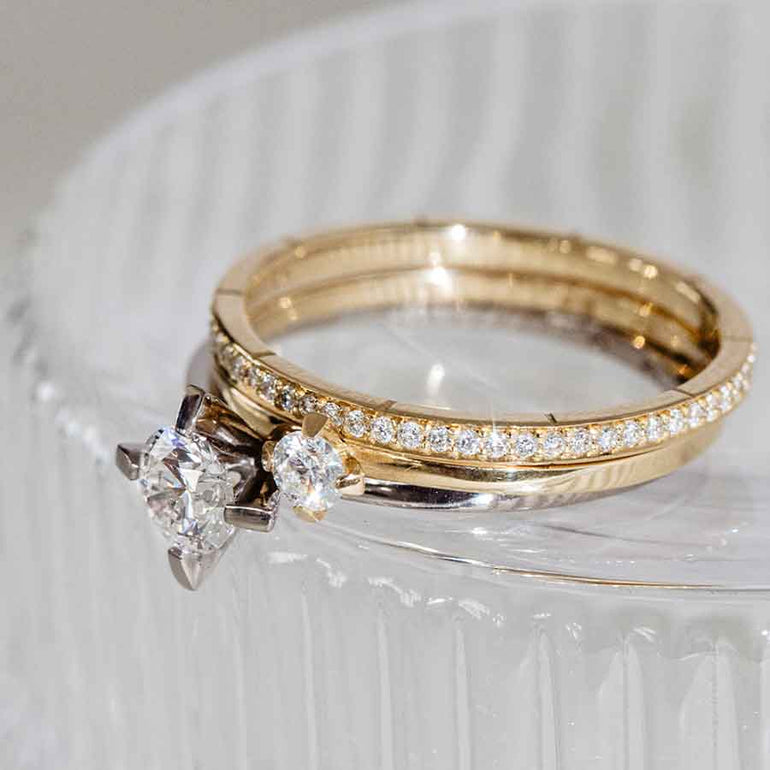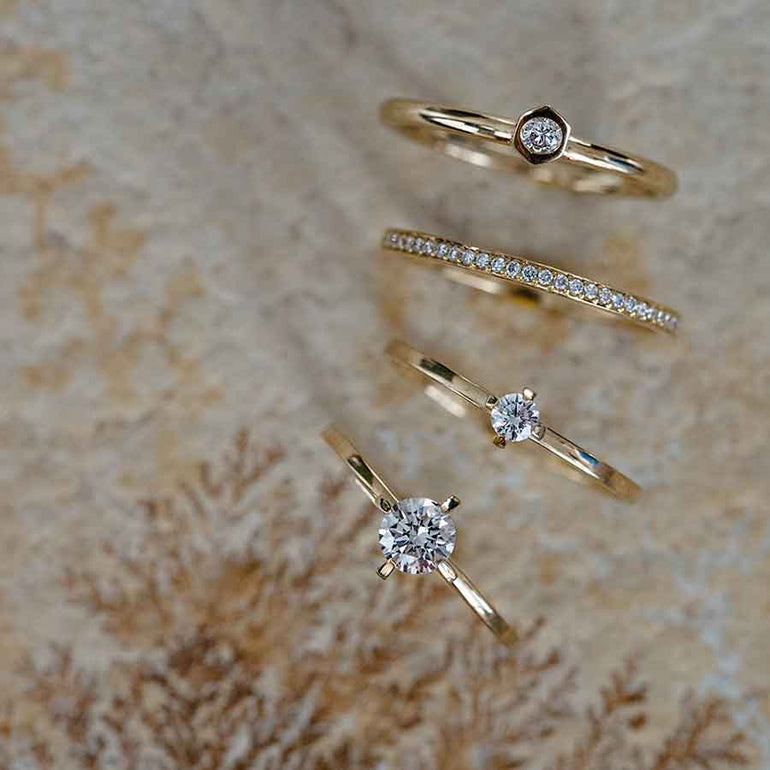 Handmade:delivered in 3 weeks in DE

Packaging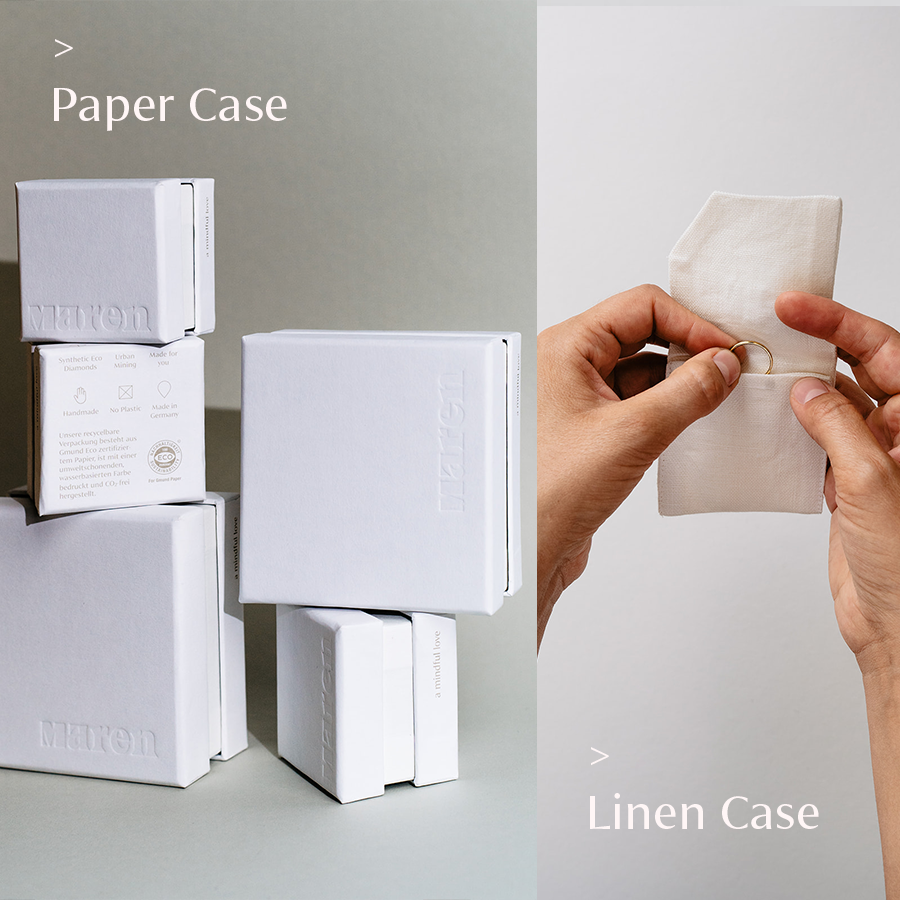 ---
Our Wilderness Eternity ring with its continuous synthetic diamonds symbolises eternity and infinity. Depending on the ring size chosen, it is set with approx. 55 radiant Eco diamonds from Switzerland.
It is up to you to decide whether the shining diamond wedding ring should be the sign of your eternal love or something else entirely.
More about the Wilderness Collection and
Design idea of the Eternity.
Width 1.9 mm / Height 1.5 mm

Material:
recycled gold 18 carat from Germany
Synthetic Eco Diamonds 1mm round from Switzerland
cut: excellent - color: G - clarity: VS1 - carat: depending on ring size
> more about diamond valuation

Our Eternity Ring is handmade for you by:
Designer Helge Hauptmann, Germany
Foundry, polishing company, gem stone setter from Pforzheim, Germany
Impact:
Production and material of the ring require approx. 2.8 kg CO2
We offset 100 kg of CO2 when you purchase the Eternity Ring
You save approx. 91% CO2 compared to conventionally produced diamond rings.
we mind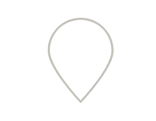 Made in Germany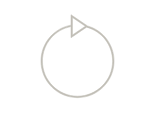 urban mining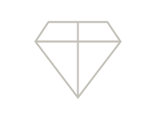 Eco Synthetic Diamonds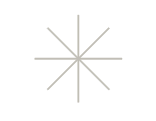 Made for you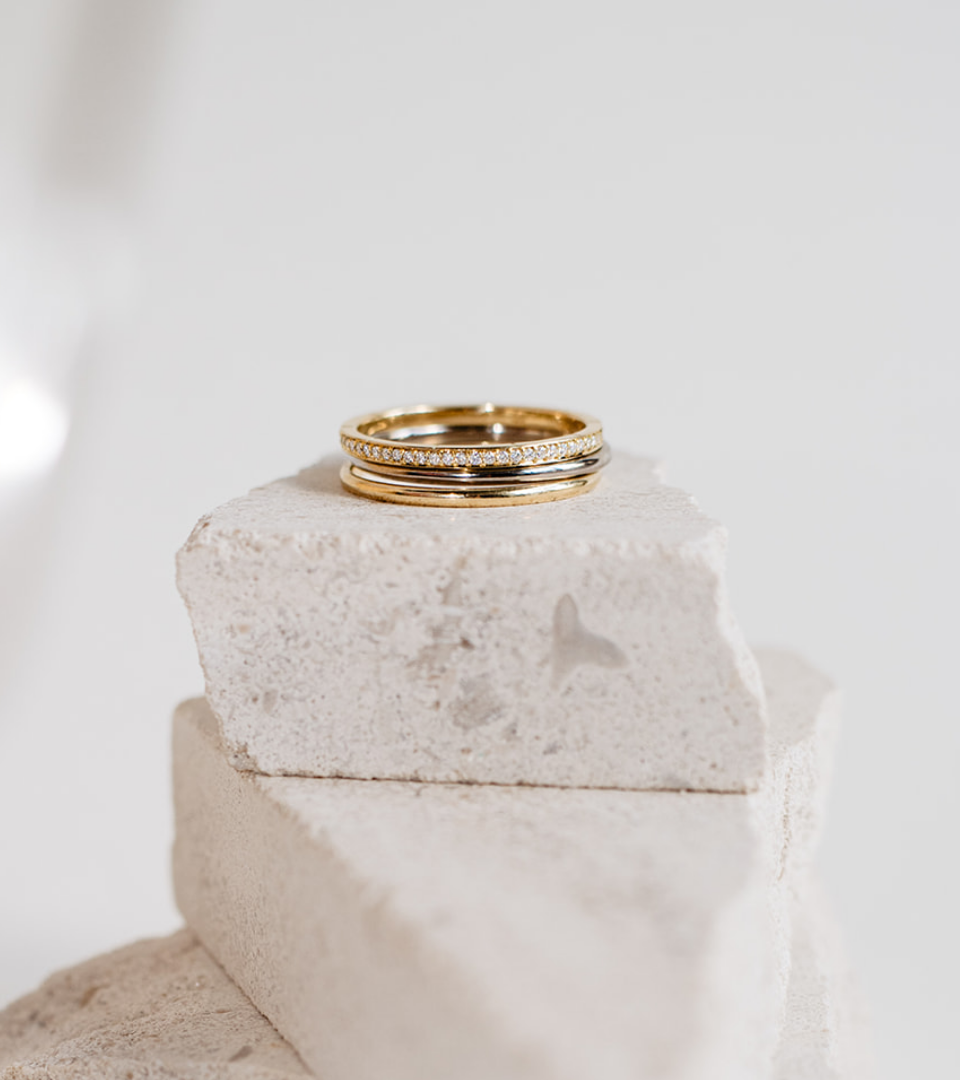 Eternity rings have a long tradition that goes back to ancient Egypt. They are considered a sign of endless love - without beginning and without end. The diamonds endlessly strung together in a band stand for a lifelong promise and the eternal circle of life.

Traditionally, Eternity rings have been given as gifts on special occasions of love, such as wedding anniversaries or births of children. However, due to its beautiful symbolism, it is also increasingly worn as a wedding ring, which we think is a wonderful idea.

Because the idea of seeing marriage as a shared journey that you take together step by step and in which you reinvent yourself again and again has undoubtedly earned a special ring.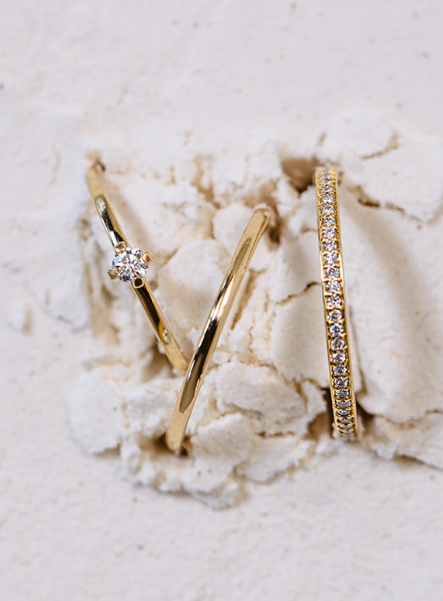 Of course, to symbolise your bond and love, you need a counterpart to your eternity ring. Unless your loved one also wants an eternity ring, you are guaranteed to find one in our selection of sustainable wedding rings. Whether you're looking for a classic or a very special wedding ring.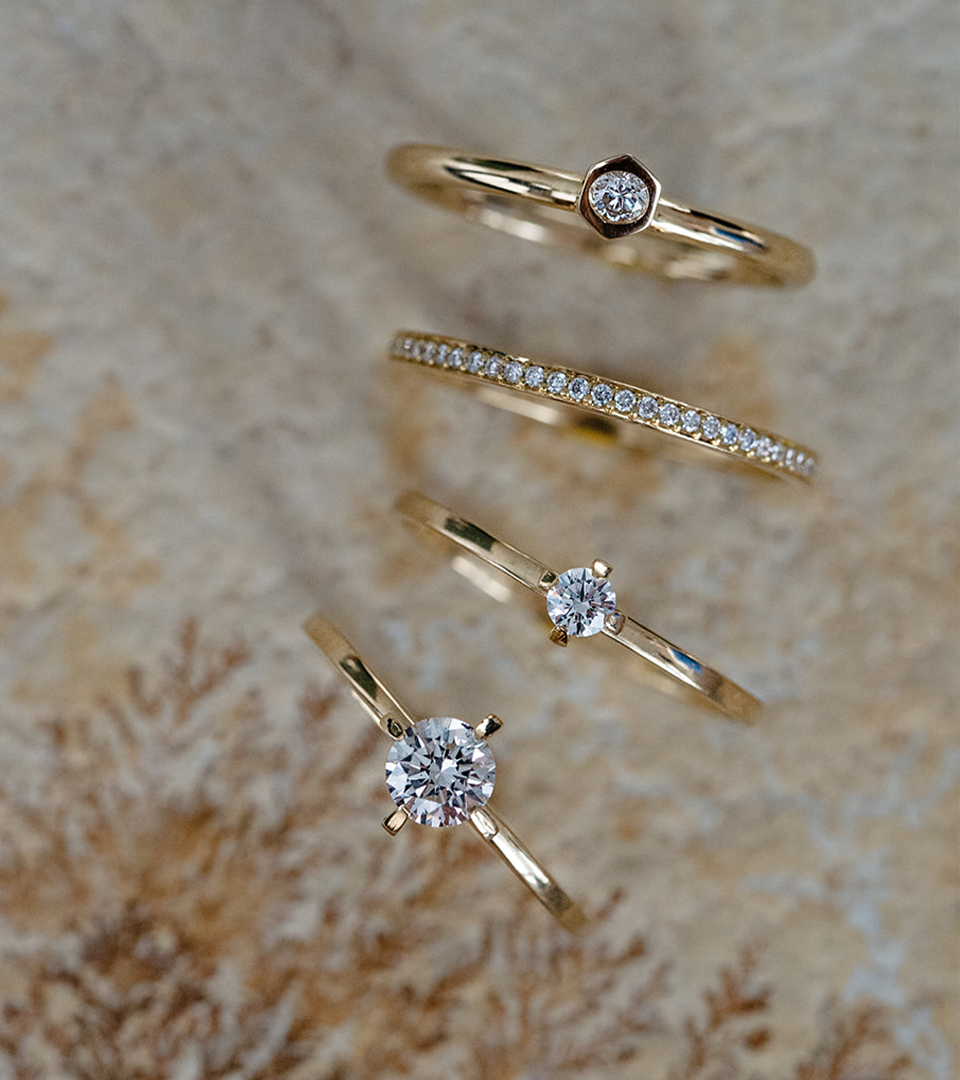 Hardly any piece is as unmistakably adorned as our Eternity Ring: our Eco Synthetic Diamonds. Would you like to learn more about synthetic diamonds and how they are made? Read our journal to find out everything you need to know about our diamonds and why we deliberately use only laboratory-grown diamonds.
Frequently asked questions about the Eternity Ring
Is an Eternity Ring the same as a Memoire or Infinity Ring?
Eternity, Memoire or Infinity rings all have the same meaning: they are a symbol of endless love and the eternal circle of life. While Eternity rings and Memoire rings are also similar in shape and design and have a simple, circular shape, Infinity rings differ in that they have the shape of an eight - the mathematical symbol of infinity.
What is the occasion for giving an Eternity Ring?
Pieces of jewellery, especially rings, are popular companions or gifts at special stages of life and are intended to remind us of these forever with their symbolic power. Traditionally, the Eternity Ring was given especially on wedding anniversaries, anniversaries, christenings or births to express that the love shared will last a lifetime. For this very reason, however, the Eternity Ring is also being used more and more frequently as a wedding ring, to seal the everlasting shared love already at the wedding and to wear it on the finger in the form of a very special ring.
Do the diamonds on the Eternity Ring have any significance?
It is said that diamonds are associated with purity, strength, love and permanence - all values that are mostly also appreciated in a fulfilled love. The juxtaposition of diamonds that carry such a positive and strong symbolic power, in combination with the circular shape that stands for infinity, creates the special meaning of the Eternity Ring. Each individual diamond set into the ring can carry a memory of an event that has enriched their shared love. In this way, the Eternity Ring places numerous small, precious moments together in an endless chain that stands for the eternal journey of love.
What is the best way to wear or combine an Eternity Ring?
Traditionally, the Eternity Ring was usually worn between the wedding ring and the engagement ring on the ring finger of the left hand to connect them. This can be traced back to an ancient belief that the Vena Amoris (Latin for 'vein of love') flows through the left ring finger and provides a direct connection to the heart. However, this tradition cannot be proven exactly and there are many cultures that wear wedding and engagement rings on other fingers as well and give the same reason. In the end, therefore, it doesn't even matter what the tradition says, as long as you follow your own symbolism and feel-good factors. Eternity rings also look wonderful on their own or on another finger or can be combined very well with other rings. In the end, it's what you like and what feels right that counts.