18k recycled yellow gold & lab diamonds

Handmade:delivered in 1 week in DE

Packaging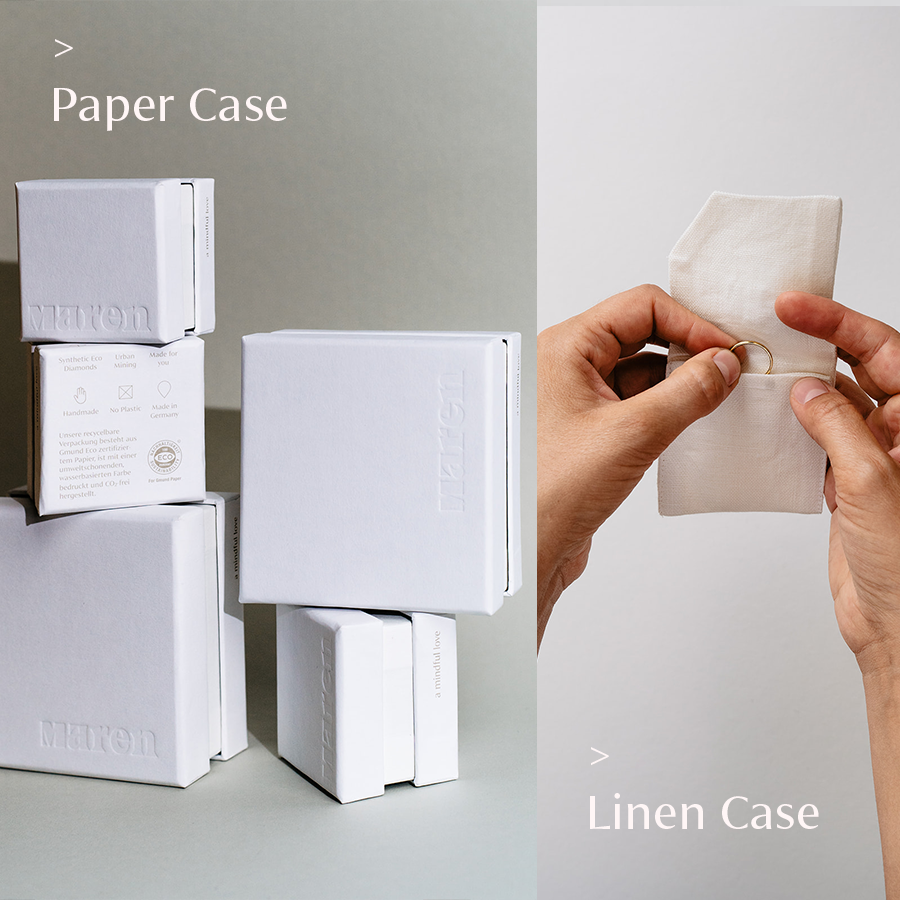 ---
Also discover the wonderful world of our Lovelines Milestones ring, inspired by the beauty of the annual rings of wise trees. This ring goes perfectly with the Embrace Bangle bracelet and is much more than just a piece of jewelry - it is the storyteller of your individual love. Be it as a wedding ring for love for a loved one or for love for yourself. Handcrafted from recycled gold and decorated with radiant synthetic diamonds, it radiates timeless elegance and - like your love - is intended to last forever.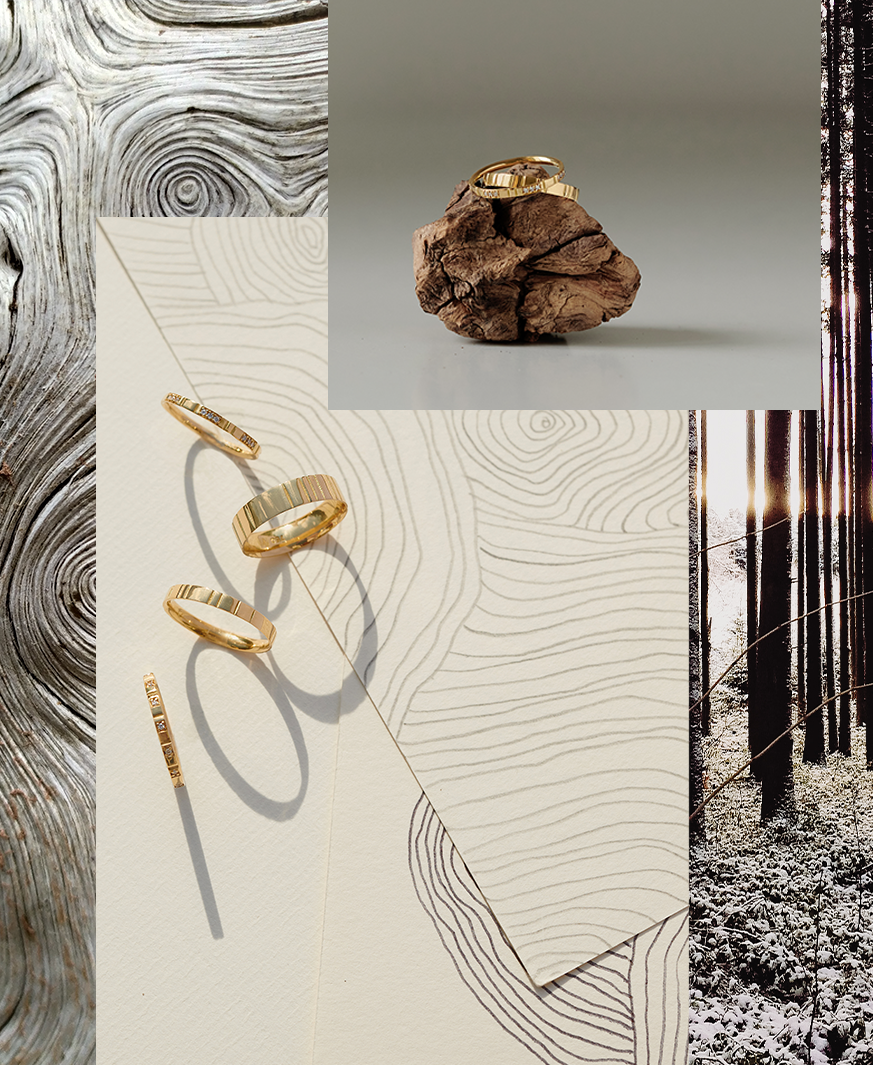 Discover the deeper meaning of the Embrace Bange bangle and our Lovelines collection, inspired by the beauty of nature and majestic forests. Immerse yourself in the fascinating world of our unique pieces of jewelry and find out how this collection was brought to life with passionate dedication by our founder Helge. It was created to tell your personal stories and capture the creation of your love in pieces of jewelry.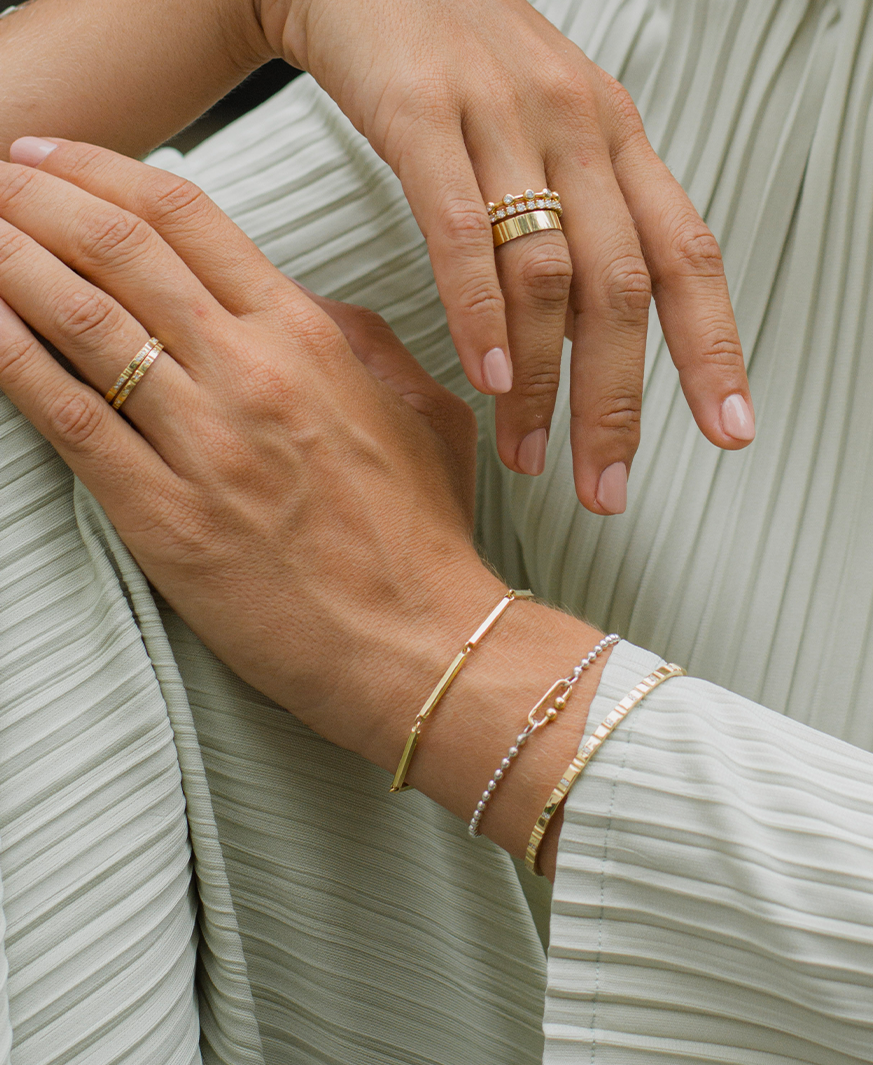 Similar to ring stacking or chain layering, "bracelet stacking" simply describes combining different pieces of jewelry of one type, in this case bangles and bracelets. And even though our Lovelines Embrace Bangle bracelet stands wonderfully on its own, we can also imagine a combination very well. How about, for example, a gold but much more delicate addition to our Essential bracelet? We think: A stylish mix with twice the charm!
Frequently asked questions about the Embrace bracelet
ANSWER:
Bracelet stacking describes combining different bracelets and bracelets, similar to"ring stacking" or"chain layering" for rings or chains. Although the Lovelines Embrace Bangle bangle is beautiful on its own, you can also combine it stylishly with other bracelets and bangles, whether from our bracelet selection or from your jewelry box at home.
ANSWER:
At Maren Jewelery we pursue a holistic sustainability approach that puts our values ​​and our actions in harmony with the environment. Our jewelry is designed with nature in mind. We consistently rely on sustainable materials such as recycled precious metals and laboratory-grown diamonds and produce our jewelry locally in Germany, only after you have placed your order. In this way, we not only minimize long transport routes and unnecessary storage, but also prevent overproduction of jewelry. We are proud that each of our jewelry pieces is completely recyclable and our long-term goal is to establish a circular economy. We attach great importance to fair working conditions and only work with suppliers and partners who share our sustainable vision of jewelry production. Transparency is critical to us at every step of our process. Our pieces of jewelry are characterized by high quality, durability and careful, minimalist design that is lovingly handcrafted. Even our packaging contributes to our sustainability mission because we use neither plastic nor animal products. In addition to all of this, we support the sustainable initiative Chooose by offsetting 100kg of CO2 for every piece of jewelry produced. We want to make a positive contribution to the environment and encourage our customers to be part of this sustainable journey.
What is bracelet stacking?
What makes the Lovelines Embrace Bangle bangle and Maren Jewelery's jewelry in general sustainable?