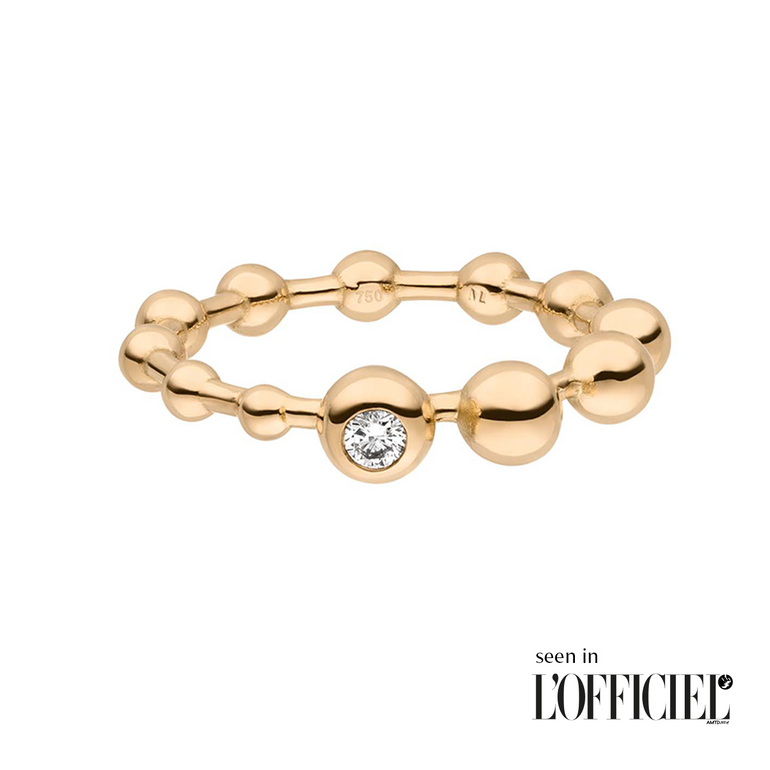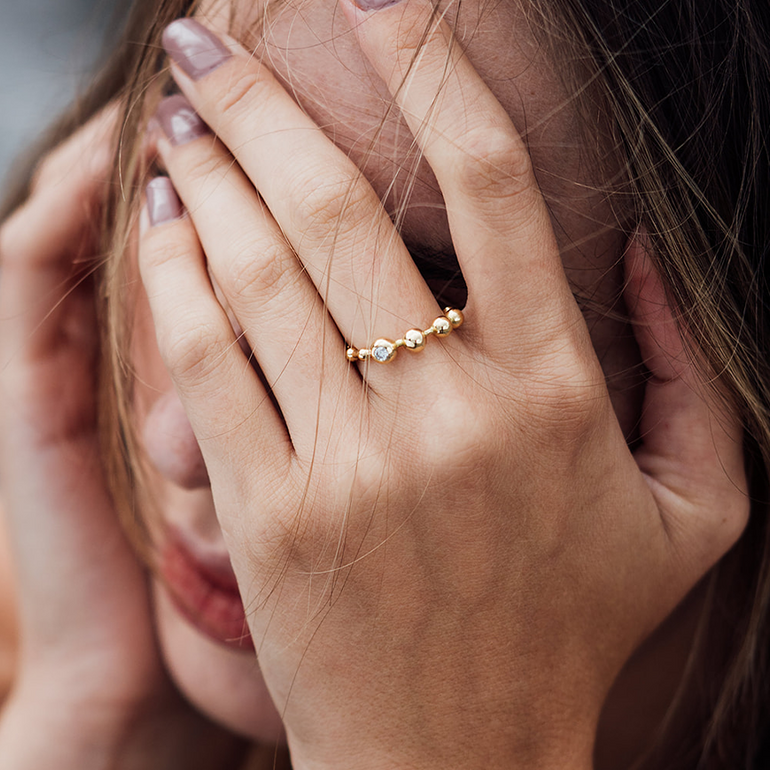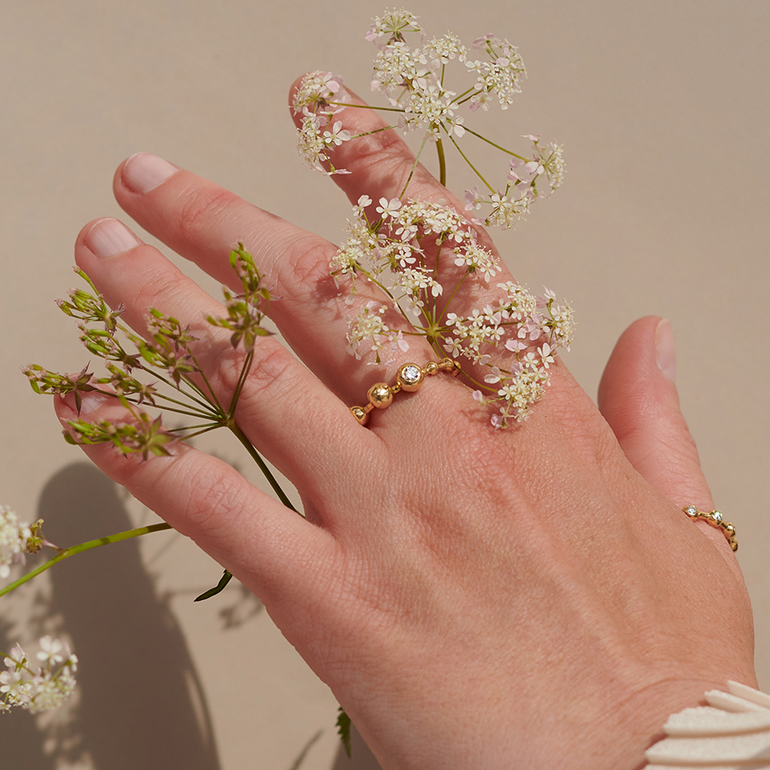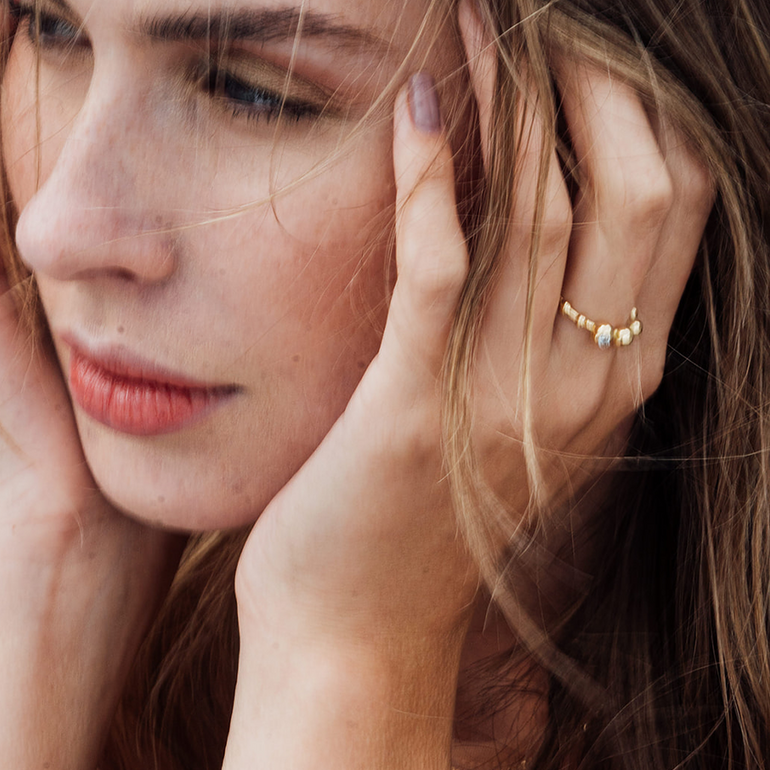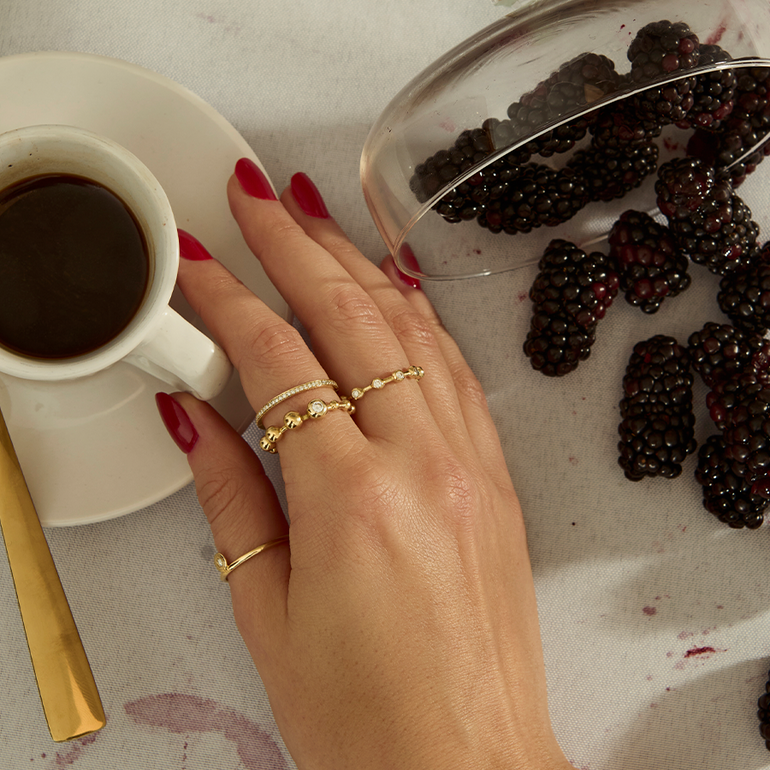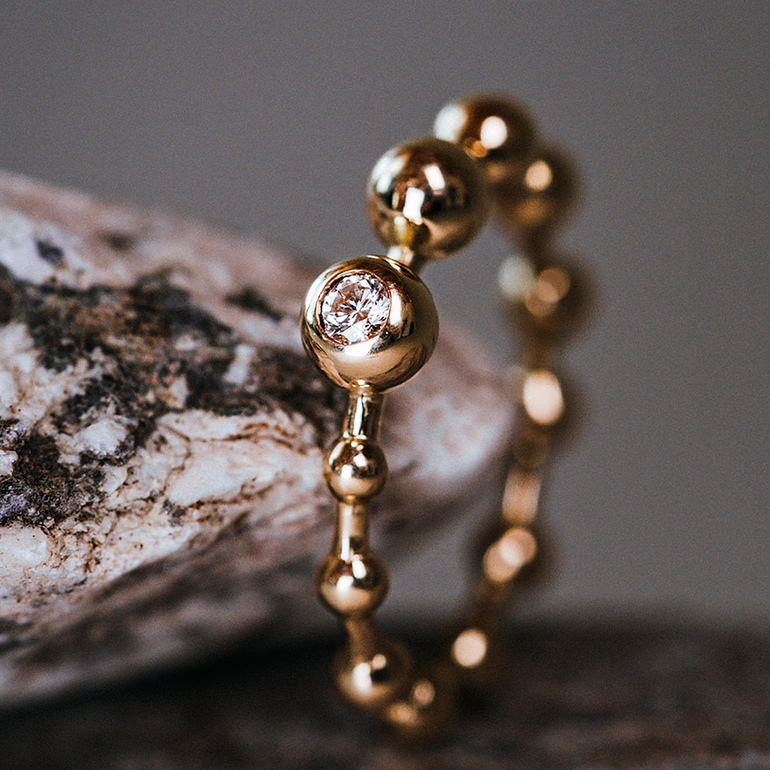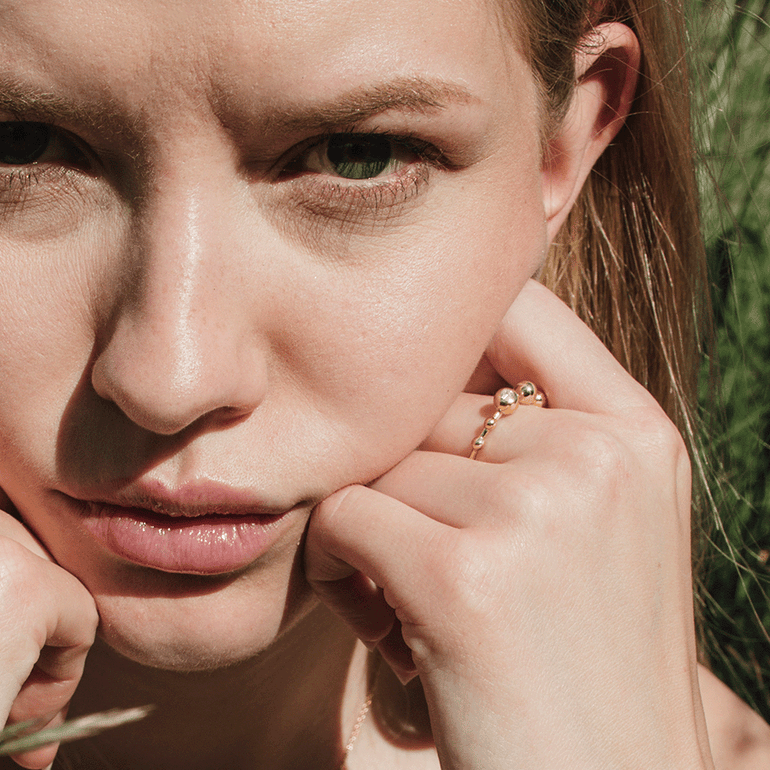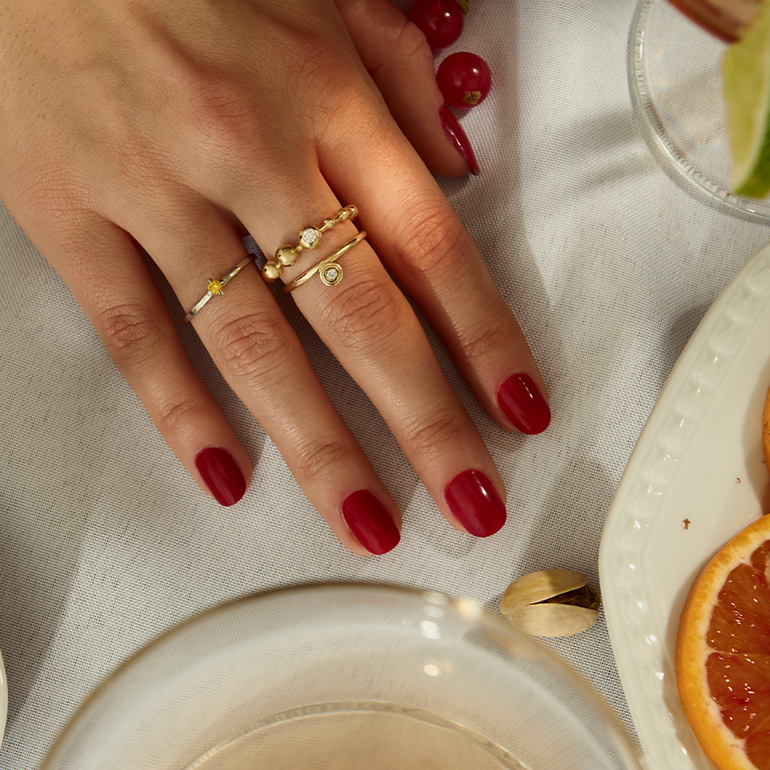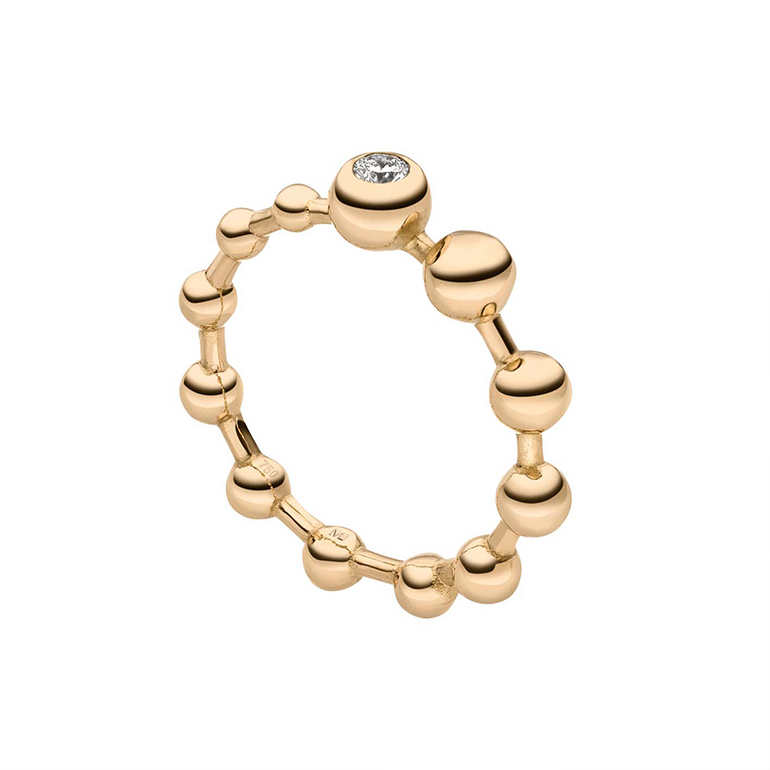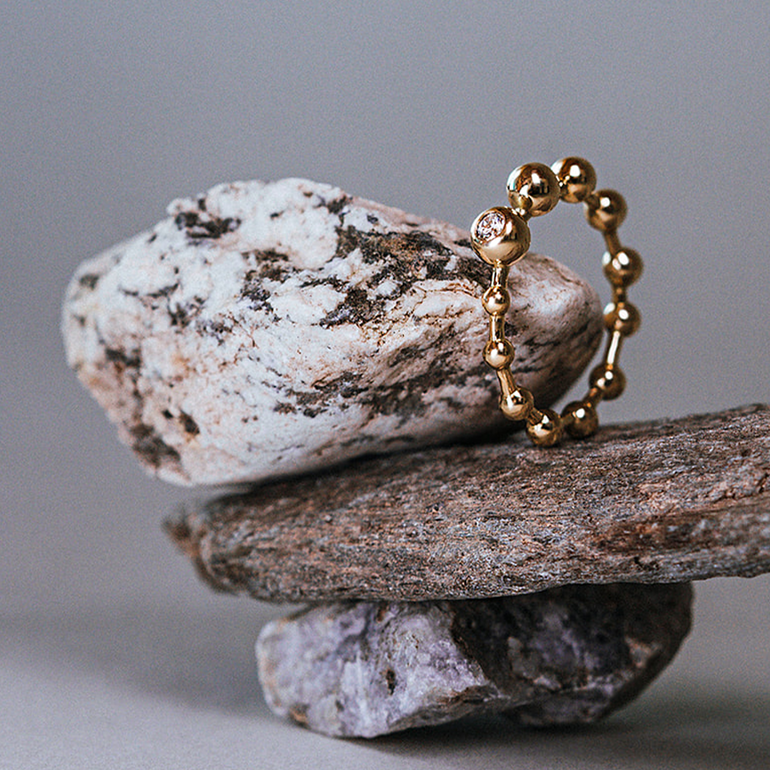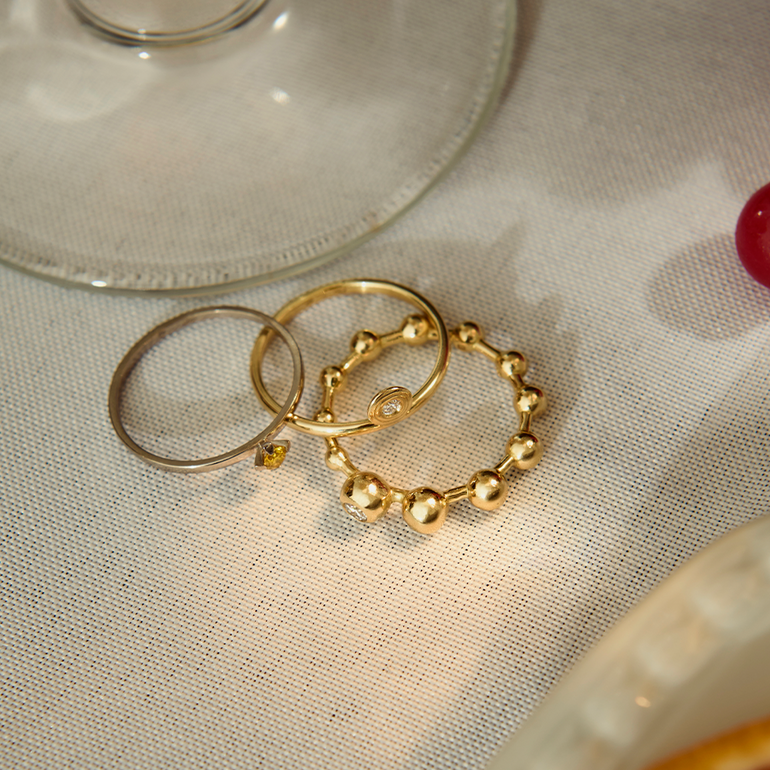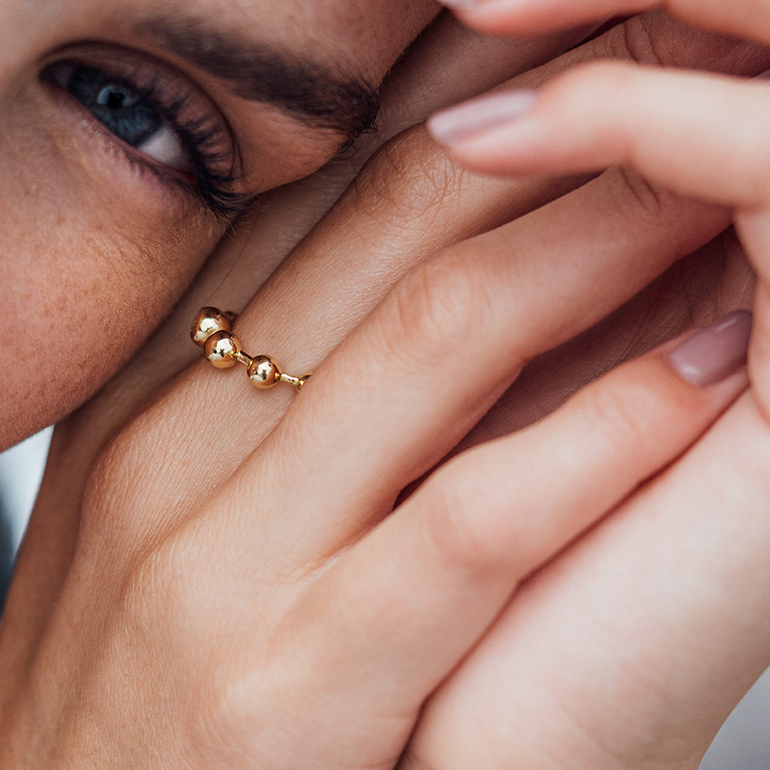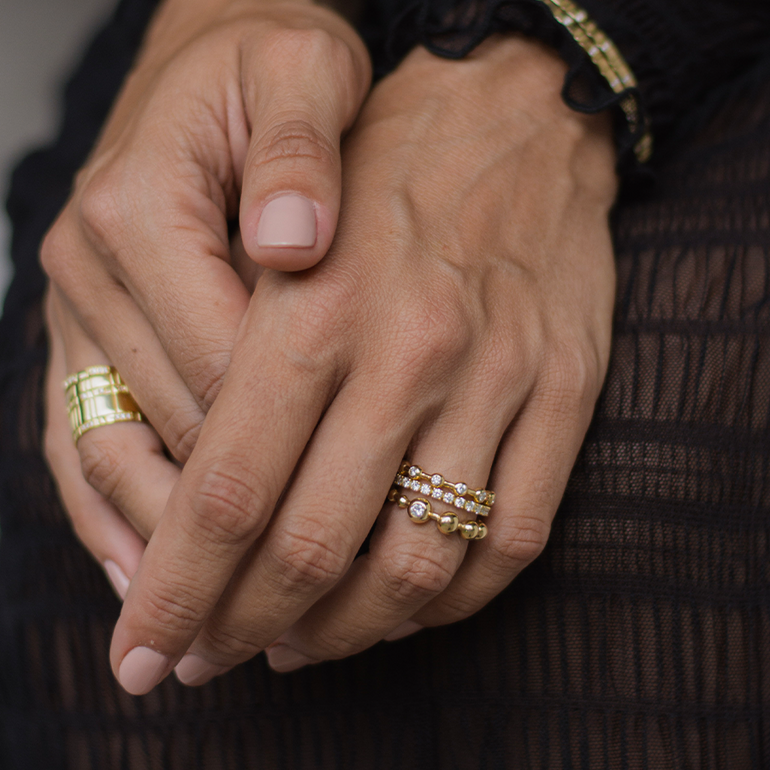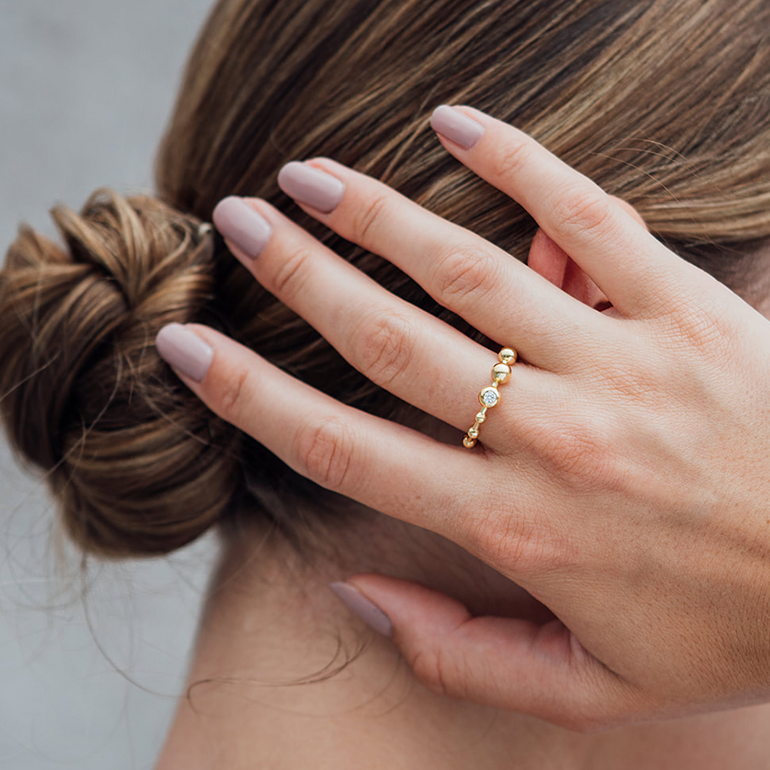 Cosmic Dreams Bead Ring with Stone

Handmade:delivered in 3 weeks in DE

Packaging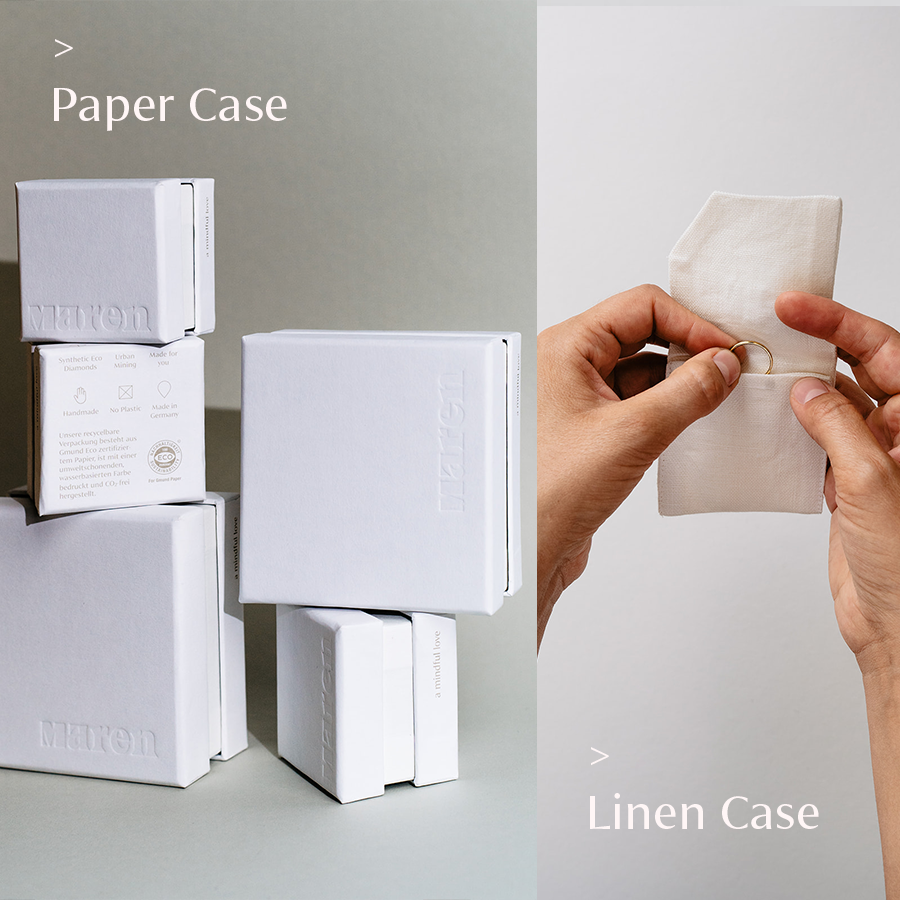 ---
With the Cosmic Dreams bead ring, you wear the beauty and glow of fading comets on your finger. Like the sparkle of these shooting stars, to which you silently reveal all your hopes when you catch sight of them. We think that such a personal and unique moment is worth holding on to and carrying with you. That's why we forge a spark of exactly this hope from recycled 18 carat gold, which spreads and ends in a beautiful pure synthetic eco diamond. For your hope and your dreams. For you.
More about the Sphere collection and design idea of the
Cosmic Dreams bead ring with stone.
Ring: width 2.4- 5 mm / height 2.4- 5 mm

Material:
recycled gold 18 carat from Germany
synthetic eco diamond 1 diamond 3mm round from Switzerland
cut: excellent - color: G - clarity: VS1 - carat: 0.1 total

About the evaluation of Diamond's with the 4 C's

The ball diamond ring is handmade for you by:
Designer Helge Hauptmann, Germany
Foundry, polishing company, jewel setter from Pforzheim, Germany
Impact:
Production and material of this sphere ring require approx. 1.4 kg CO2
We offset 100 kg of CO2 when you buy the jewel
You save approx. 98% CO2 compared to conventionally produced diamond rings.
Cosmic Dreams Bead Ring with Stone
we mind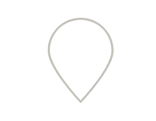 Made in Germany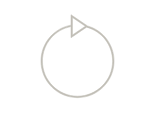 urban mining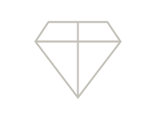 Eco Synthetic Diamonds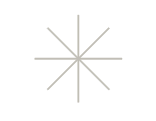 Made for you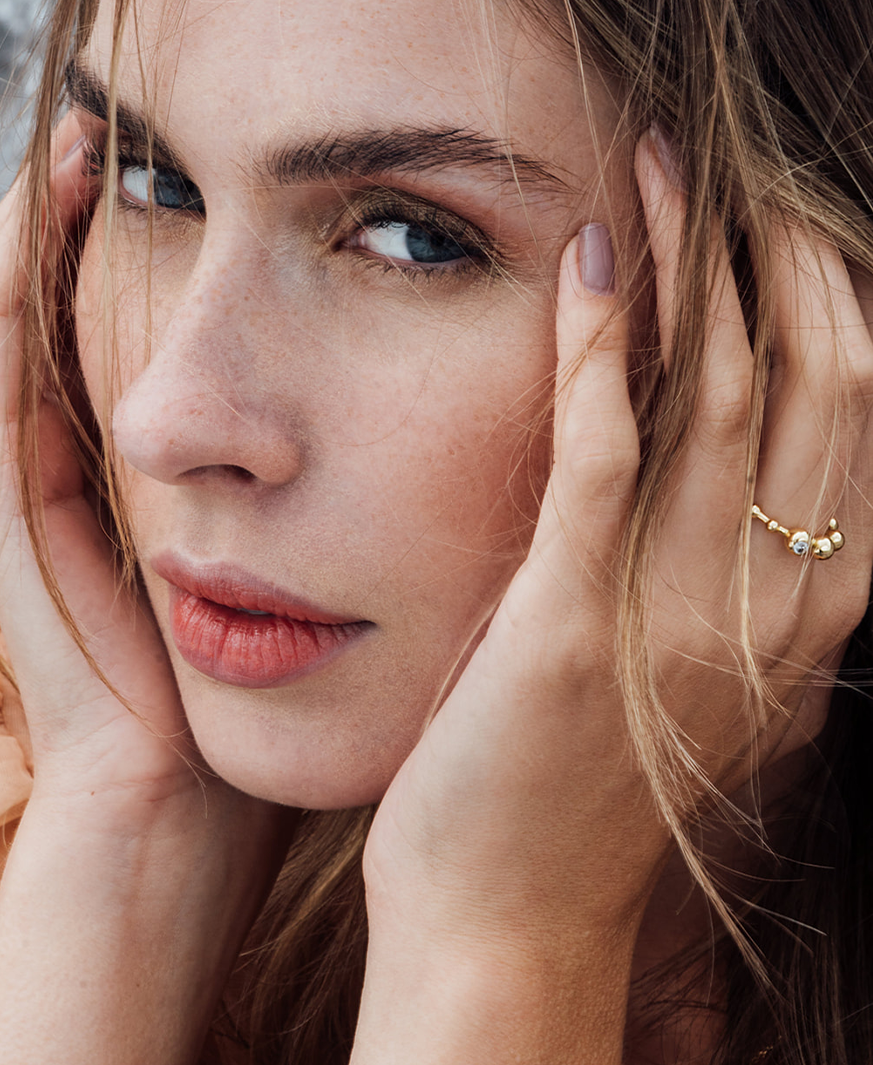 The spheres of the ball ring, which look like perfectly threaded pearls, gently nestle around the wearer's finger. It is minimalist and special at the same time. Timeless and unusual at the same time. The purist appearance of the ball ring with stone makes it stand out both on its own and in combination with other pieces of jewellery and makes it the ideal daily companion.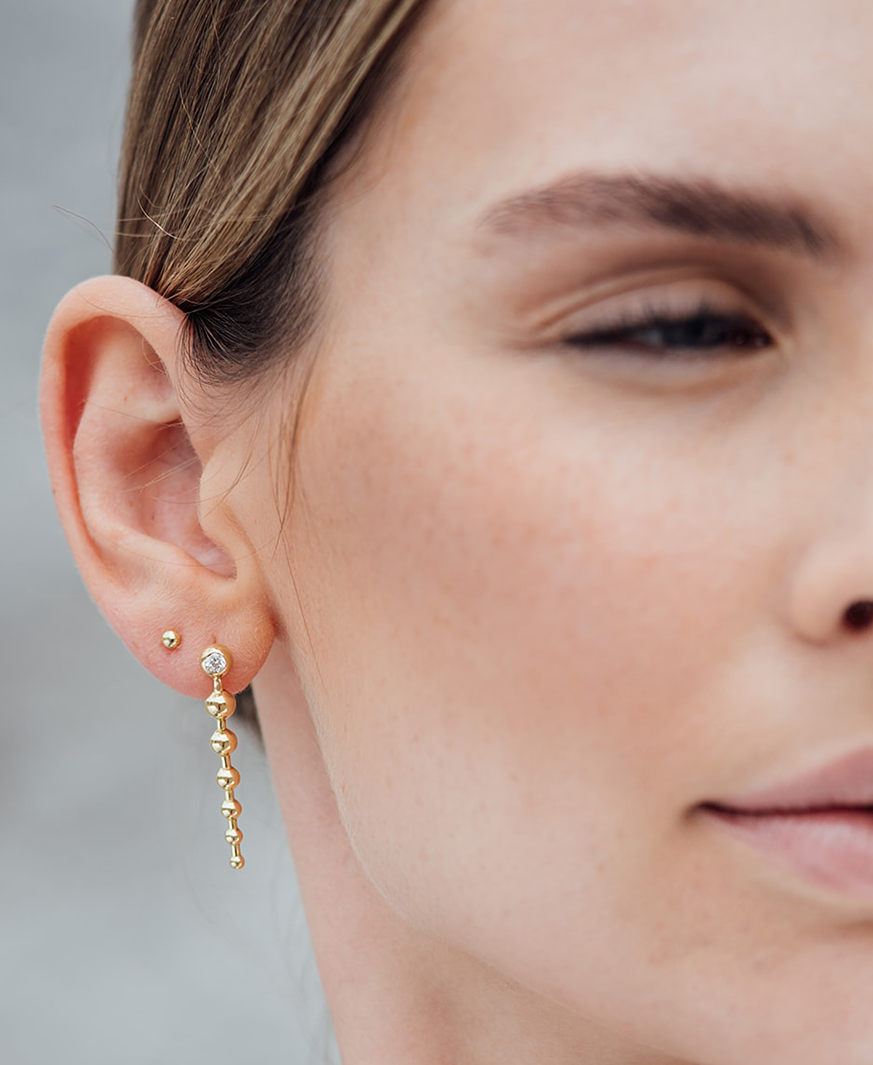 Inspired by the magic of a shooting star, our Cosmic Dreams hanging earrings subtly echo the look of the filigree ball ring with stone and complete your cosmic look. A sparkling Eco diamond gives the earrings their special something and makes them a timeless eye-catcher.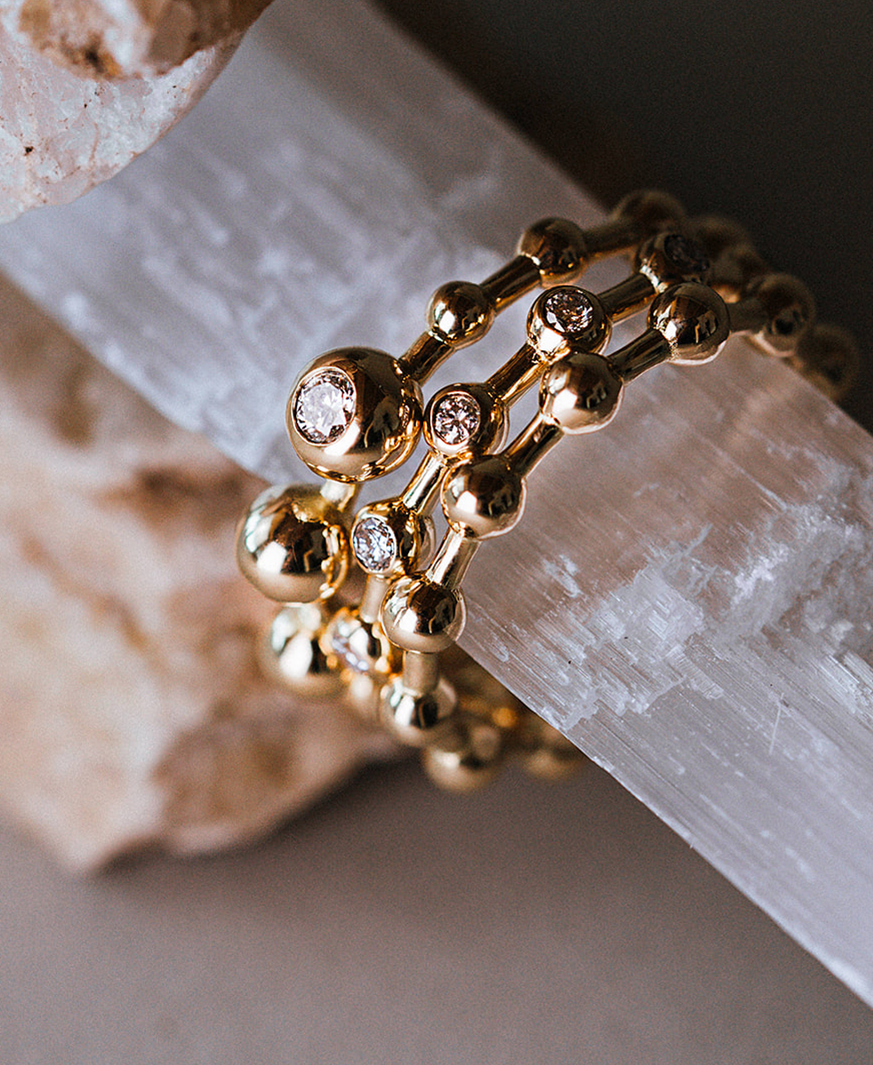 Create your very own individual ring ensemble and combine our Cosmic Dreams ball ring with other of your favourite rings. We think: Beauty and beauty go hand in hand, and in keeping with this motto, you can set the scene for each of your fingers individually with ring stacking.
Frequently asked questions about the Cosmic Dreams ball ring
Is it safe to order a ball ring with a stone online?
In principle, it is safe to order a ball ring with a stone or other high-quality goods online if you do so from a trustworthy seller. When buying online, always make sure that you can trace the origin of the jewellery and the diamonds in your ring. Reputable retailers are happy to be contacted, can always answer your questions transparently and are happy to share any information with you in order to give you the best possible advice for your online purchase. A particular advantage of buying online is the fact that you can get an overview of the information and details that are important to you in peace and quiet, regardless of shop opening hours. And if you are still not satisfied with your choice, you can always make use of your 2-week right of return.
Do ball rings with diamonds require special care?
Ball rings with diamonds have more small spaces between them than other rings. Deposits can build up between the individual spheres over time, which is why you should give your sphere ring a little attention in the form of cleaning every now and then. A mild bath and subsequent cleaning with a brush is sufficient. You will find everything you need for this in our Jewelry Care Set
Is engraving possible on the Cosmic Dreams ball ring?
Due to its special shape, it is unfortunately not possible to engrave the ball ring. If this feature is particularly important to you, please check our website for another ring suitable for engraving. Ring um.