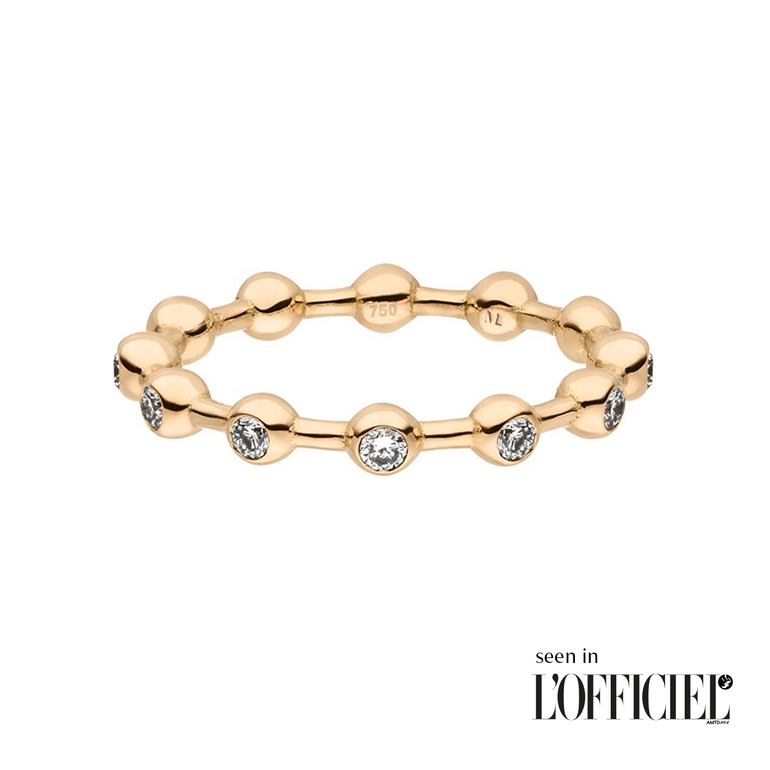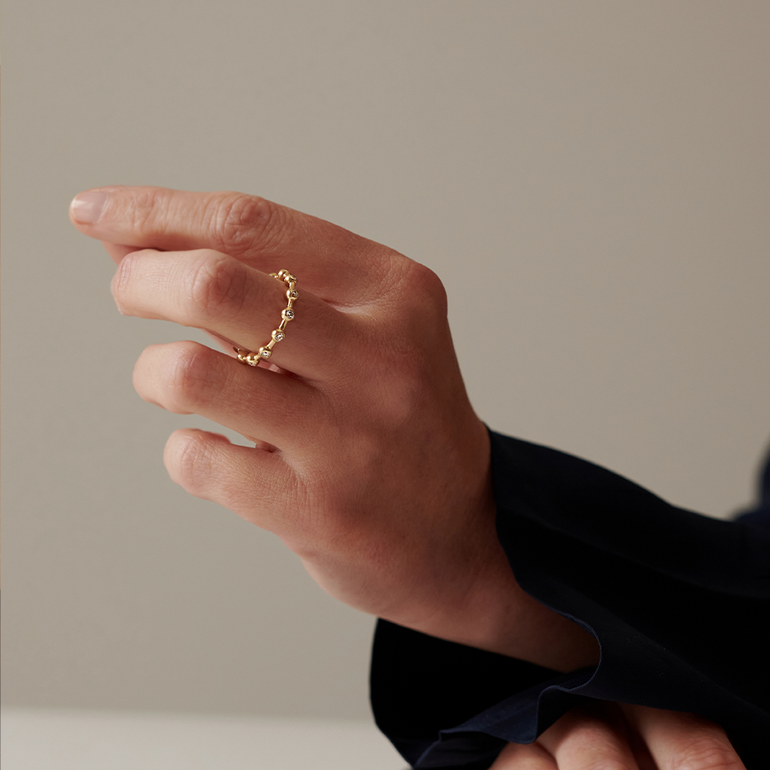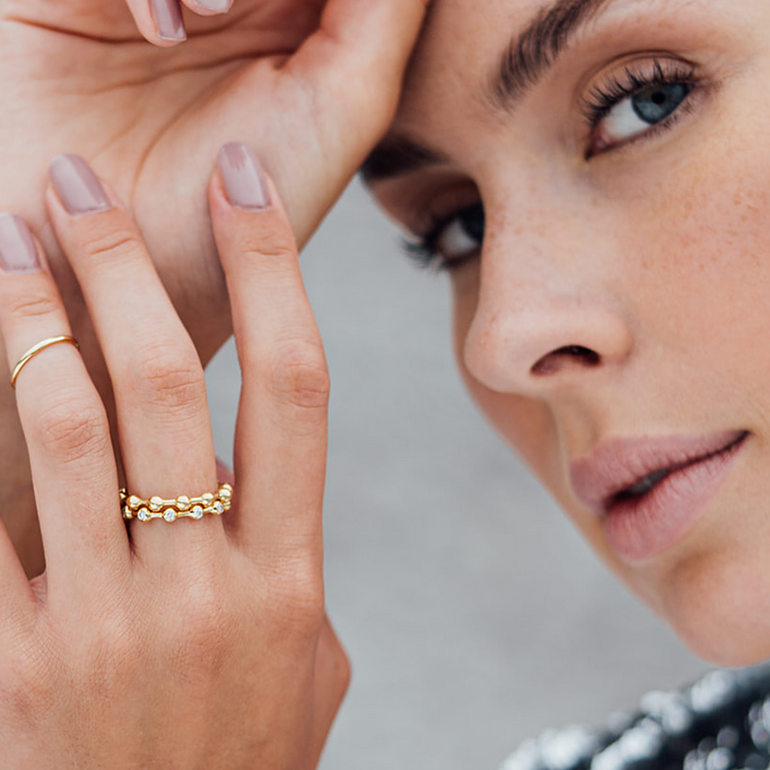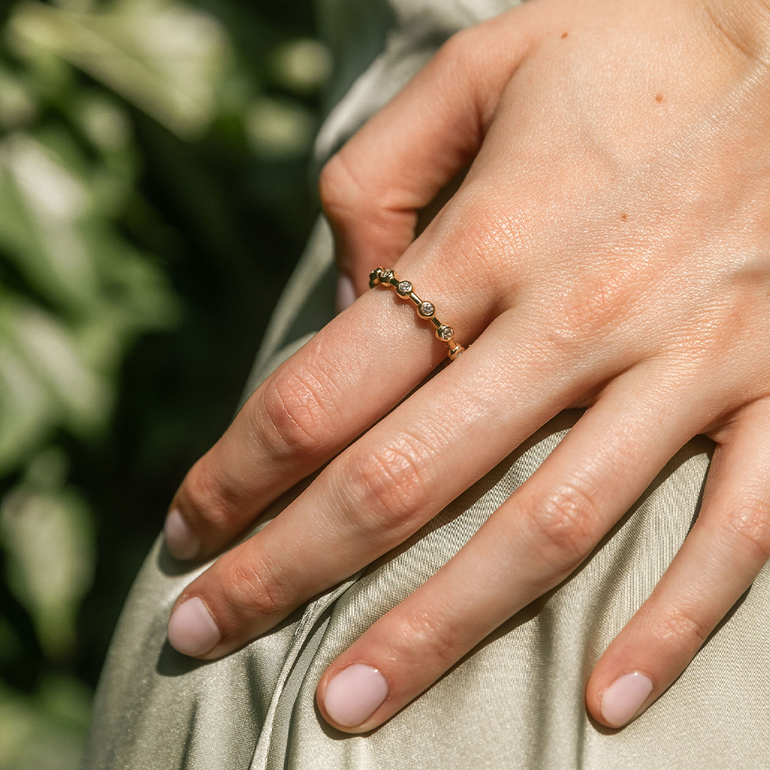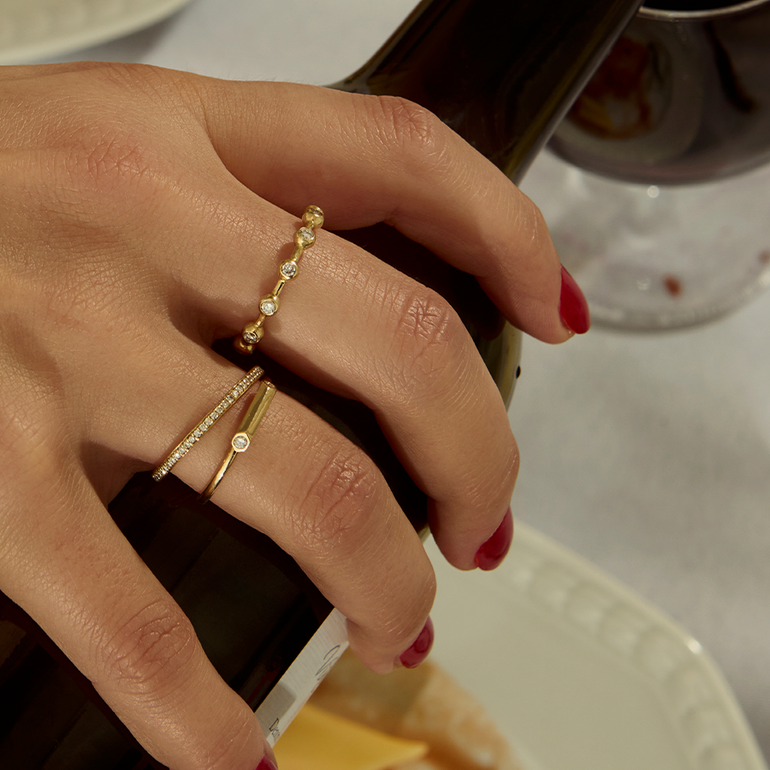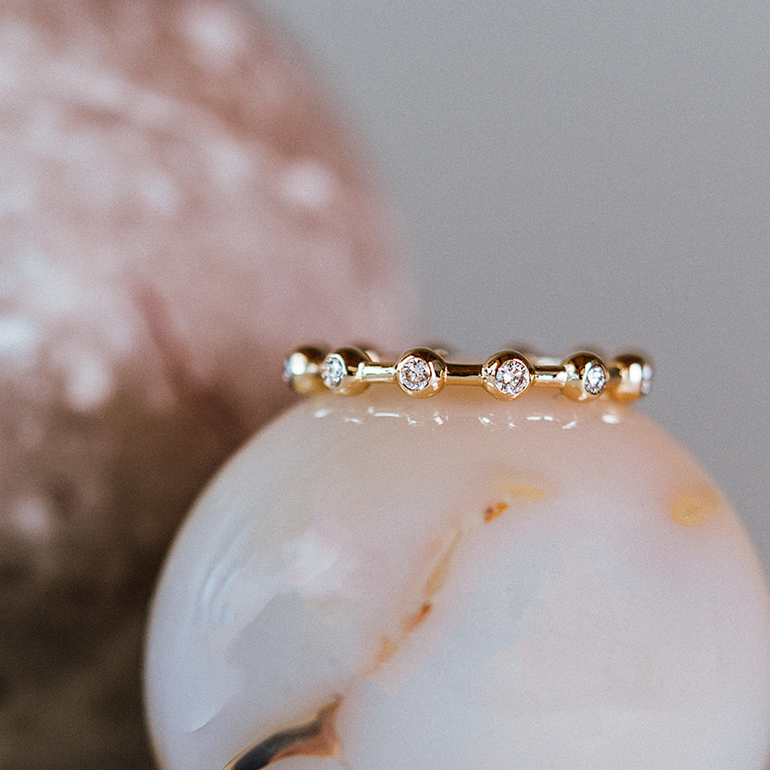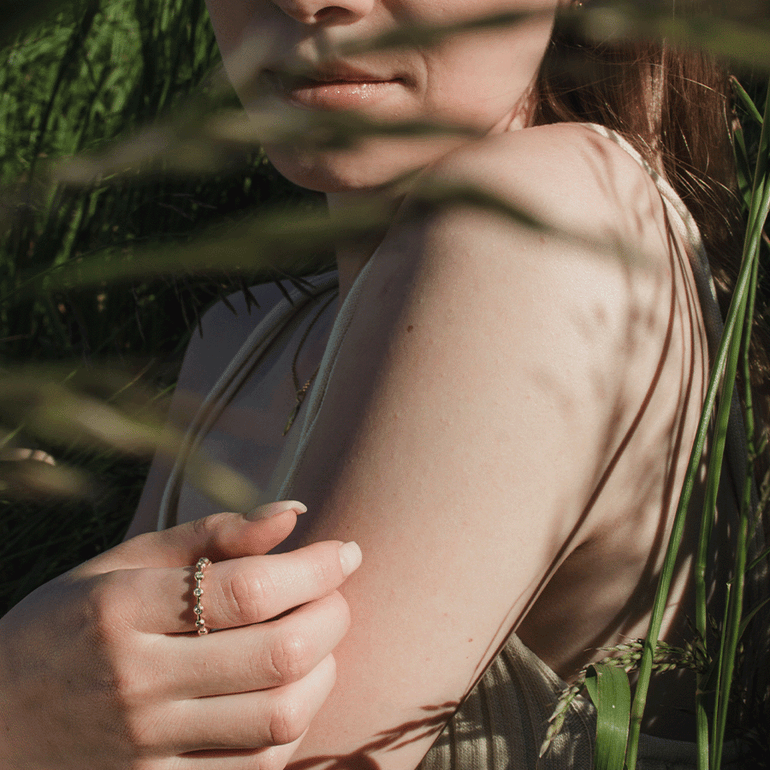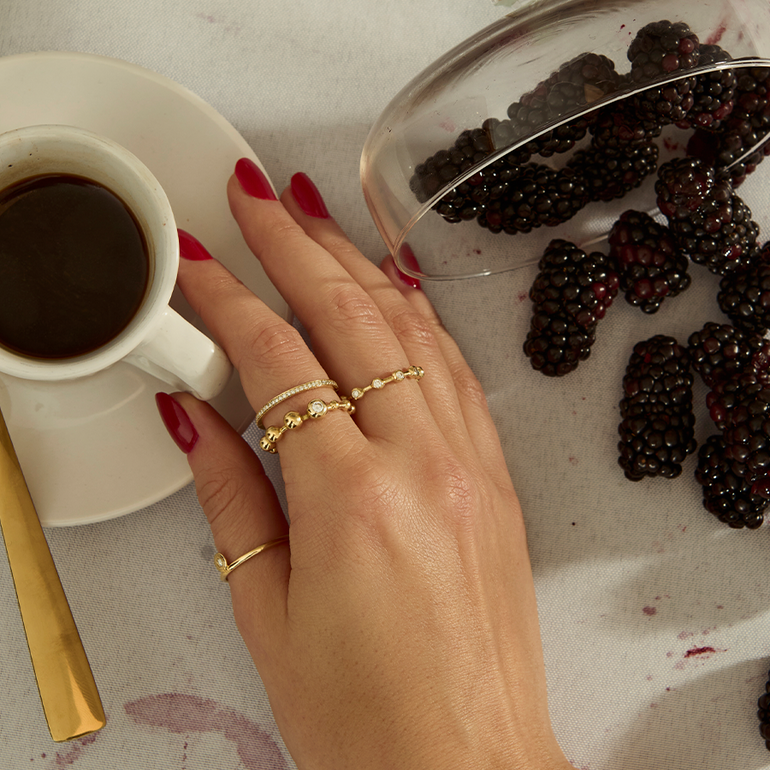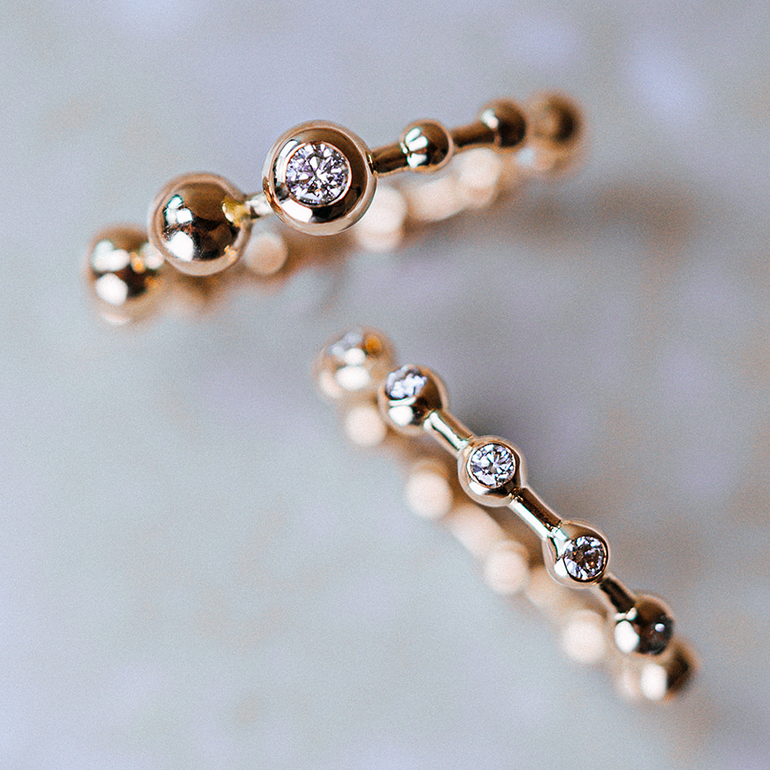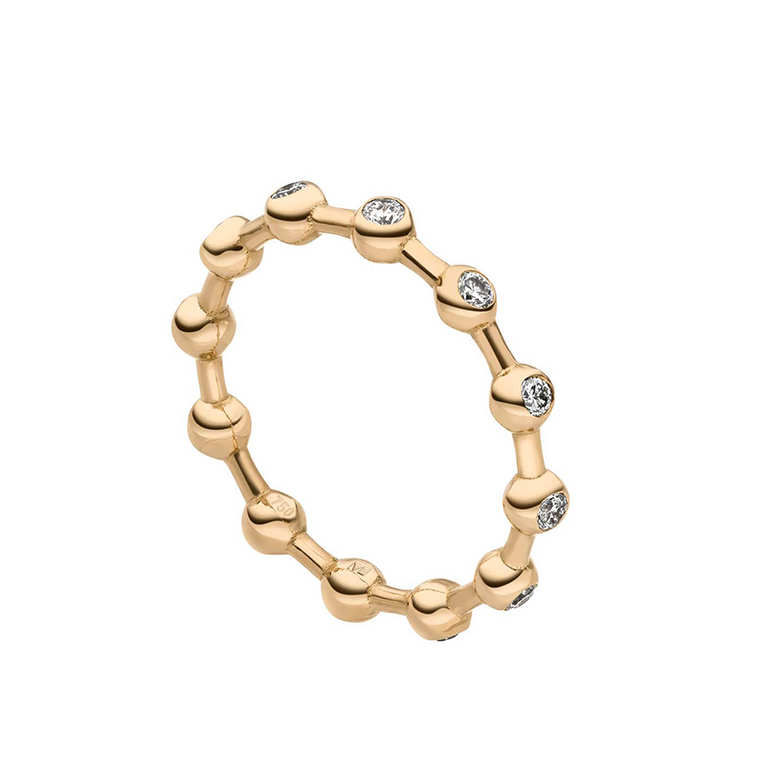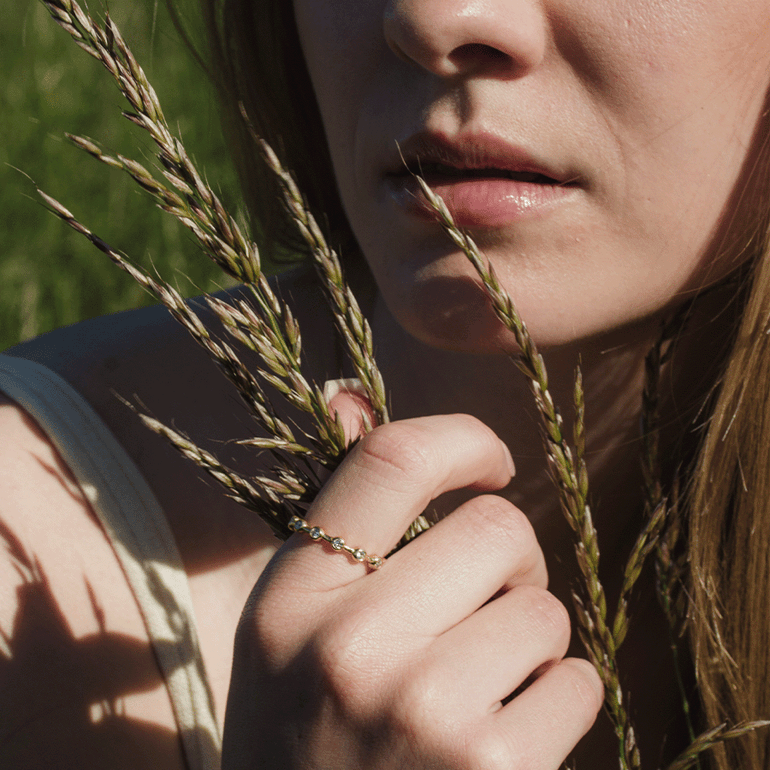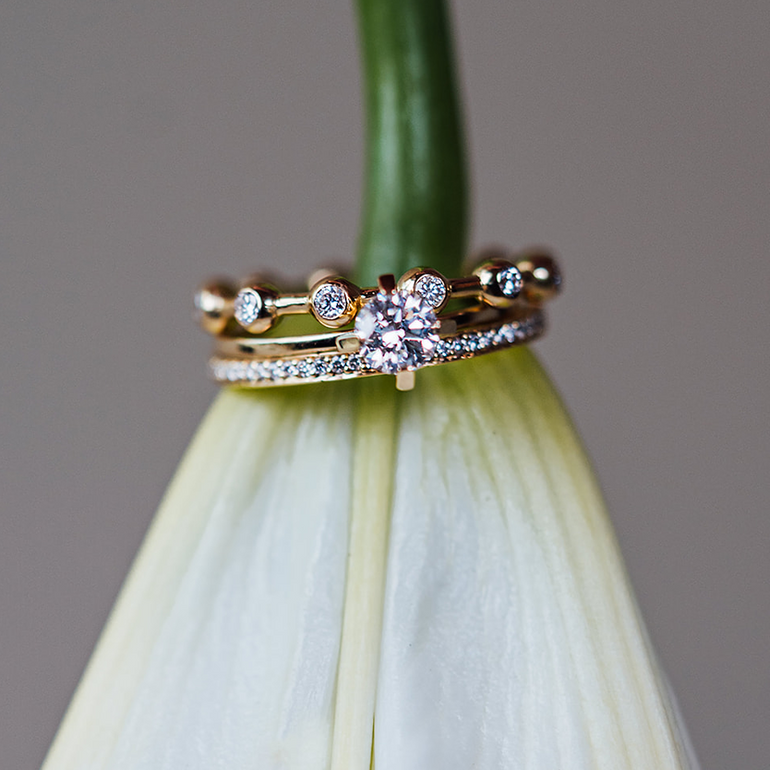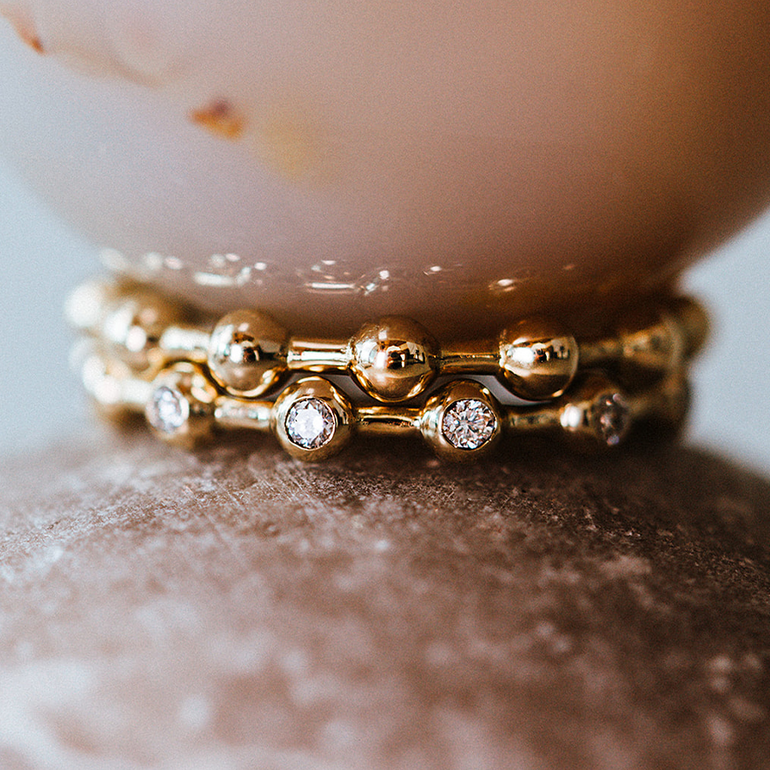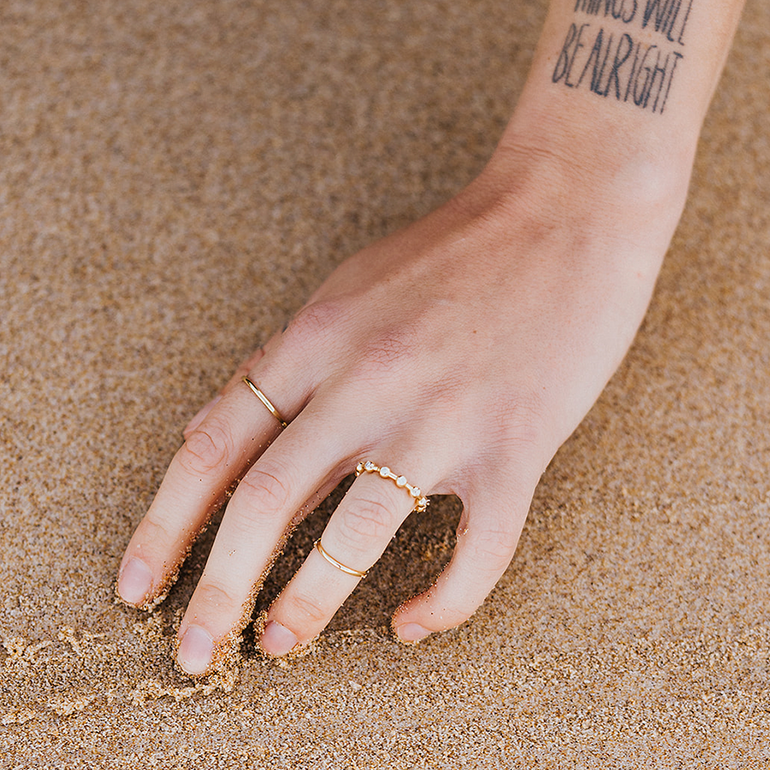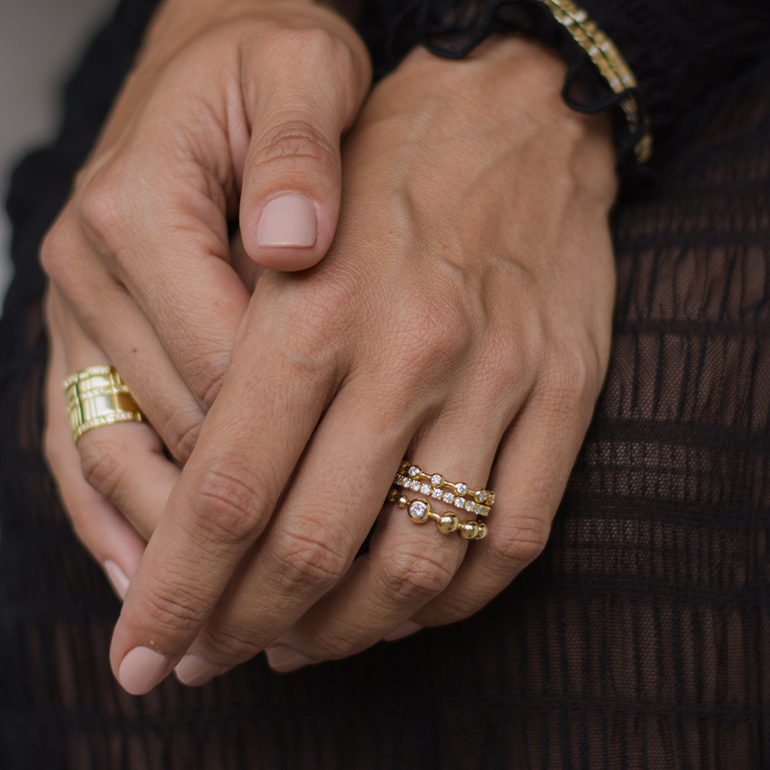 Handmade:delivered in 3 weeks in DE

Packaging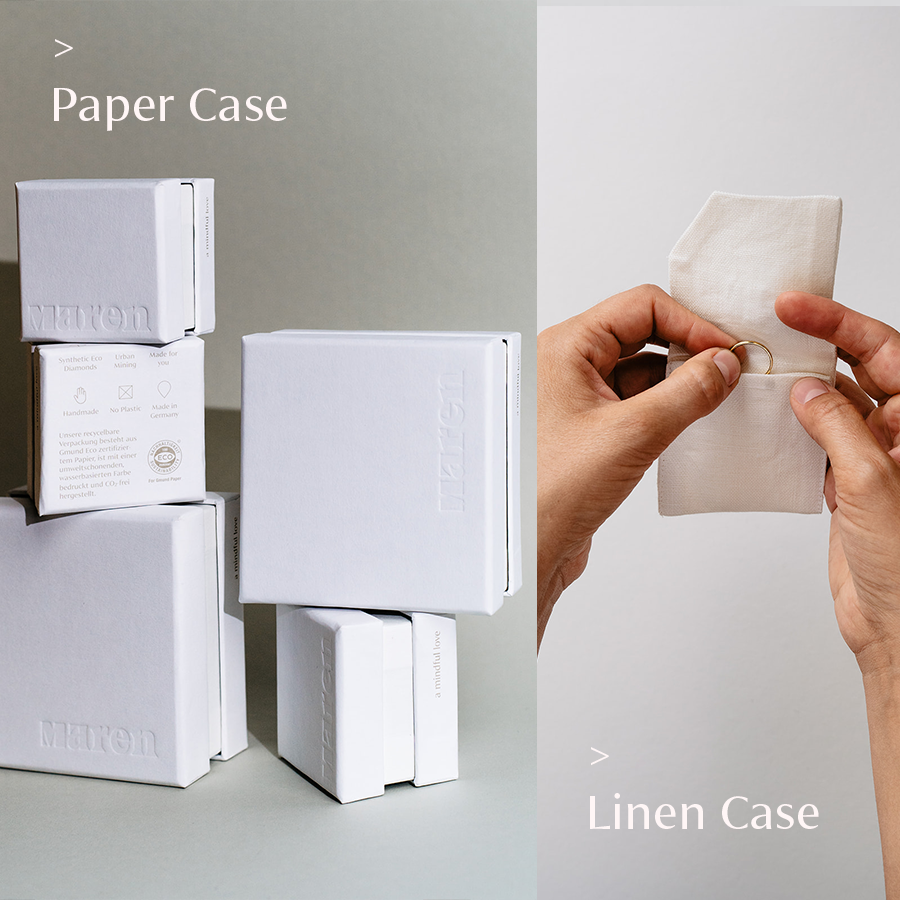 ---
Our Cosmic Infinity Ring has a very special and cosmic meaning for us. It reminds us that we are part of something big. In the midst of which we find ourselves among the glow and radiance of distant planets. Adorn yourself with the splendour of this galaxy, with our Cosmic Infinity Ring.
We forge it for you from recycled 18 carat gold and set it with twelve synthetic eco diamonds, as radiant as the stars.
More about the Sphere collection and design idea of the
Cosmic Infinity Ring.
Width 4 mm / Height 4 mm

Material:
recycled gold 18 carat from Germany
Synthetic Eco diamonds from Switzerland depending on ring size approx. 12 diamonds 2mm round
cut: excellent - color: G - clarity: VS1 - carat: ca. 0.35 total

About the 4 C's of Diamonds

The Infinity Ring is handmade for you by:
Designer Helge Hauptmann, Germany
Foundry, polishing company, jewel setter from Pforzheim, Germany
Impact:
Production and material of the Cosmic Infinity Ring require approx. 2.8 kg CO2
We offset 100 kg of CO2 when purchasing the ring
You save approx. 94% CO2 compared to conventionally produced diamond rings
we mind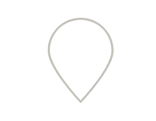 Made in Germany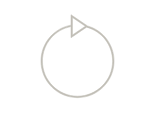 urban mining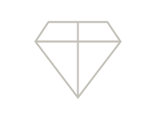 Eco Synthetic Diamonds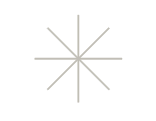 Made for you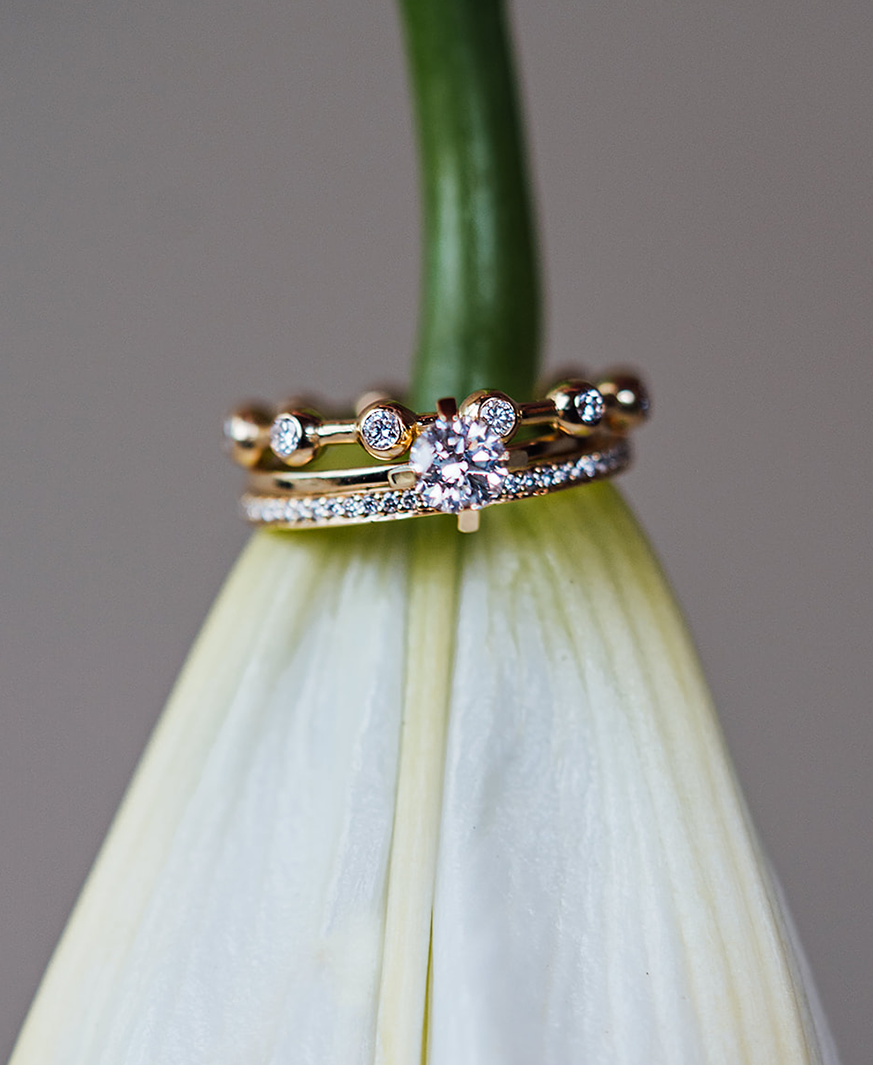 Infinity rings in general - and so of course our Cosmic Infinity Ring - are not only a beautiful eye-catcher in everyday life, but also an excellent engagement ring.

As a sign of your love, the infinity ring with golden pearls & diamonds could also sparkle on the finger of your loved one. And all romantics will think of a shared moment worth remembering for each golden sphere.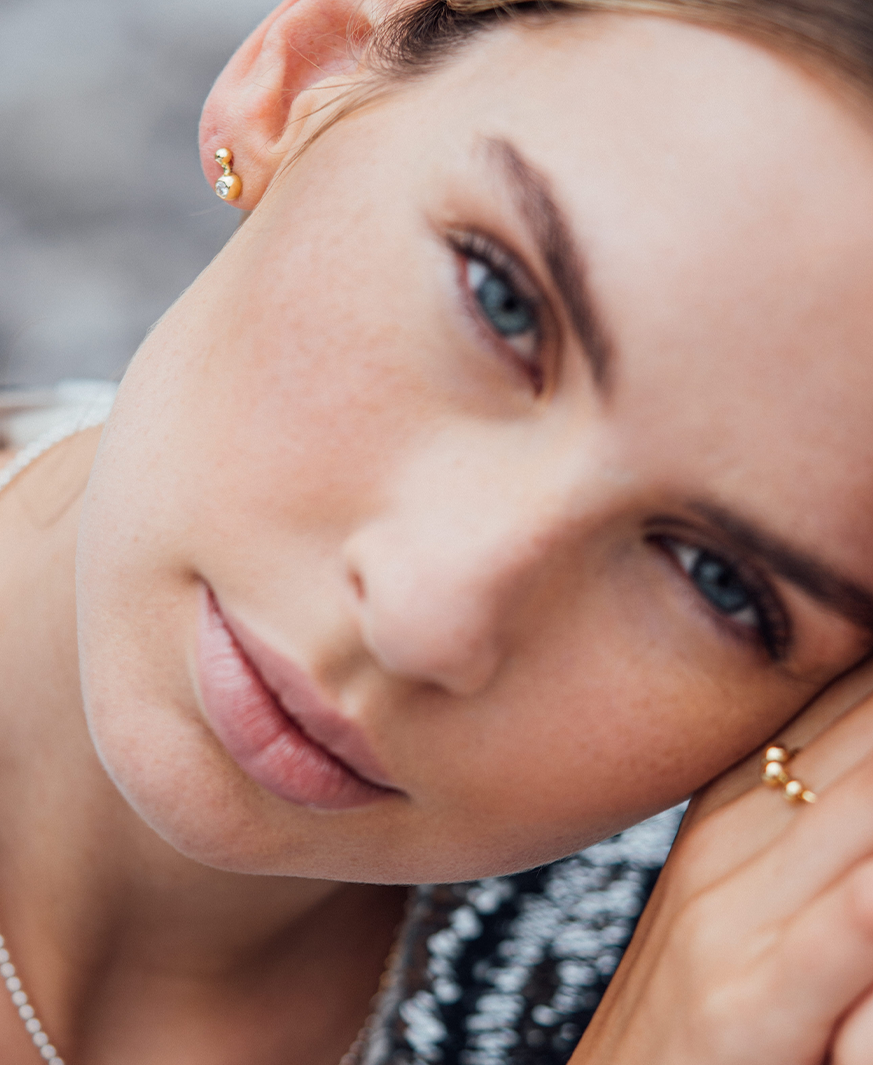 Would you like to echo the golden pearls and diamonds of the Cosmic Infinity ring elsewhere in your outfit? Then our Sphere ear studs in 18-carat recycled gold, also with a diamond, will complete your look beautifully as a sparkling pendant.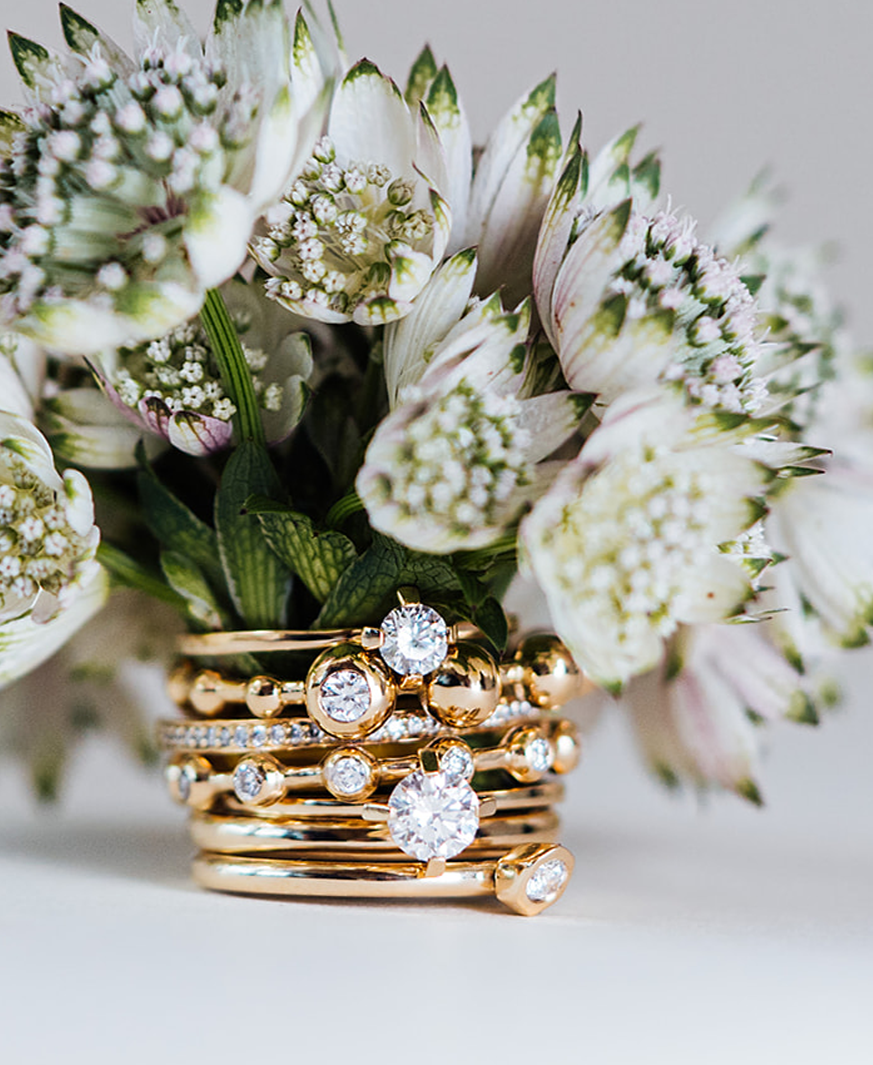 Unser Cosmic Infinity Ring mit seinen goldenen Perlen & Diamanten erinnert an eine fein säuberlich aufgefädelte Perlenkette. Depending on the ring size, your ring will be adorned with about 12 beautifully sparkling eco diamonds.

Unfortunately, the origin of such enchanting gemstones is often uncertain and problematic. That is why we use only synthetic Eco diamonds for the production of our jewellery right from the start.
Frequently asked questions about the Infinity Ring
What is the meaning of infinity rings?
Infinity rings and infinity jewellery in general express infinity. Just like our Cosmic Infinity Ring, there is no beginning and no end. The individual meaning can stand for infinite friendship, love for a person or a personal passion and spirituality, for example.
On what occasions are Infinity Rings given?
Infinity rings make a beautiful gift for a wide variety of occasions that can be associated with infinity, such as births or wedding anniversaries. But basically any occasion or day can be used to symbolise infinite affection for someone or something. Therefore, birthdays, holidays, graduations or new beginnings come into question. In addition, the Infinity Ring with its symbolism is also becoming increasingly popular as a wedding ring. We really like this idea, because what deserves a special ring if not the step into a life together full of love for each other.
Can the Cosmic Infinity Ring be combined well?
As a mindful and responsible company, we aim to design jewellery that outlasts trends. With clean lines and quiet beauty, we create timeless jewellery that lasts a lifetime and beyond. Of course, we have also taken this claim into account in the design of our Cosmic Infinity Ring with its golden pearls & diamonds and thus - as we find - created a ring that easily fits in stylishly with existing jewellery collections and all looks.