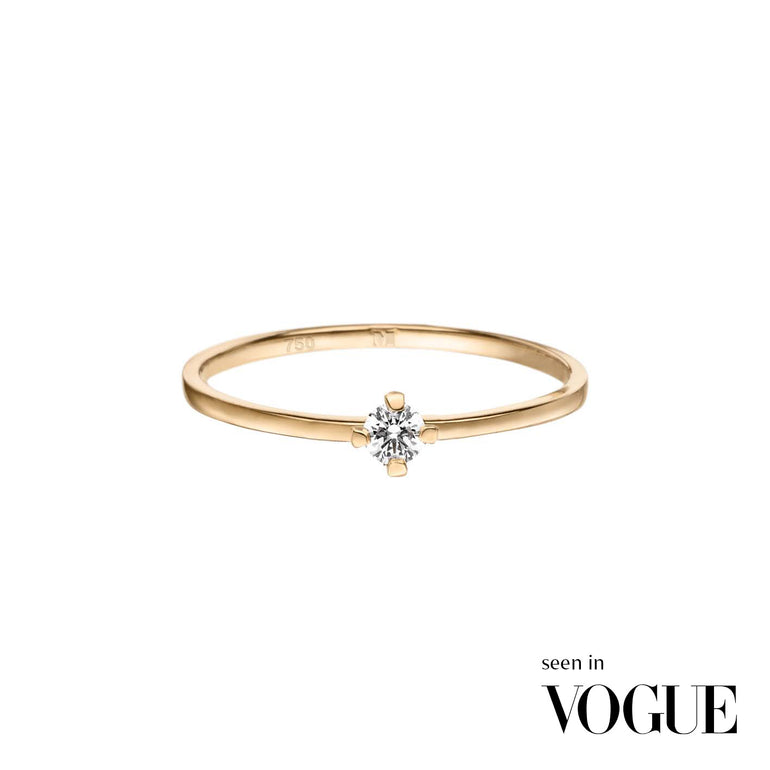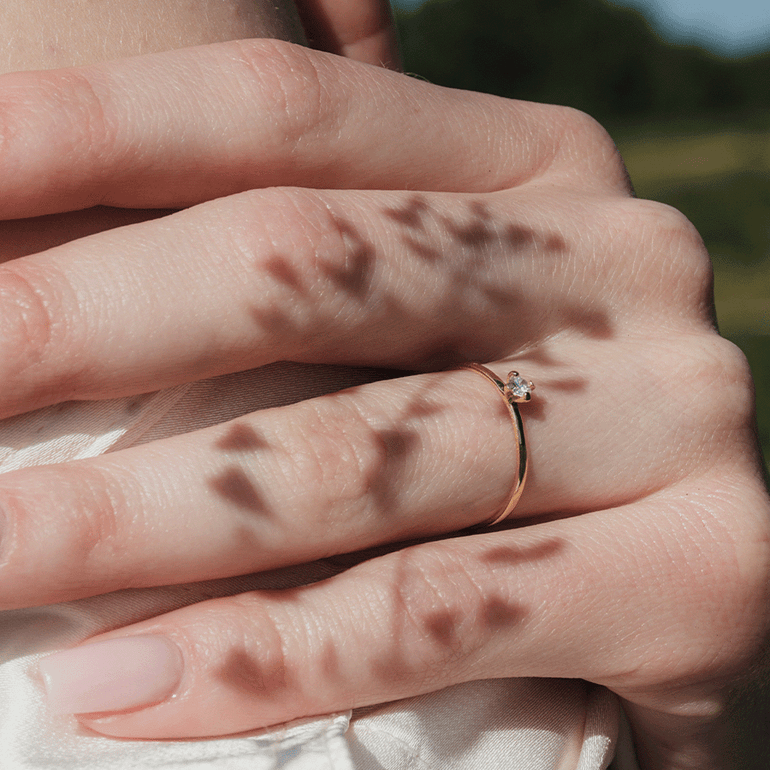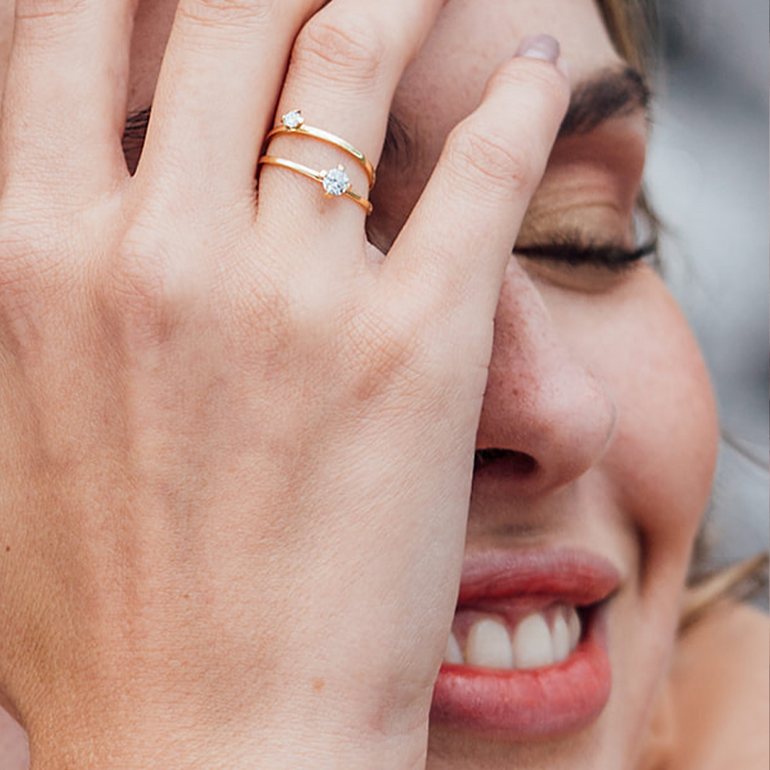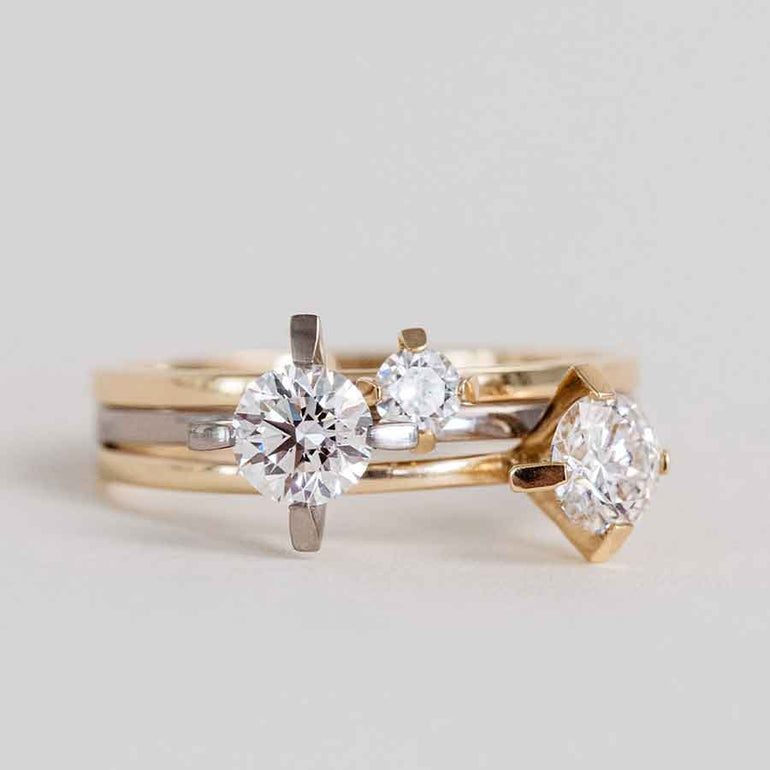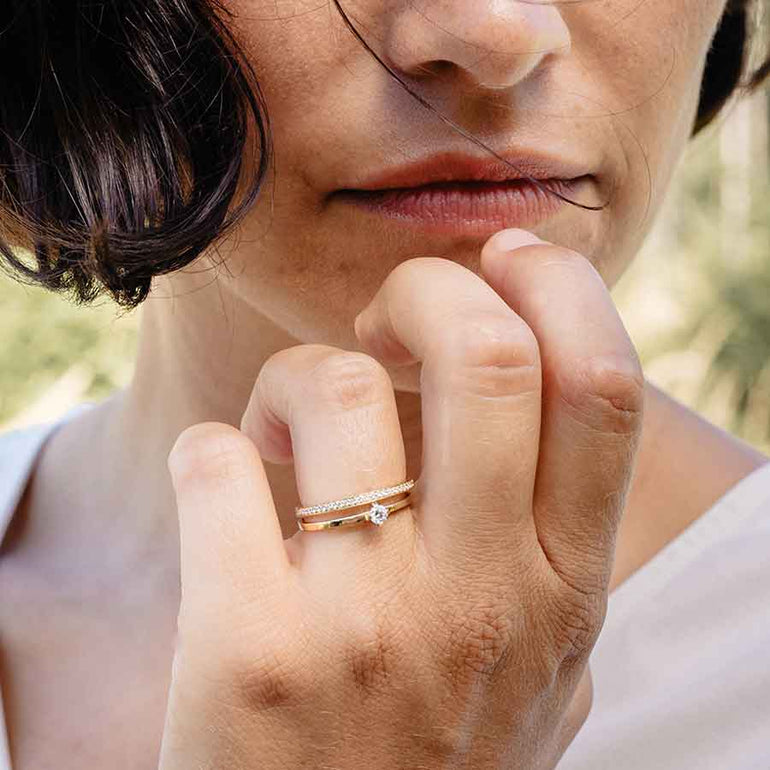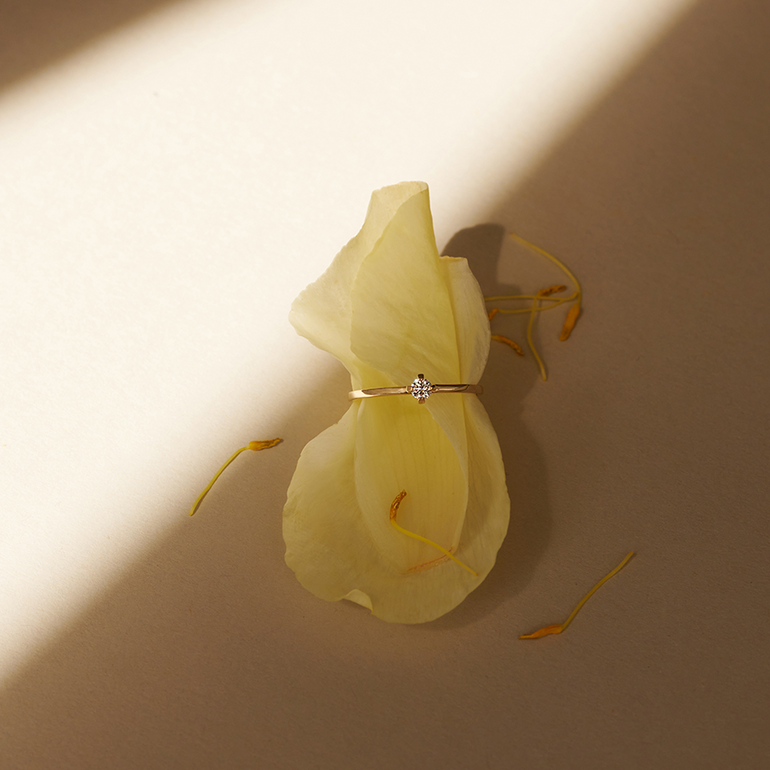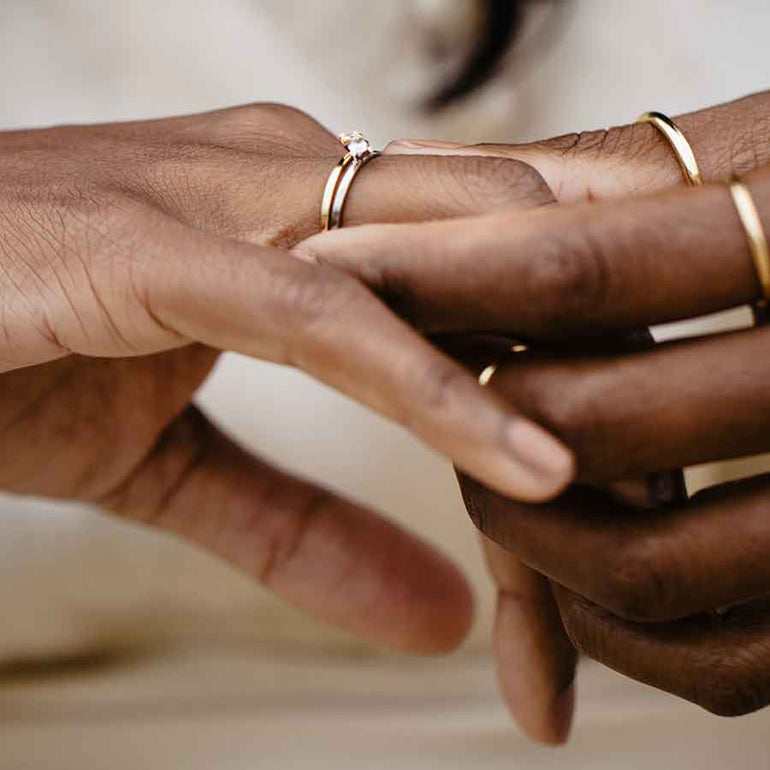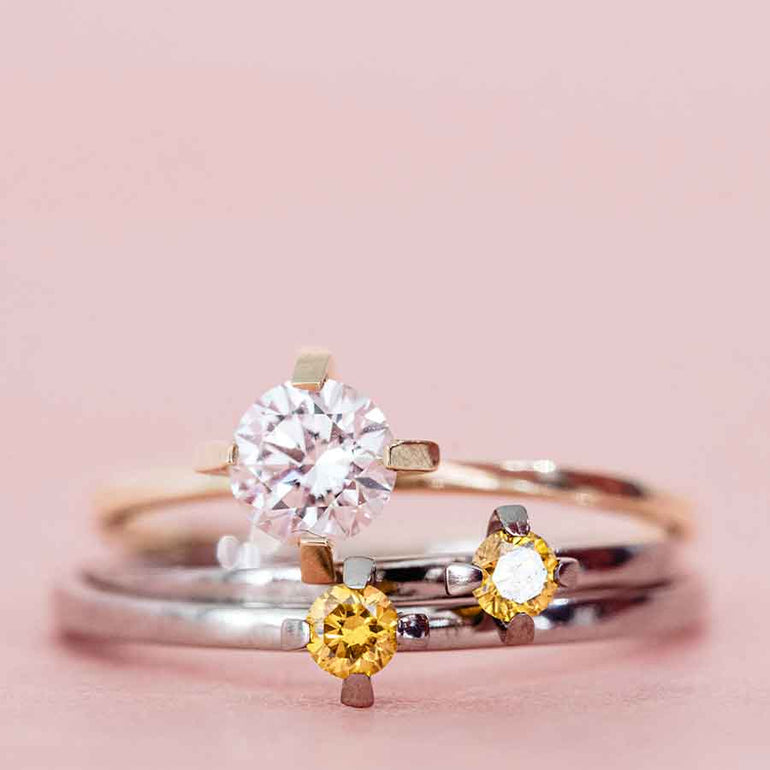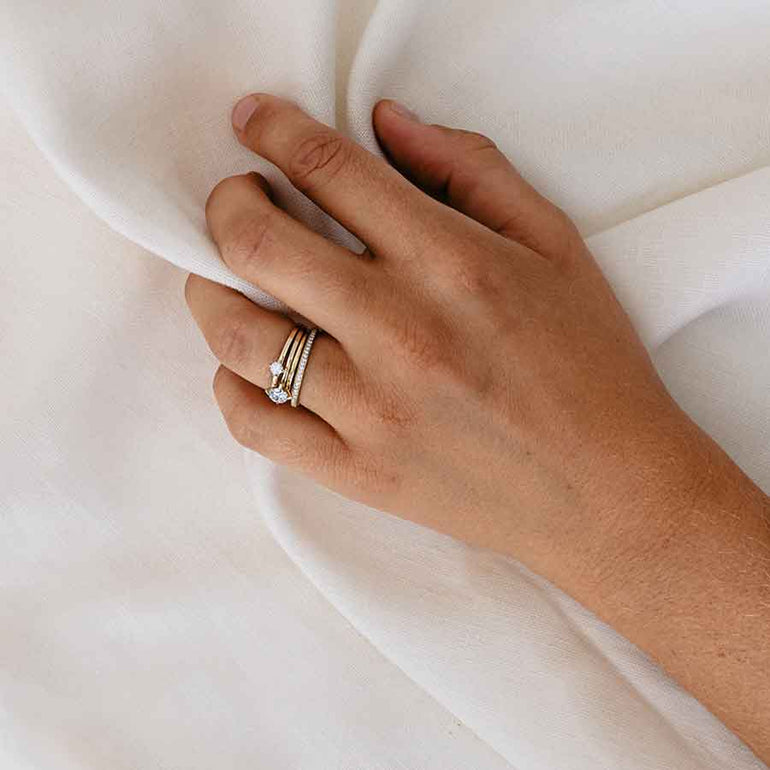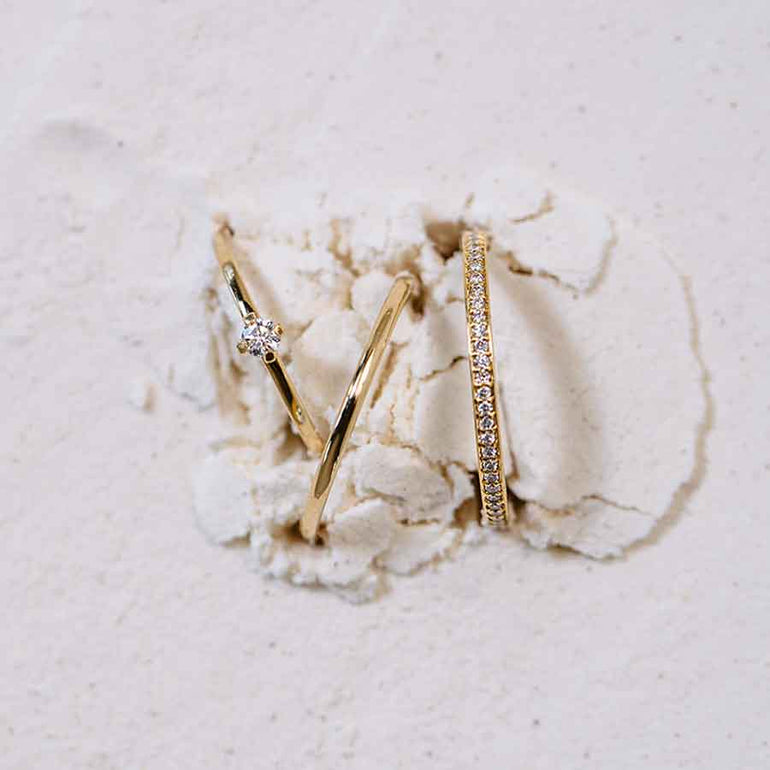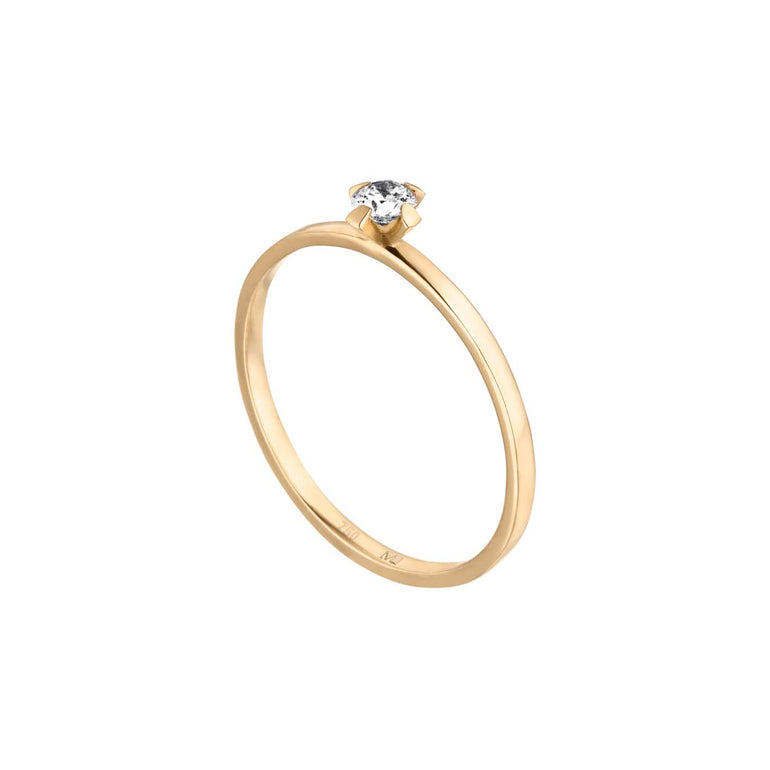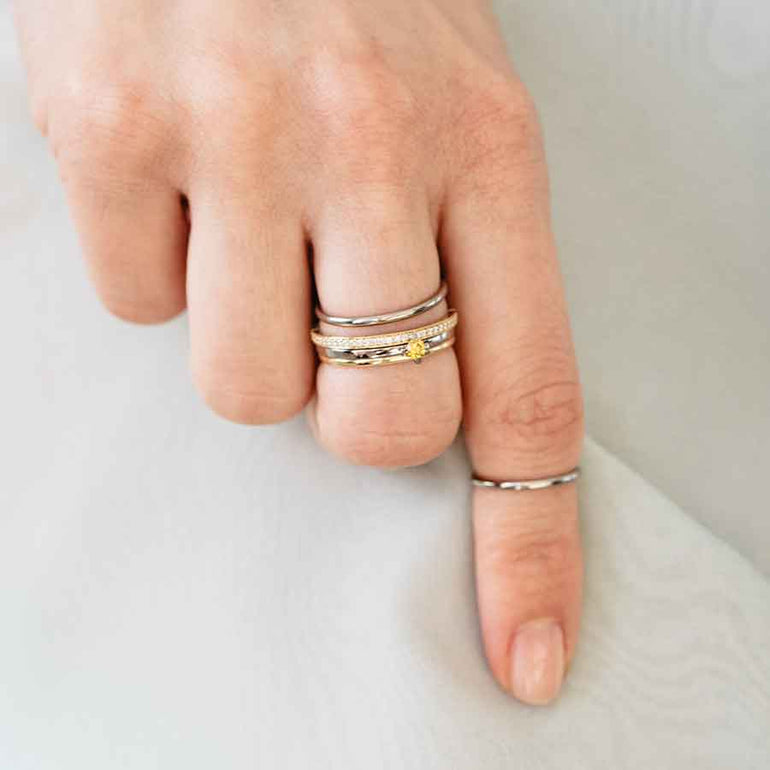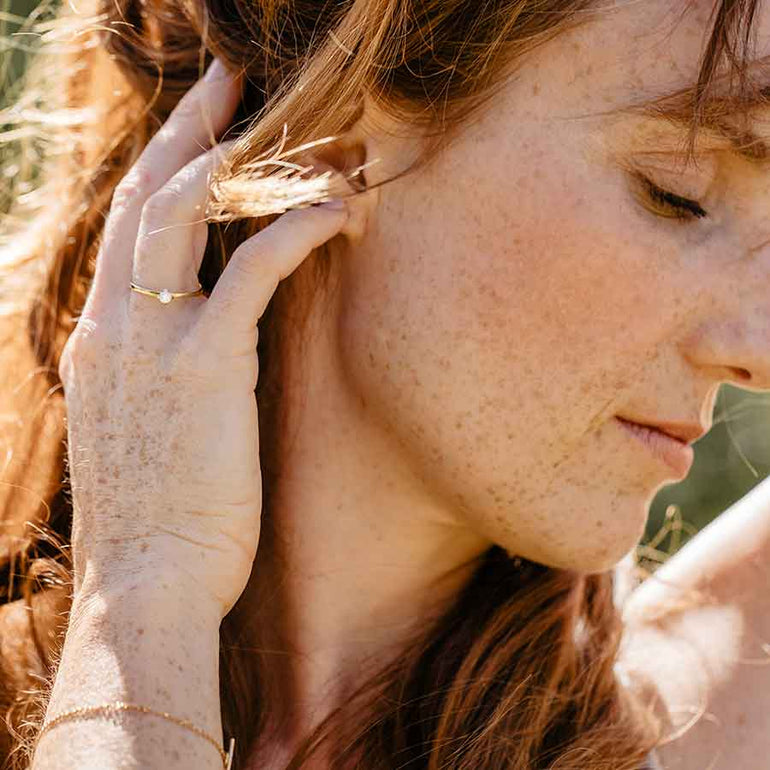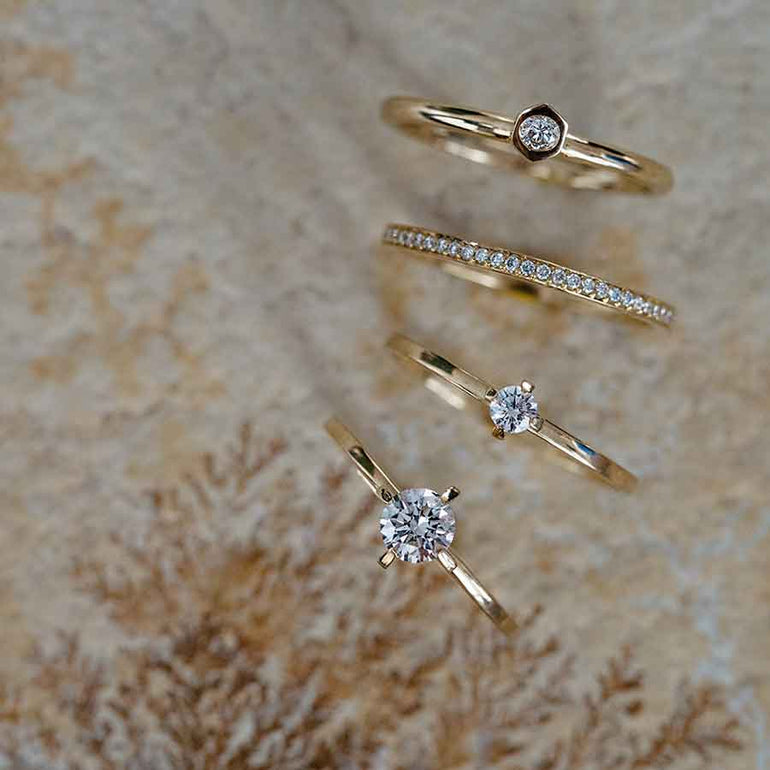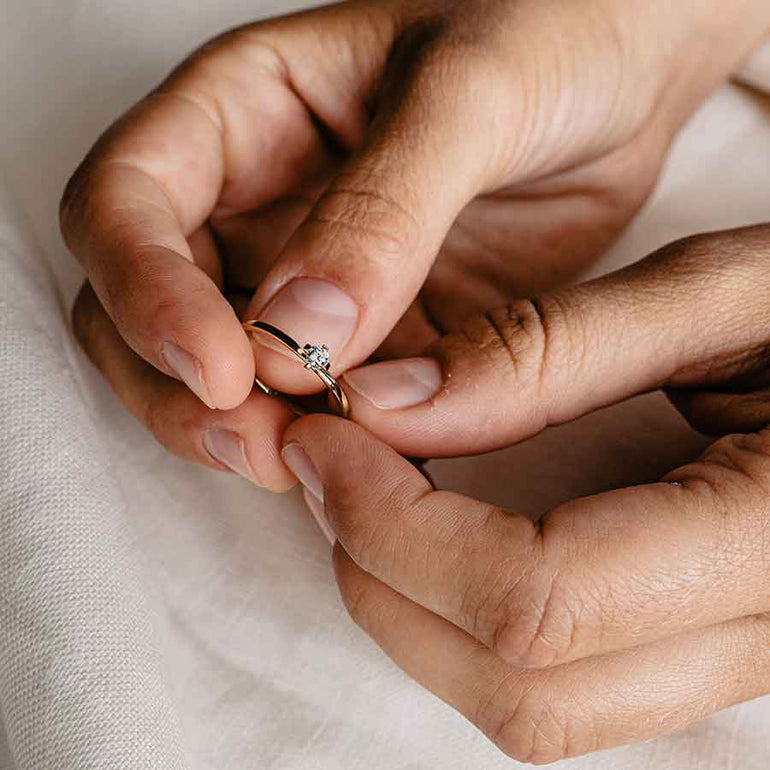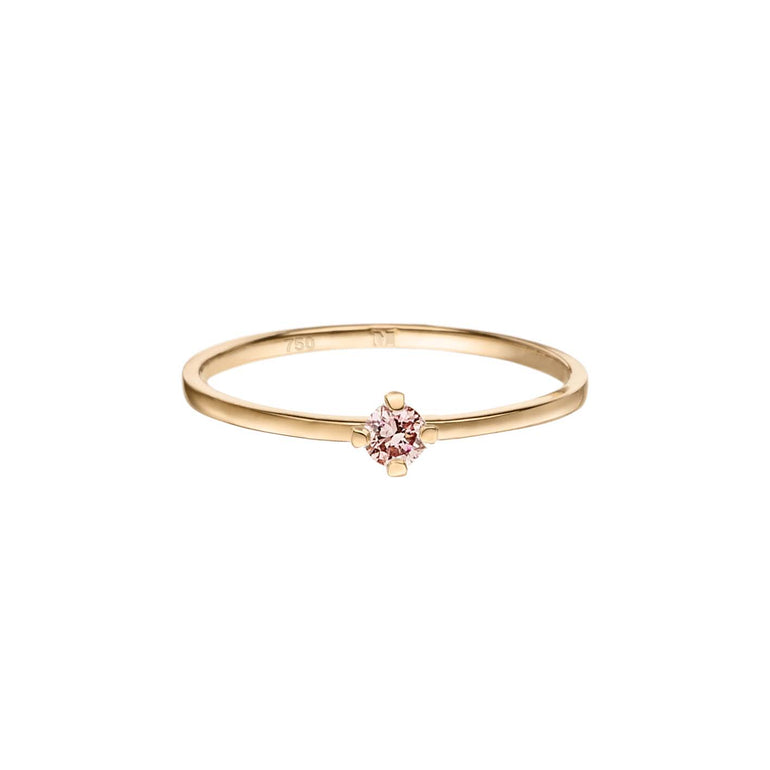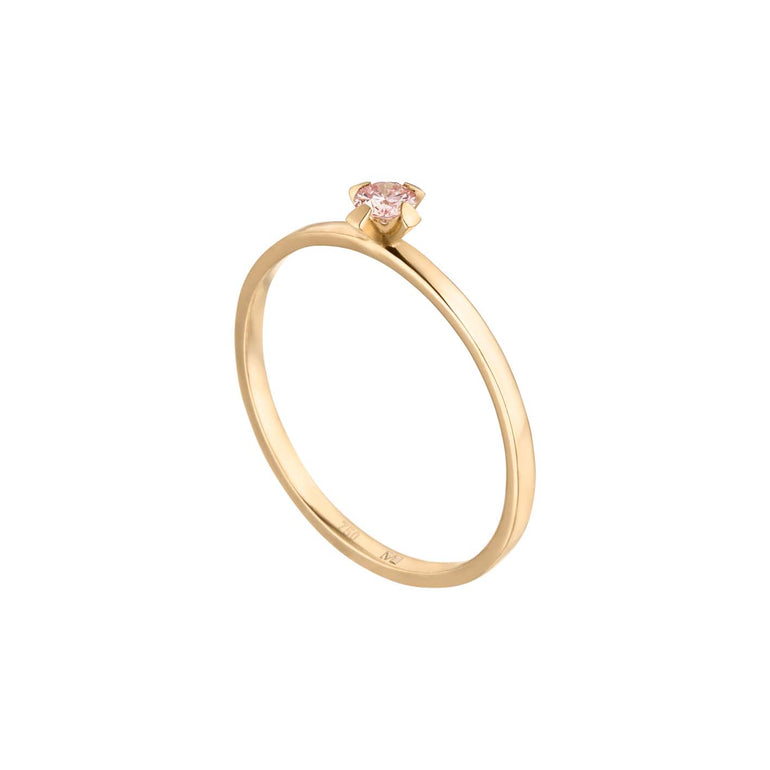 Golden ReMind mini solitaire ring

Handmade:delivered in 3 weeks in DE

Packaging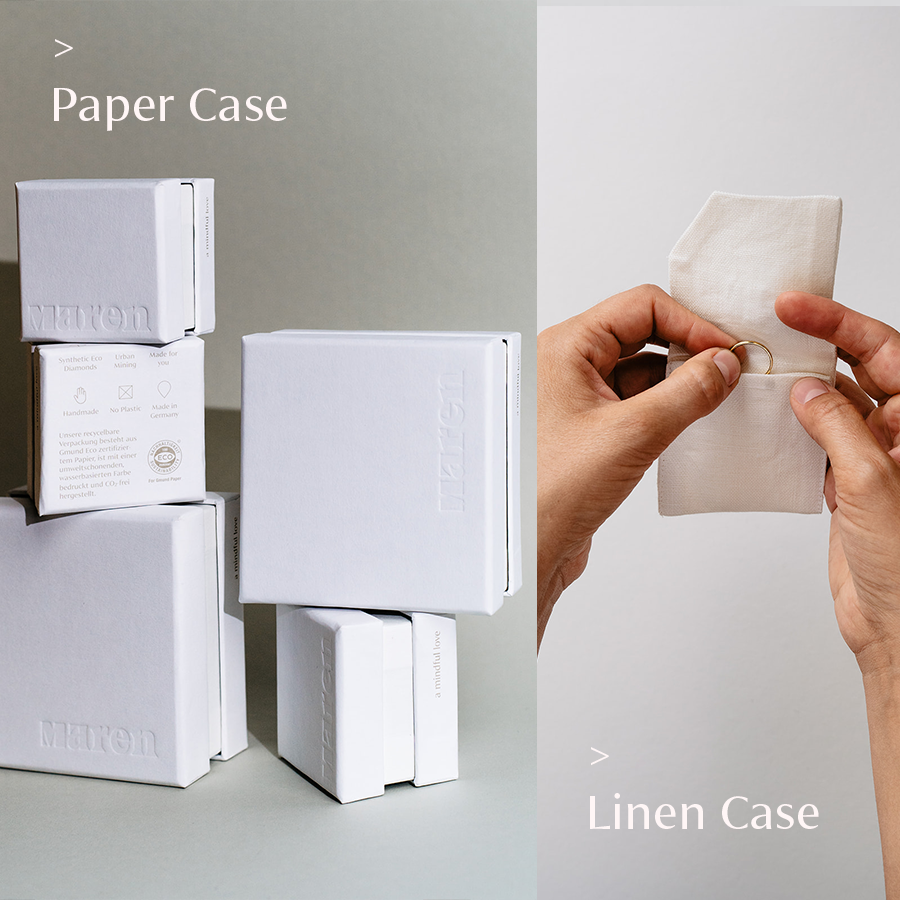 ---
Our gold ReMind Mini Solitaire Ring features a 2.8mm synthetic Eco diamond from Switzerland, making it the subtle version of our classic ReMind Solitaire Ring. It is handcrafted from 18 karat recycled gold and expertly makes the diamond shine with the help of a traditional claw setting. Give shape to your love with our gold solitaire ring, symbolically celebrating the deep and luminous connection to a loved one.
Read more about the ReMind collection and our
Design idea of the golden solitaire ring.
Ring: width 1.3 mm / height 1.1 mm / Top: width 4.5x4.5 mm / height 4 mm

Material:
recycled gold 18 carat from Germany
synthetic eco diamonds 1 diamond 2.8 mm round from Switzerland
cut: excellent - color: G - clarity: VS1 - carat: 0.08 total
> more about diamond valuation

Our solitaire ring is handcrafted for you by:
Designer Helge Hauptmann, Germany
Foundry, polishing company, gem setter from Pforzheim, Germany
Impact:
Production and material of the ReMind Mini solitaire ring require approx. 1.2 kg CO2
We offset 100 kg of CO2 when you buy the piece of jewelry
You save approx. 99% CO2 compared to conventionally manufactured jewelry
Golden ReMind mini solitaire ring
we mind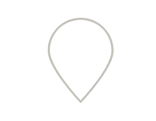 Made in Germany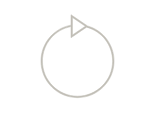 urban mining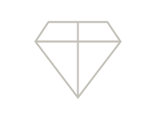 Eco Synthetic Diamonds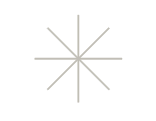 Made for you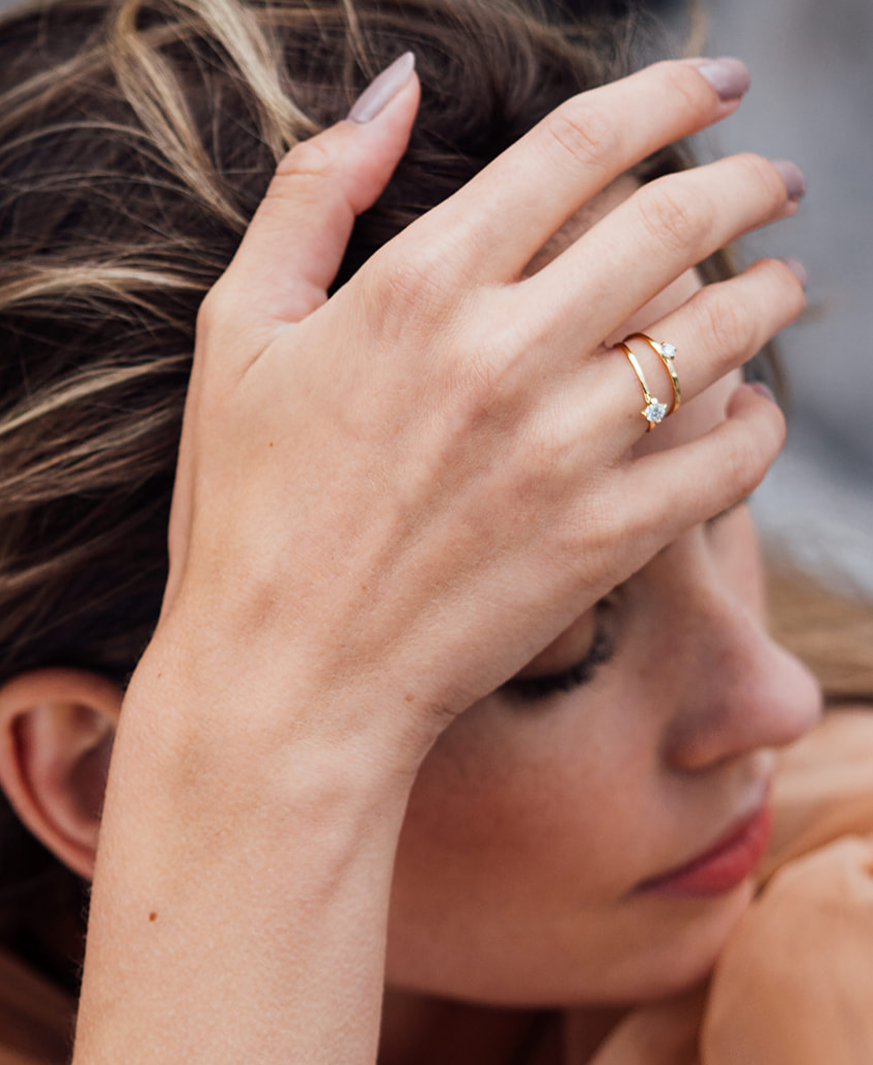 The smallest and most delicate version of our solitaire ring is the optimal choice if you are looking for a popular diamond ring that discreetly tells your great story of love. Finding the right engagement ring is often not so easy. In addition to the appearance, the symbolism should also be right, after all, your partner should wear the ring with joy every day. For many, it is therefore important that the engagement ring is not too flashy and can be worn well on any occasion, even in everyday life.

We think our gold mini solitaire ring combines these requirements perfectly. The small diamond, held by four claws, shines just as brightly as its larger siblings, but nestles a little more discreetly on the finger. Your precious and everlasting, unique love is nevertheless brought into focus with the sublime diamond.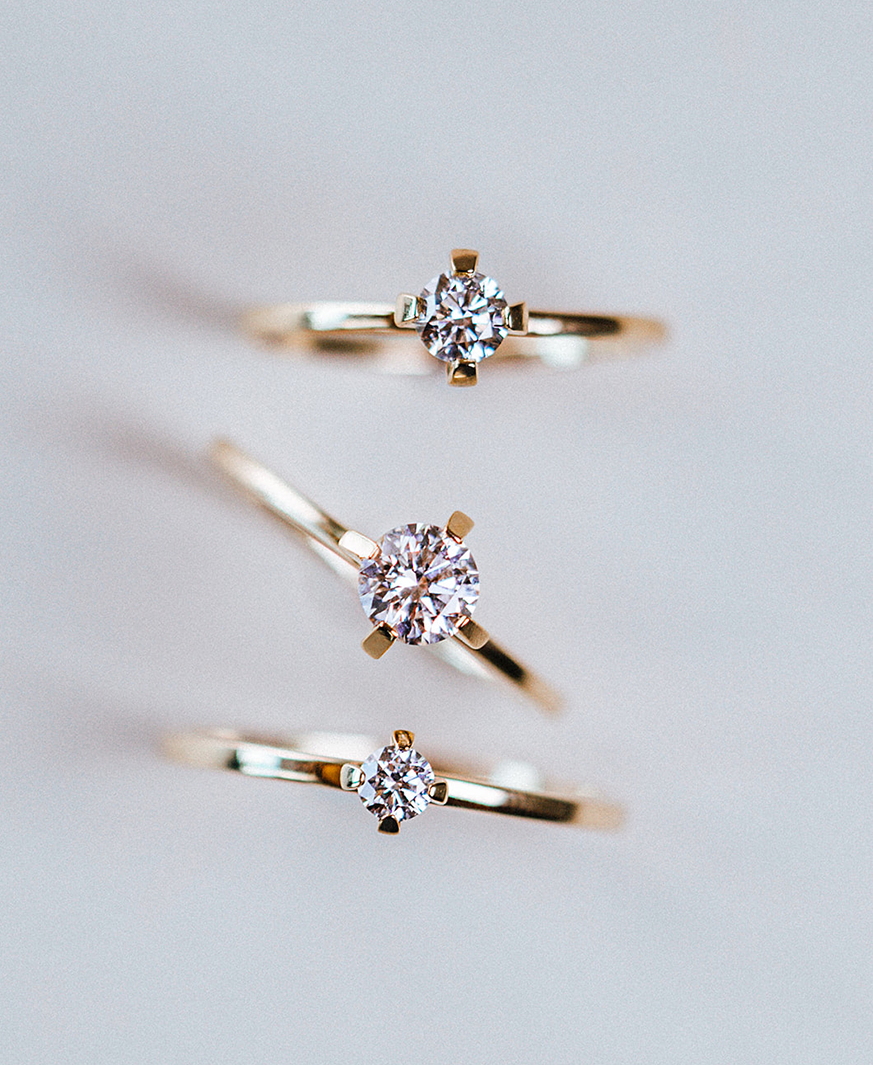 Our gold solitaire rings are as precious as love. They are all made from recycled 18 karat yellow gold or white gold - the most precious gold alloys used in jewelry making. Both alloys used are 75% pure recycled gold.

The term 750 gold is derived from this, as it indicates the total percentage of pure gold within the alloy. The difference in the color of our solitaire rings then results from the other precious metals added in various proportions.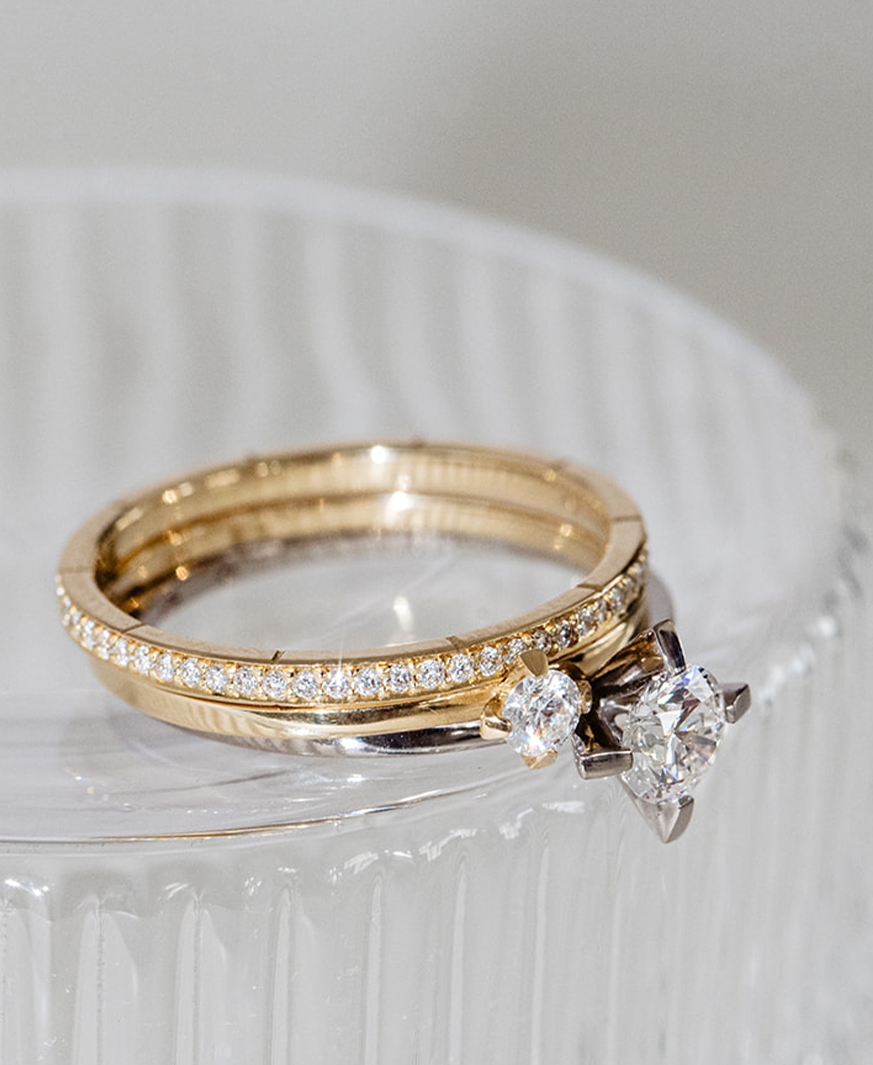 Solitaire engagement rings as lifelong everyday companions?

Unfortunately, it is not uncommon to hear that expensive engagement rings gather dust in the jewelry box after the wedding and are only worn on special occasions. Due to the often flashy designs, they are rarely suitable for everyday wear and are difficult to combine with other rings.

All of our gold solitaire rings, however, are perfectly suited to be worn for a lifetime - even in everyday life - in combination with other rings. Since the diamonds in our solitaire rings are set so high that they can easily overlay other rings, they form beautiful symbioses with them without interfering with or even scratching other rings.

A wonderfully symbolic and popular combination is to wear the solitaire engagement ring as a stacking ring before the wedding band. Together with a plain wedding band, such as our slim Essential ring, is thus symbolized the consolidated love, in which the marriage is secured by the engagement ring sitting in front of it.
Frequently asked questions about the mini solitaire ring
What distinguishes the different solitaire rings from Maren Jewellery?
At Maren Jewellery we have designed three different variants of the ReMind solitaire ring: the mini, medium and regular variant. They differ in the size of the set diamond. In each variant you can also choose between yellow gold and white gold, as well as different diamond colors.
Where do the diamonds in Maren's gold solitaire rings come from?
We source our lab-grown diamonds through two different, highly valued partners who share our vision of sustainable, responsible stewardship of our earth: the Diamond Foundry, which grows Eco synthetic diamonds in the USA, and Swiss Diamond Vision, which grows synthetic diamonds in the lab in Switzerland using HTHP technology. Our solitaire rings are all set with diamonds from Switzerland.
Do the solitaire rings from Maren Jewellery have a claw setting?
In solitaire rings, the exposed diamonds are held by a setting on the ring. Traditionally, a claw setting is used for this, which is also known as a claw setting or handle setting. Wire-shaped pins or clasps, called claws, are placed around the diamond so that it is as exposed as possible on the ring and is thus particularly emphasized. Usually four or six claws are used for this. Our solitaire rings are designed with a 4-pin prong setting. Because the claws do not completely enclose the diamond, the light can reach the diamond unhindered from all sides and be optimally reflected by it. The maximum amount of light allows the diamond in the solitaire ring to sparkle in its own special and wonderful way.