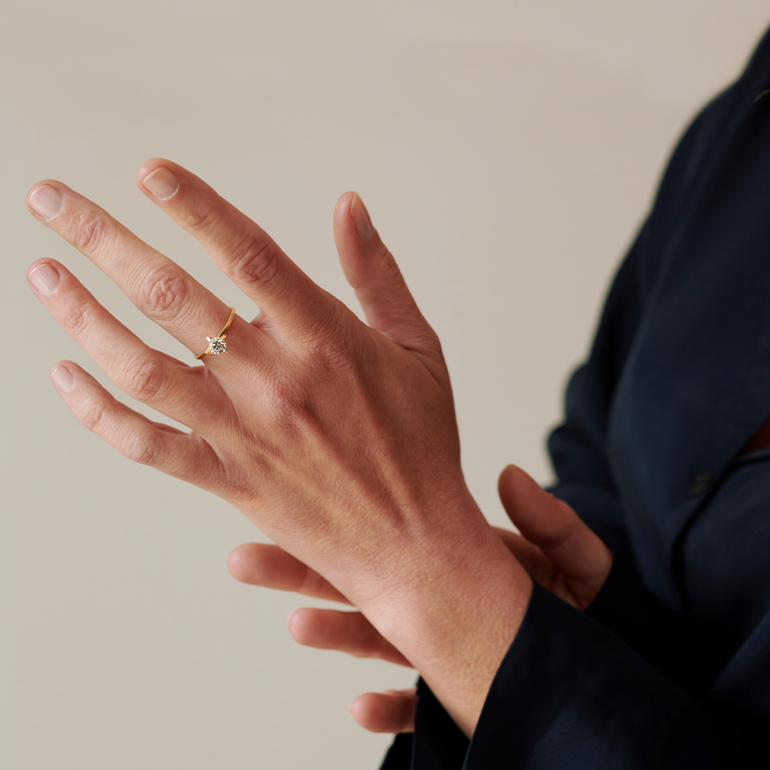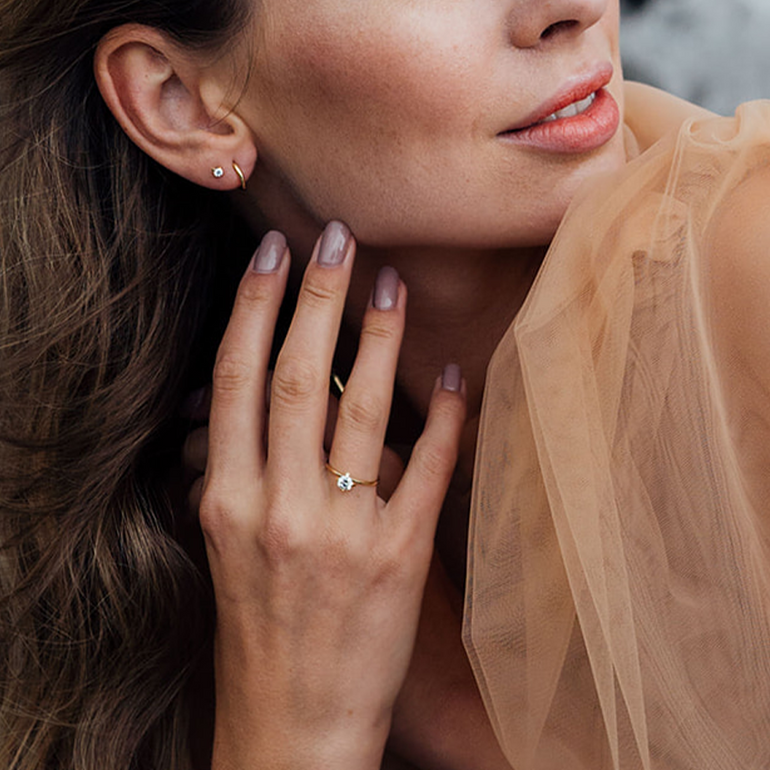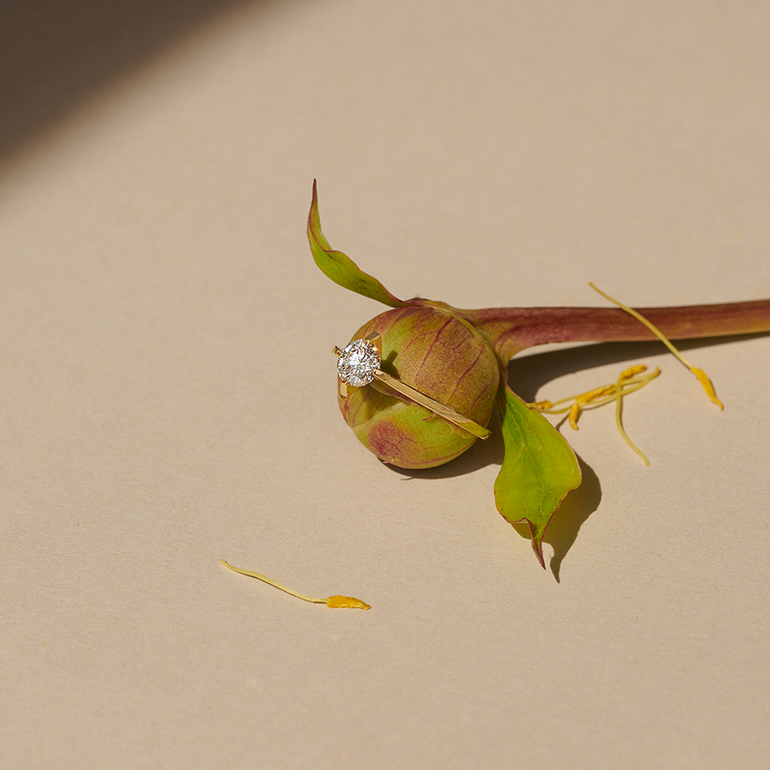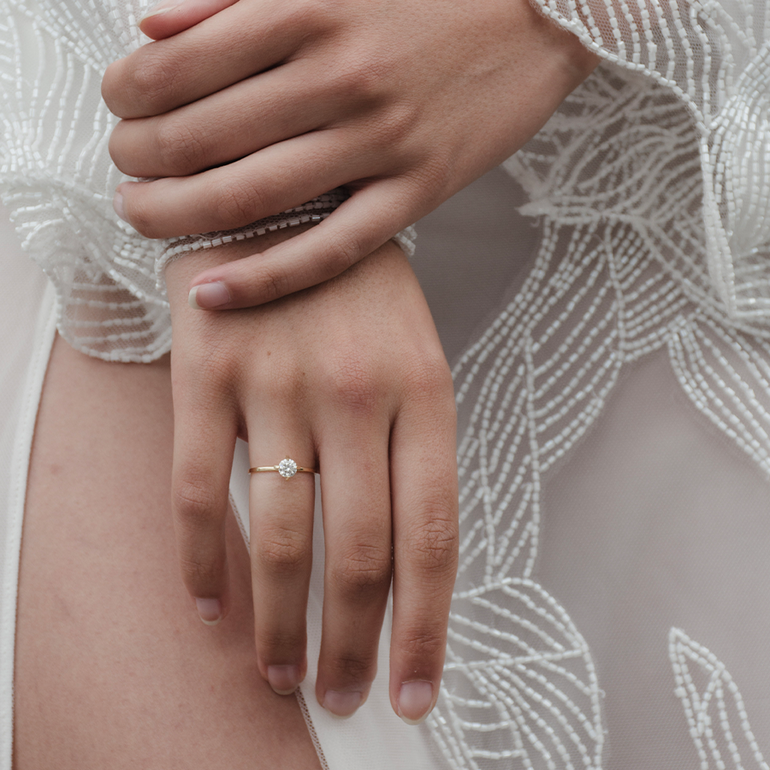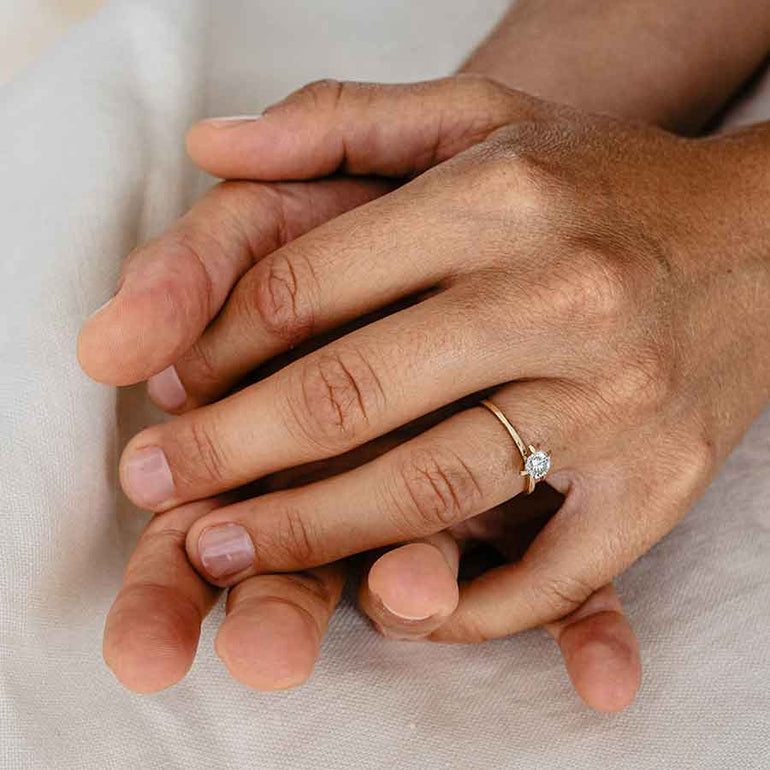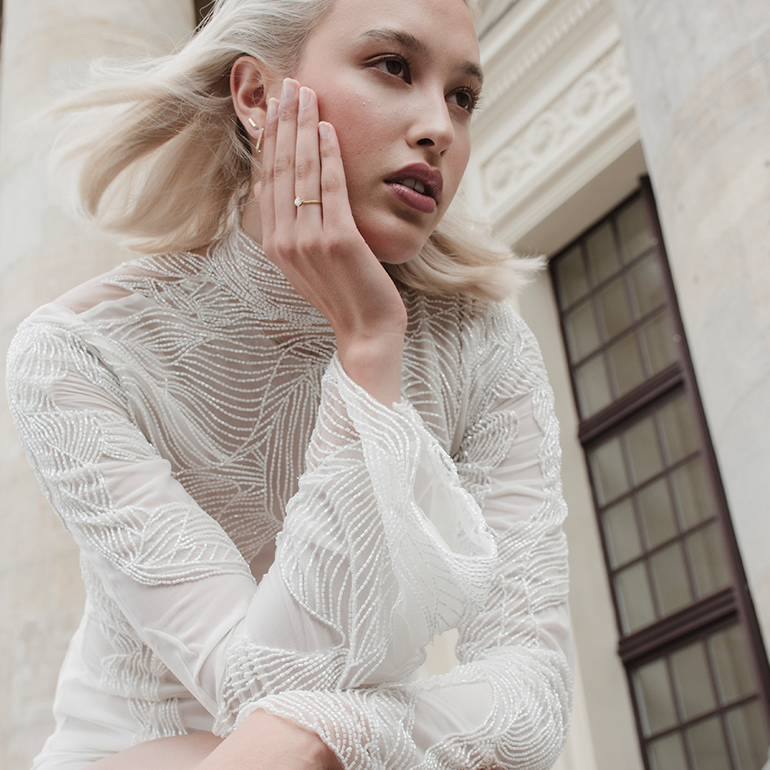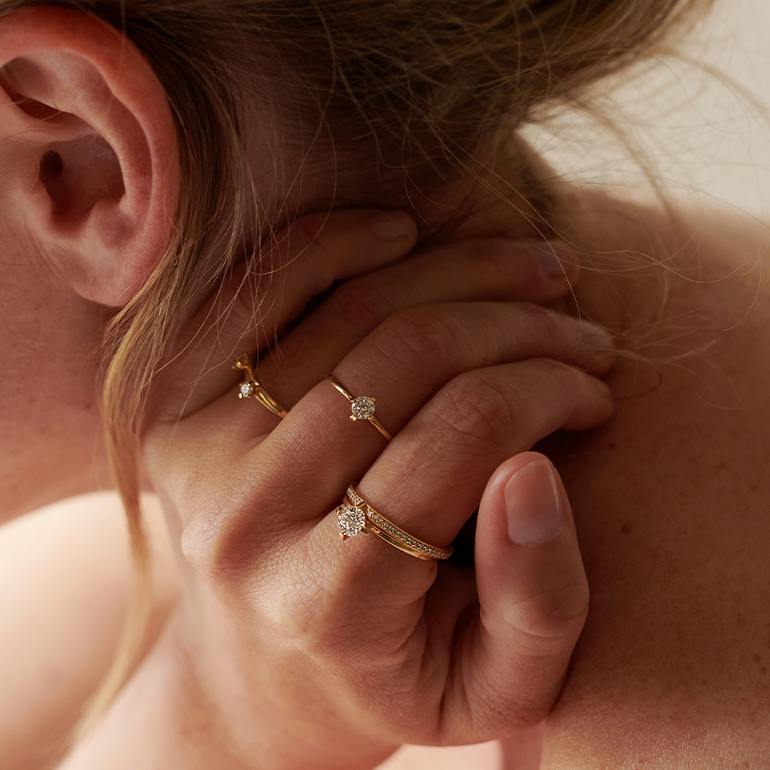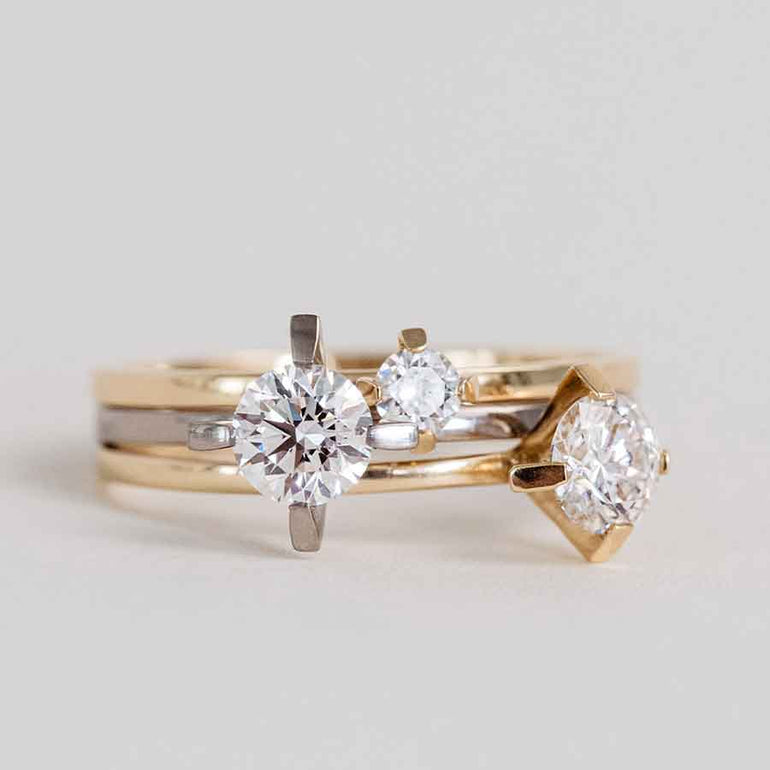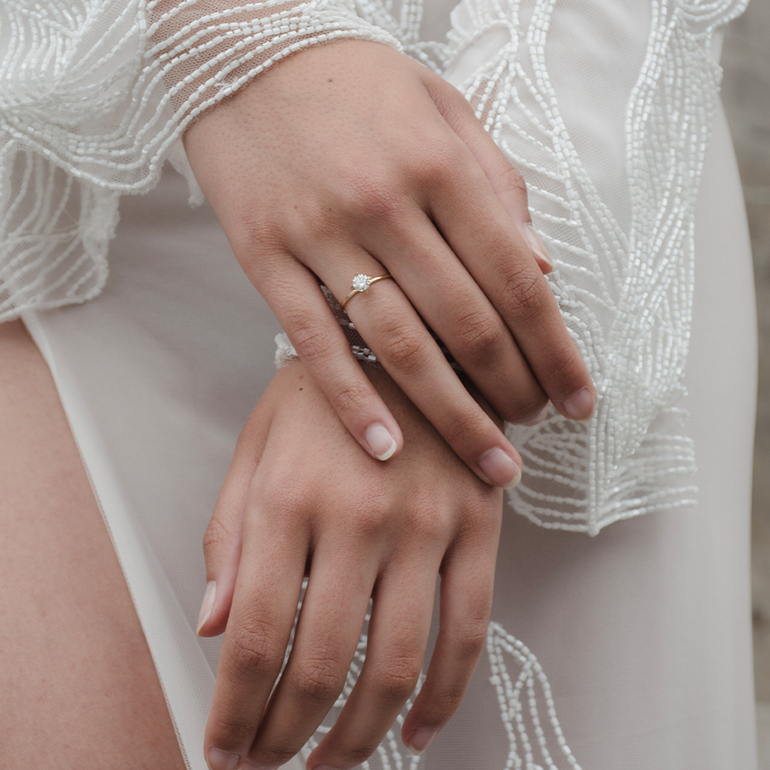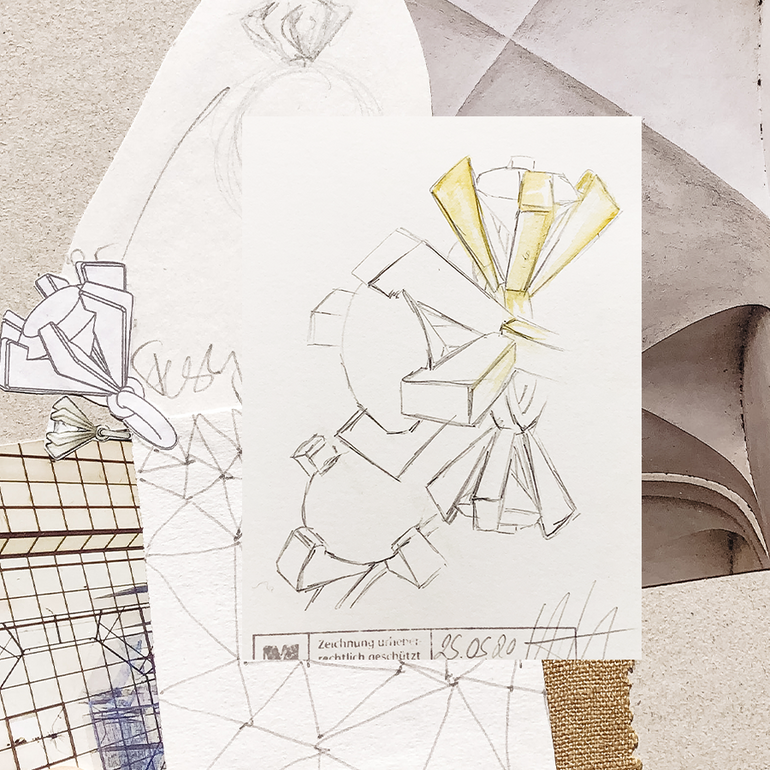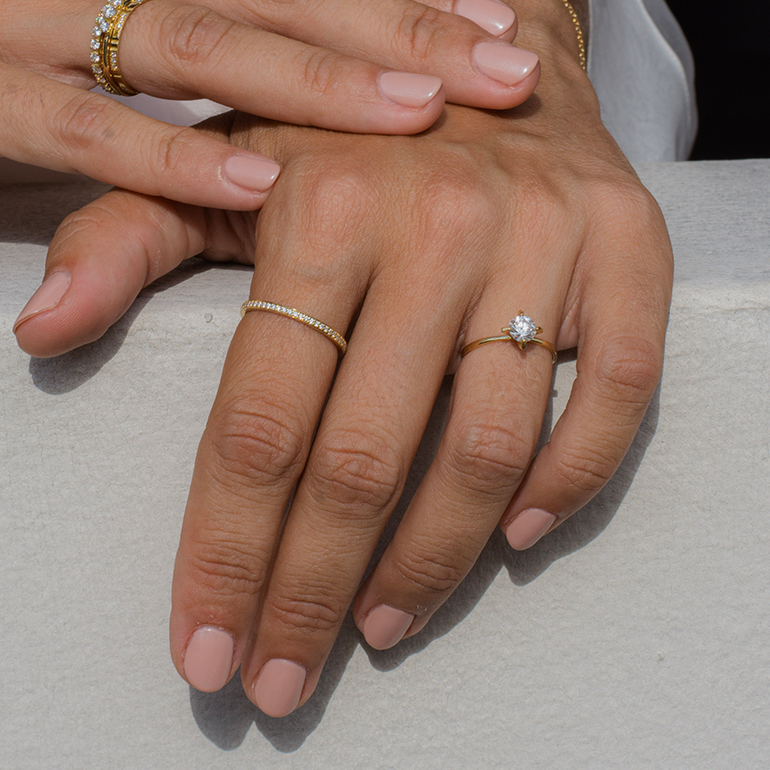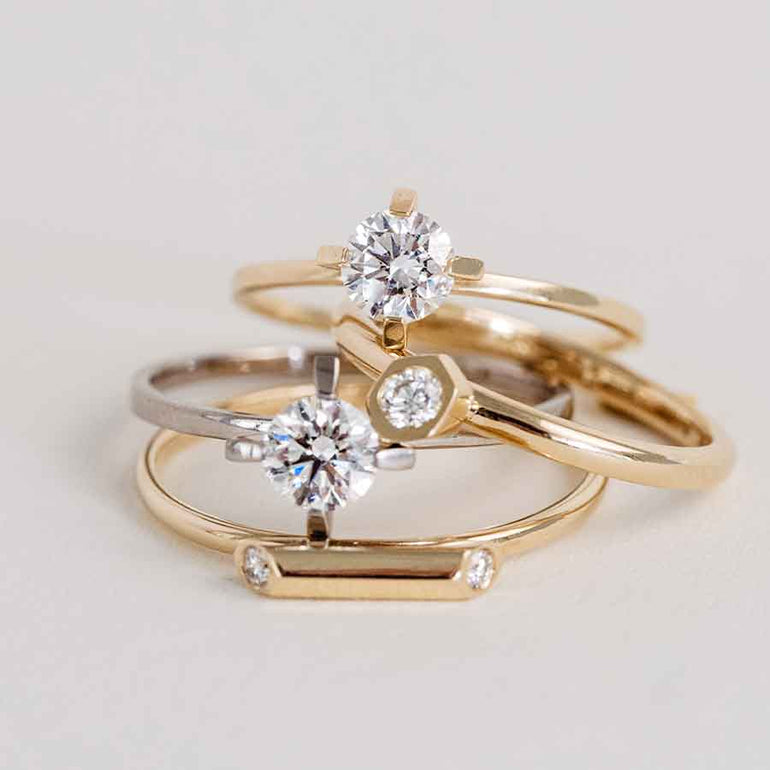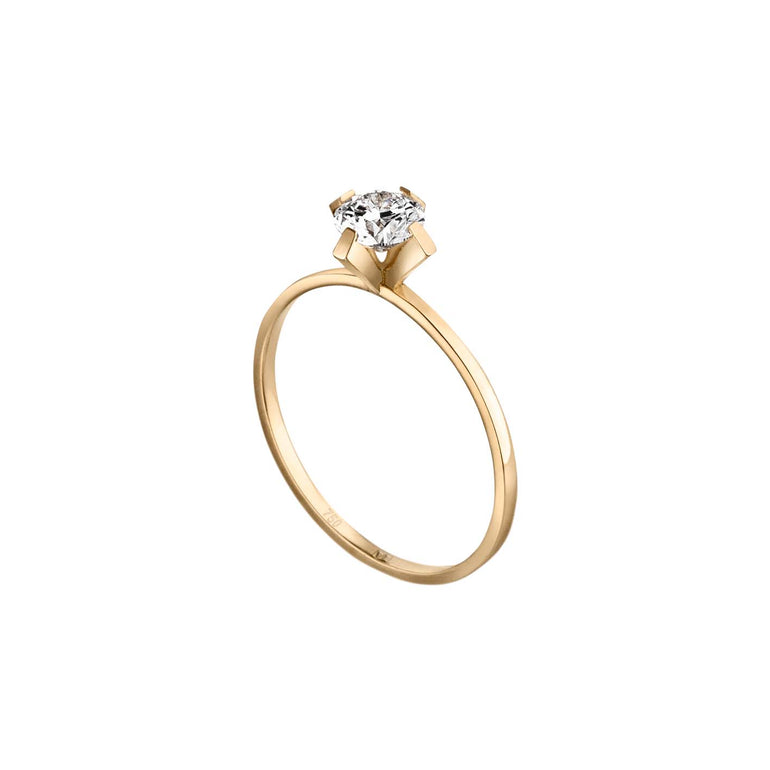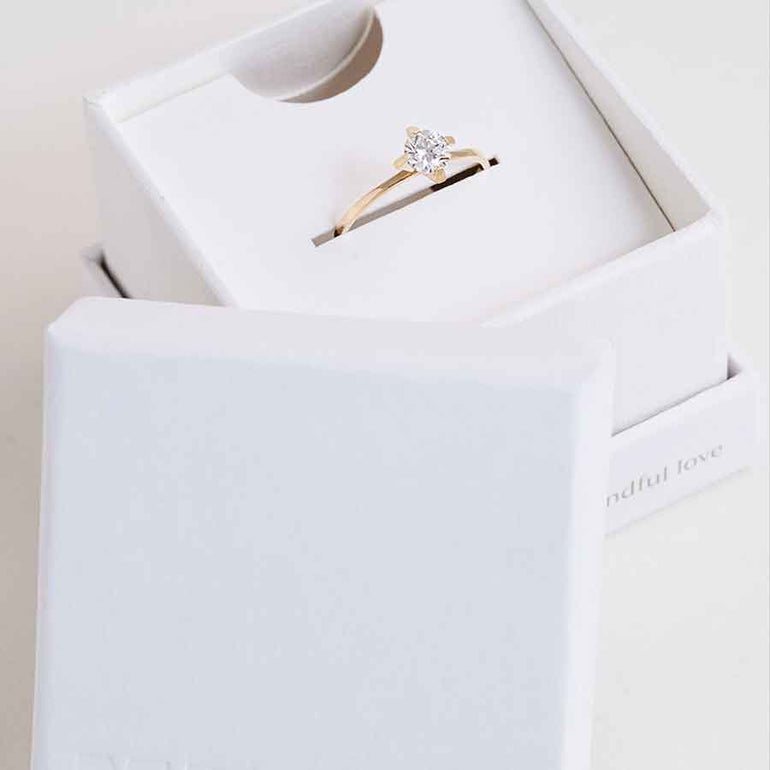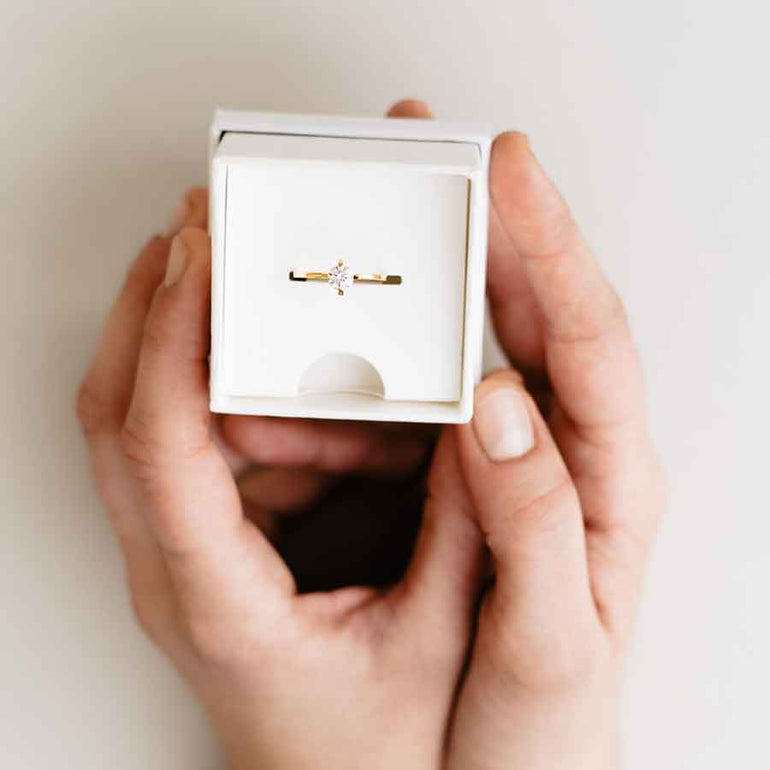 18k recycled yellow gold & lab diamond

Handmade:delivered in 3 weeks in DE

Packaging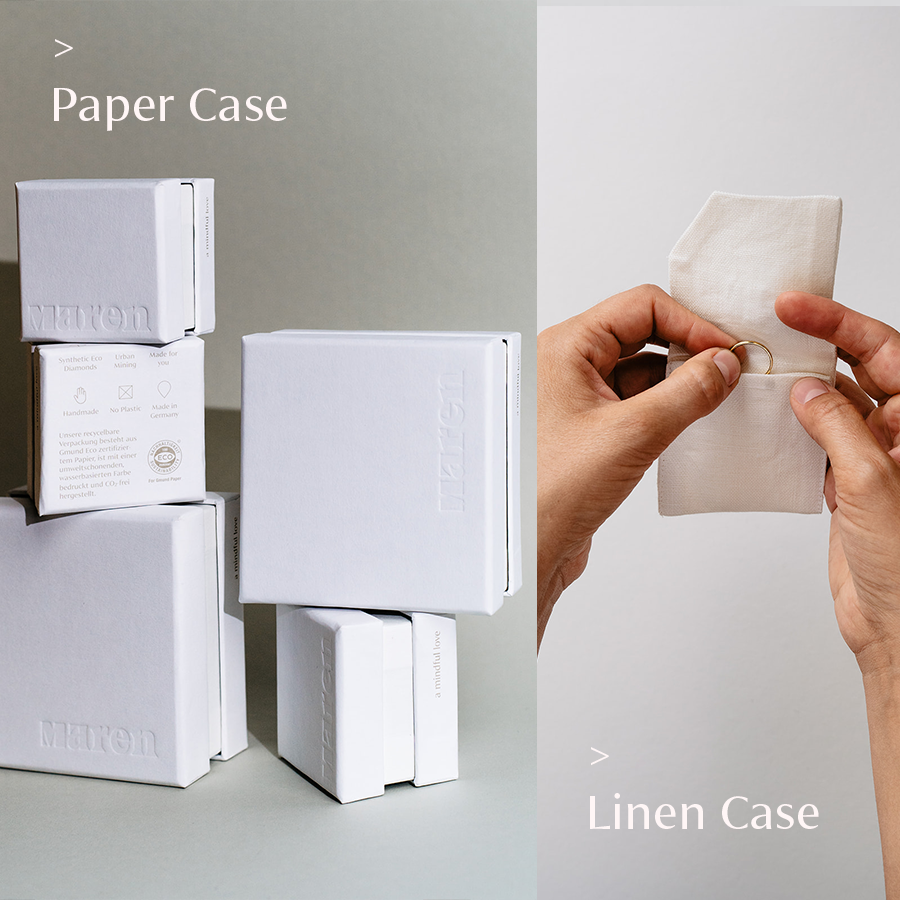 ---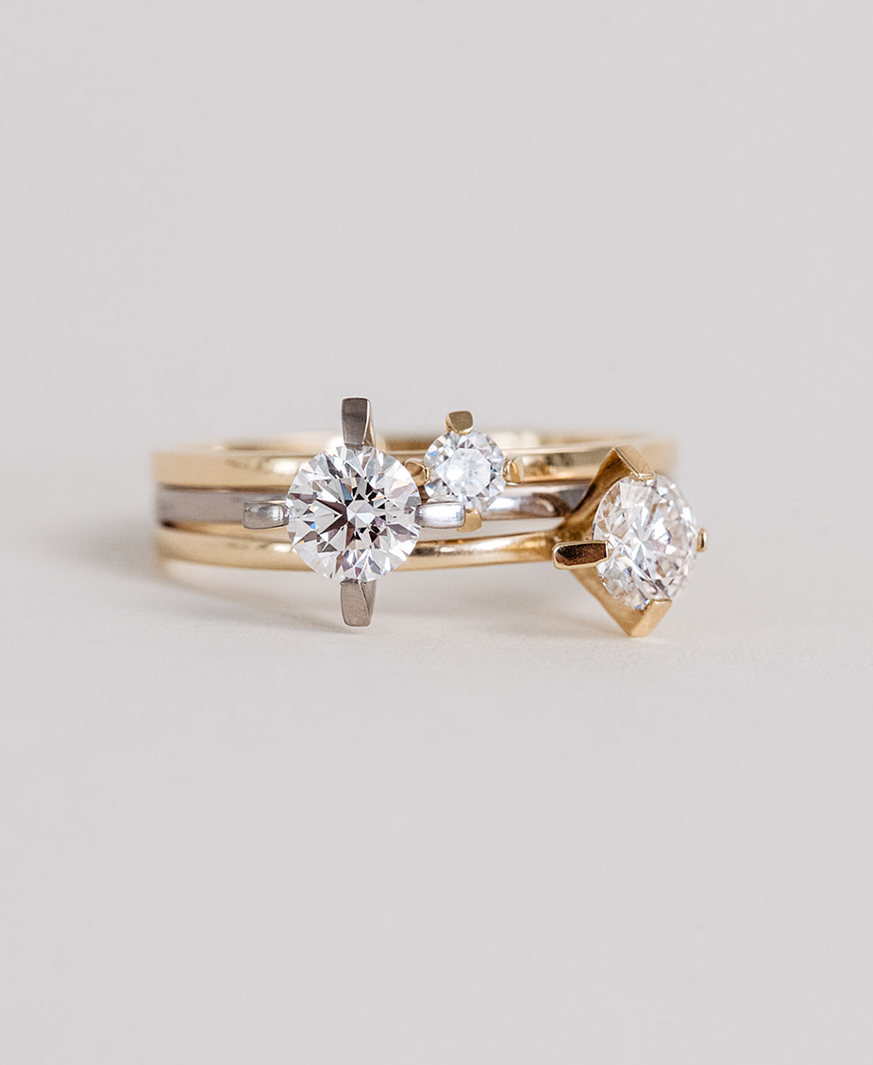 Are you looking for a traditional ring that stands out but you can't go wrong with?

Then solitaire rings are the perfect choice. A single, round diamond forms the centerpiece of this classic, which has been a popular engagement ring since the 19th century. The particularly strikingly staged, single diamond symbolizes the intimate and unique relationship with a life partner and the imperishability and preciousness of love.

By simply showcasing a diamond and foregoing other flashy design elements, the Solitaire ring is timeless, perfectly combinable and thus a loyal, lifelong companion.

The special feature of the Solitaire ring is the setting, which holds the diamond with four or six claws and makes it shine. To us, it almost looks as if the diamond, and thus your love, is being carried on your hands.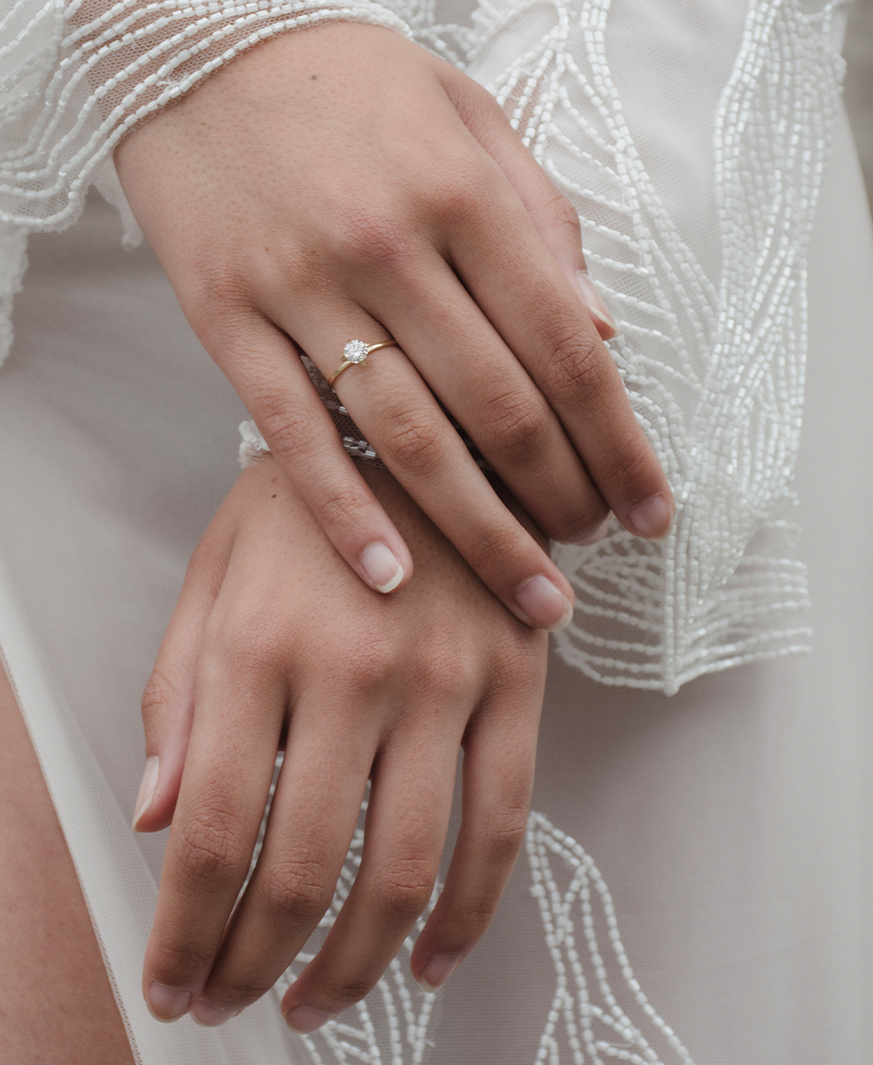 You are about to get engaged and are looking for a suitable engagement ring? You are very concerned to find a ring that not only pleases both of you, but also symbolizes your love and expresses the unique and responsible connection between you?

We think our Solitaire ring is an excellent choice: not only is it elegant and a timeless, classic beauty, but it also embodies wonderfully sustainable and responsible values.

From the design process, to material sourcing, production, delivery, packaging, to possible customization and lifetime use options, it is completely sustainably thought out and manufactured.

With our Solitaire Ring you give your pure and mindful grown love thus an adequate, jewelry turned symbol!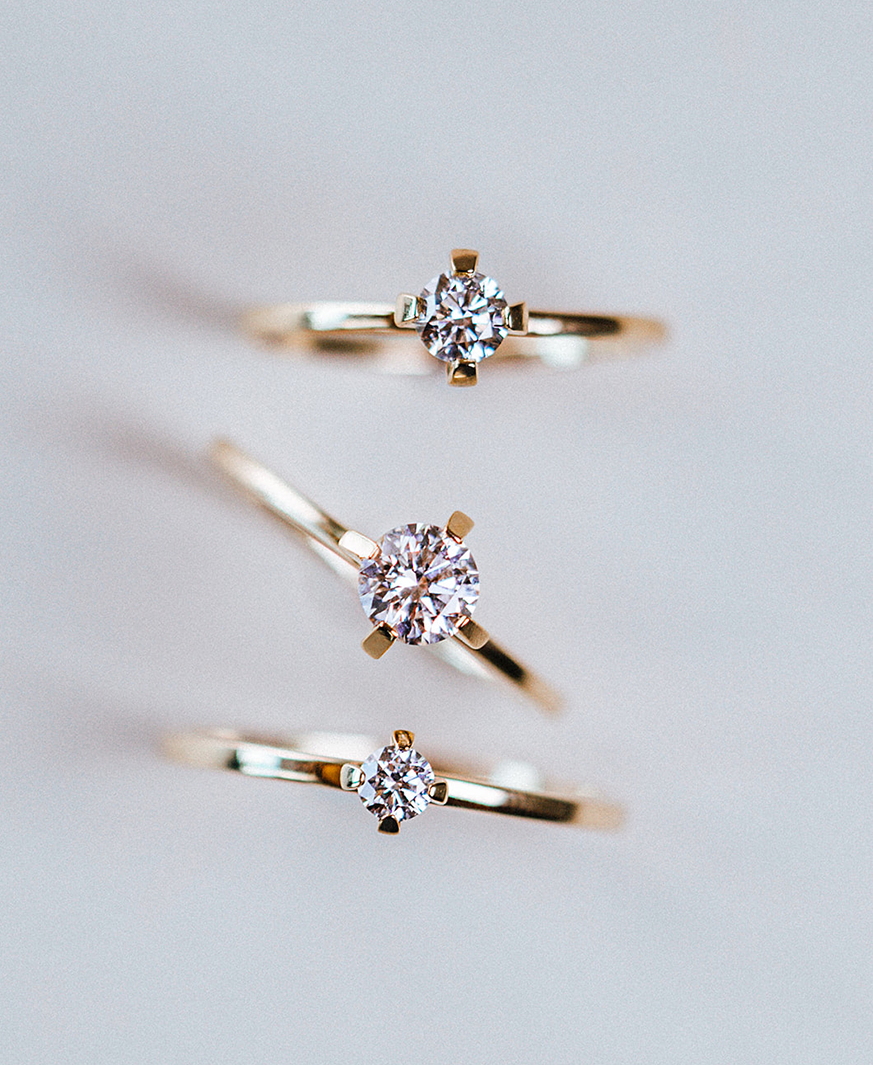 At the heart of our Solitaire ring is a high quality and precious synthetic diamond that is every bit as good as natural diamonds.

Visually, in terms of hardness and chemical composition, it is completely identical to its natural counterpart.

For us, this underlines the purity of love even more, because how wonderful is it to wear on your finger a token of love that has been obtained in a sustainable and humane way and has not endangered our environment, nor people in crisis zones?

Our Solitaire Ring: as radiant and responsible as your love!
Frequently asked questions about the solitaire ring
What is a claw setting?
In solitaire rings, the exposed diamonds are held by a setting on the ring. Traditionally, a claw setting is used for this purpose, which is also known as a claw setting or handle setting. Wire-shaped pins or clasps, called claws, are placed around the diamond so that it is as exposed as possible on the ring and is thus particularly emphasized. Usually four or six claws are used for this. Our Solitaire rings are designed with a 4-pin prong setting. Because the claws do not completely enclose the diamond, the light can reach the diamond unhindered from all sides and be optimally reflected by it. The maximum amount of light allows the diamond in the solitaire ring to sparkle in its own special and wonderful way.
What material are solitaire rings made of?
Both the ring band of a solitaire ring and the setting that carries the diamond are usually made of high quality precious metals, such as gold or platinum. Our ReMind Solitaire ring line is made of 18 karat gold throughout. There is a choice of yellow gold or white gold, depending on whether more contrast with the stone is desired or the ring should be kept a solid color. It is important to us: a ring as valuable and symbolically strong as the Solitaire ring should be made of the highest quality materials and in the best quality in order to develop its full radiance optimally.
Is a solitaire engagement ring the right choice?
Of course, tastes are different. While some like it flashy and fancy, others prefer it simple and discreet. We think the traditional solitaire engagement ring is an optimal mix that combines both. While the diamond is optimally staged as a radiant eye-catcher with the help of the lobed setting, the rest of the ring is kept very simple, so that it can be optimally worn together with other rings in combination. Since we offer the Solitaire ring with diamonds in 3 different sizes, everyone can decide for themselves how big and flashy it may be. In our opinion, you can't go wrong with the Solitaire classic and choose a beautiful ring that symbolizes the uniqueness and purity of love.