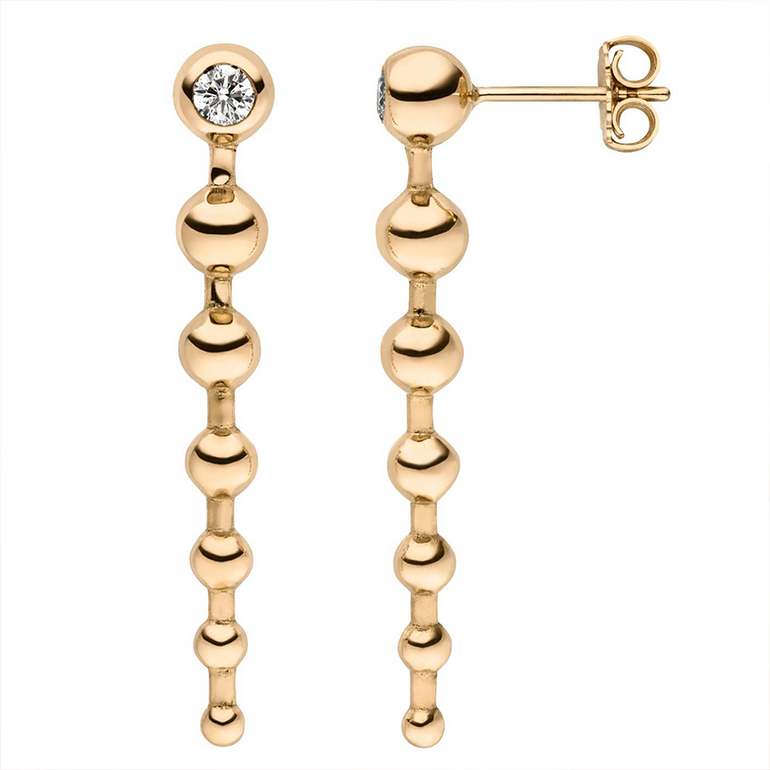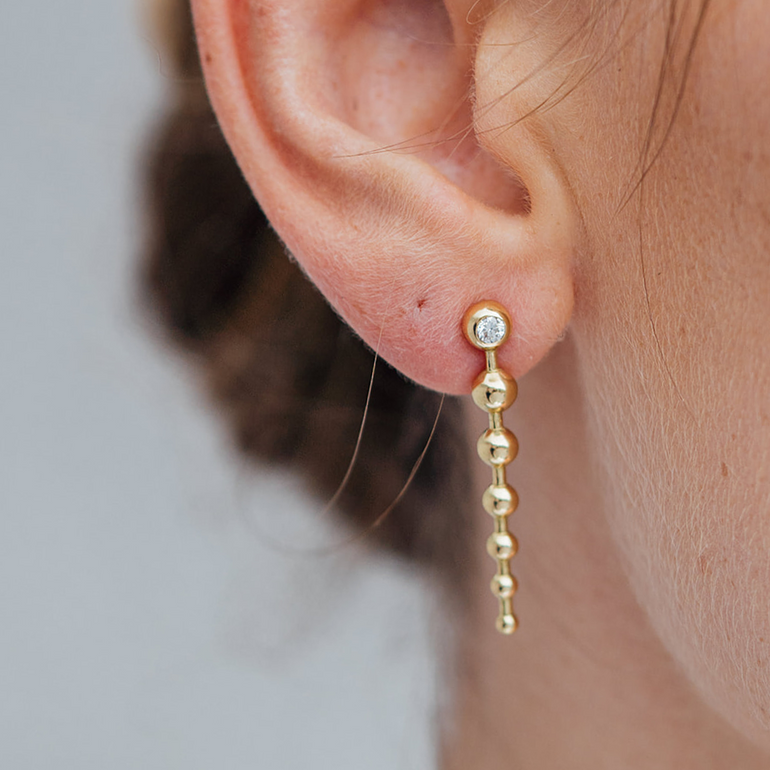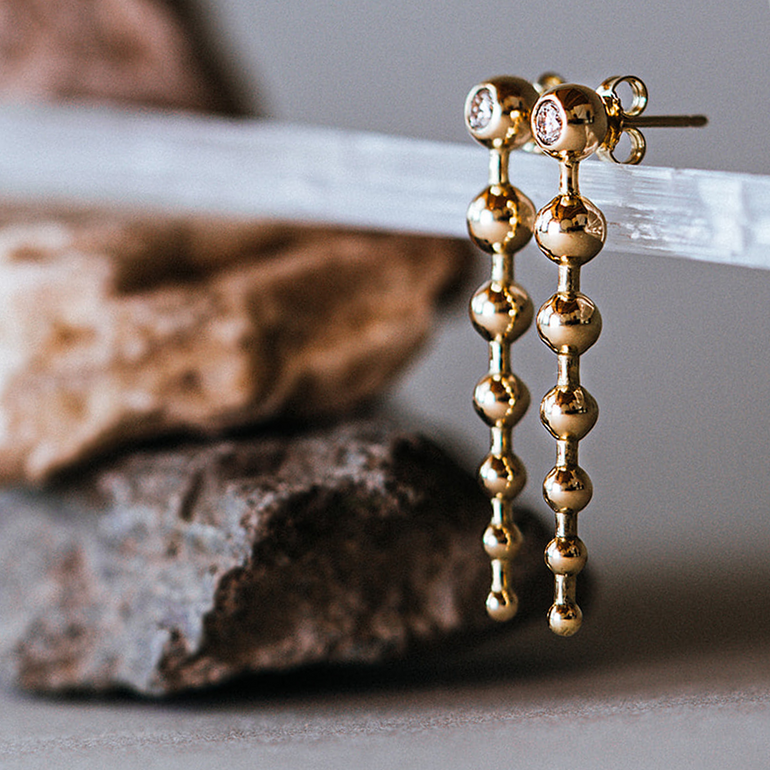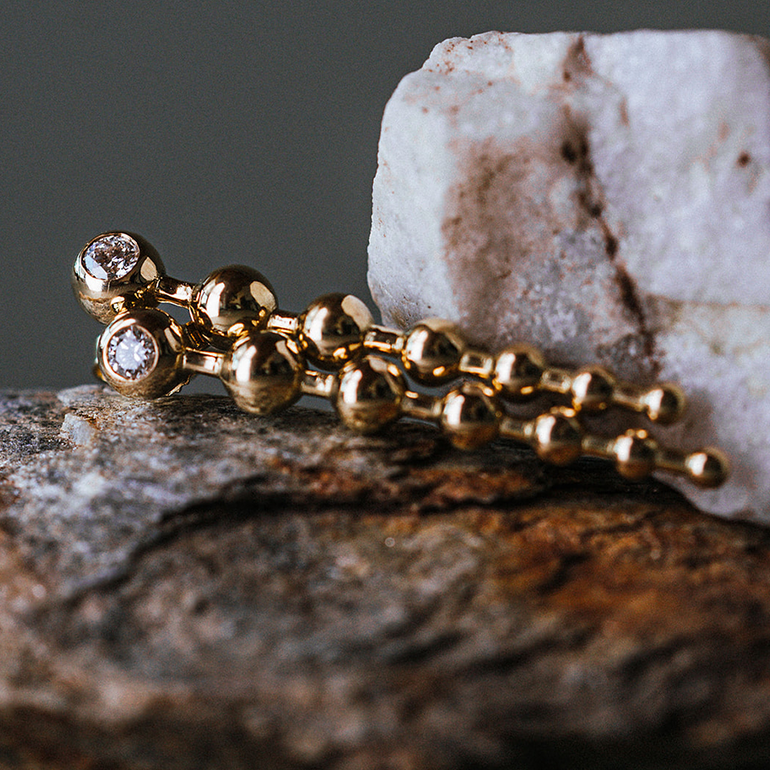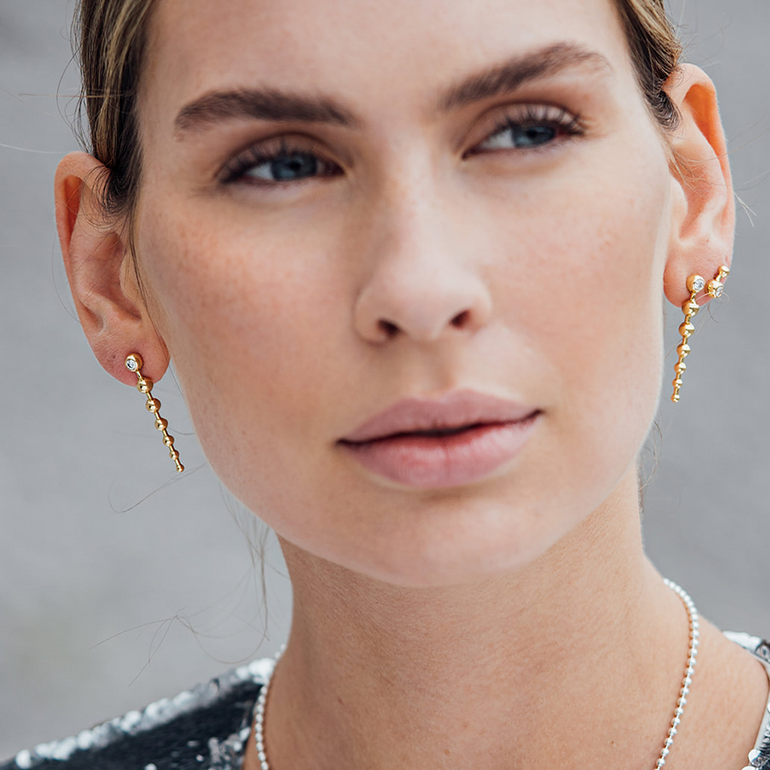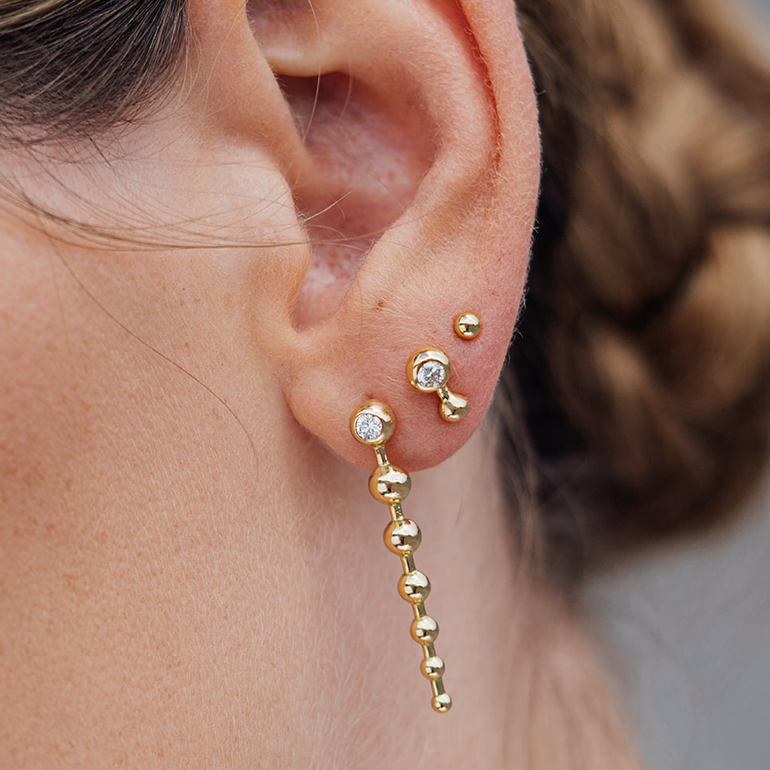 Handmade:delivered in 1 week in DE

Packaging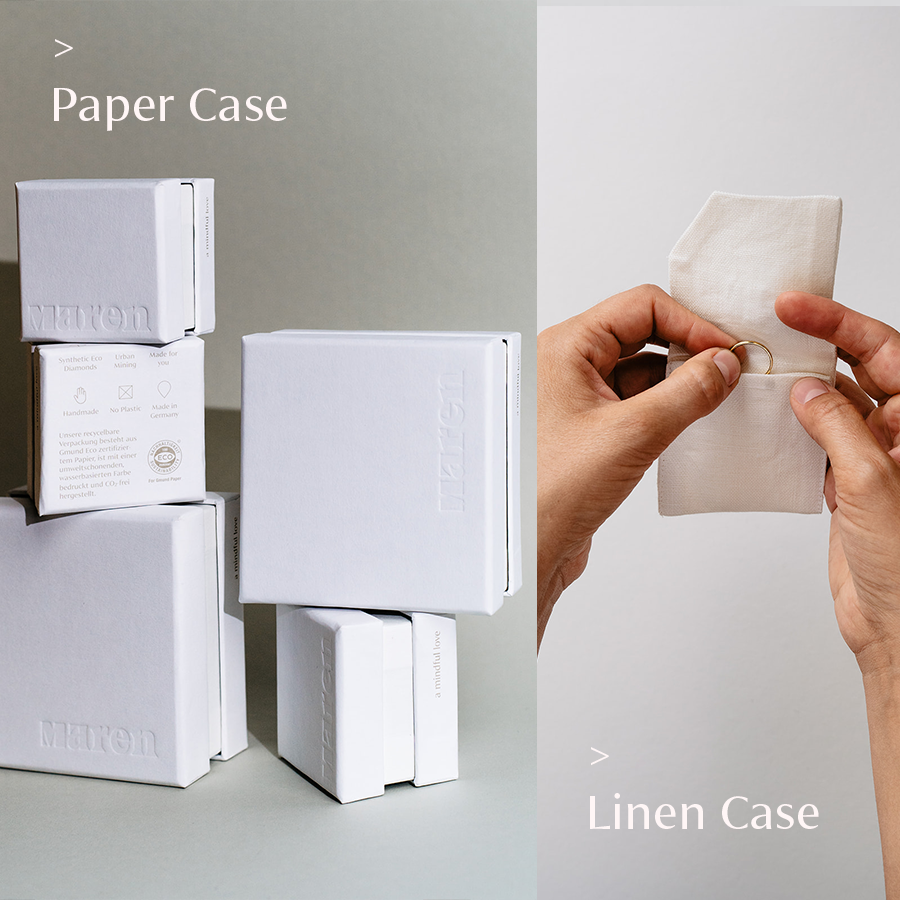 ---
Our hanging Cosmic Dreams earrings remind us of the magic of shooting stars that have found their way to us. Hardly anything invites us to dream more than looking at the stars and their twinkling. And suddenly a shooting star. Happiness, hope, wishes, the feeling of connection - we feel all of this united in this brief moment. Everything belongs together for a brief moment. With the Cosmic Dreams earrings made of 18-carat recycled gold, which sparkle like shooting stars through a synthetic Eco diamond, we have turned such a rare moment into jewellery.
More about the Sphere collection and design idea of the
Cosmic Dreams Ohrrings.
Width 2.4- 5 mm / Length 37 mm / Height 5 mm

Material:
recycled gold 18 carat from Germany / pins and clasp recycled gold 18 carat from USA
synthetic eco diamonds 2 diamonds each 3mm round from Switzerland
cut: excellent - color: G - clarity: VS1 - carat: 0.2 total
Evaluation of Diamonds with the 4 C's.
Cosmic Dreams earrings handmade for you by:
Designer Helge Hauptmann, Germany
Foundry, polishing company, jewel setter from Pforzheim, Germany
Impact:
Production and material of this earring require approx. 2.8 kg CO2
We offset 100 kg of CO2 when you buy the jewel
You save approx. 97% CO2 compared to conventionally produced jewellery.
we mind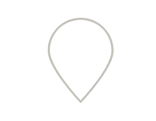 Made in Germany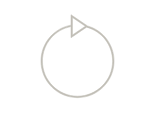 urban mining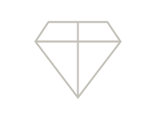 Eco Synthetic Diamonds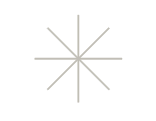 Made for you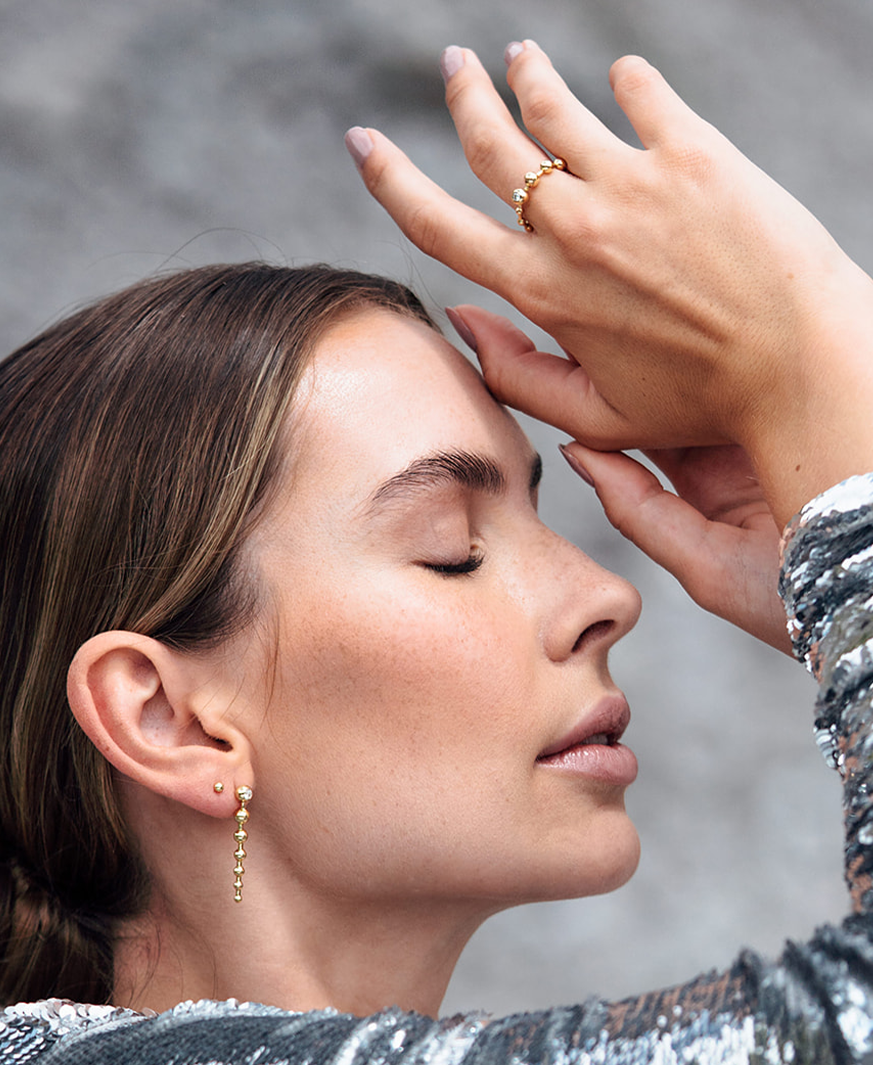 Complete your Cosmic Dream look by wearing the sparkle of shooting stars not only on your ears, but also on your finger. Our Cosmic Dreams sphere ring gently wraps around your finger with its gold beads that look like pearls. This jewellery duo of ring and earrings adds the finishing touch to any outfit.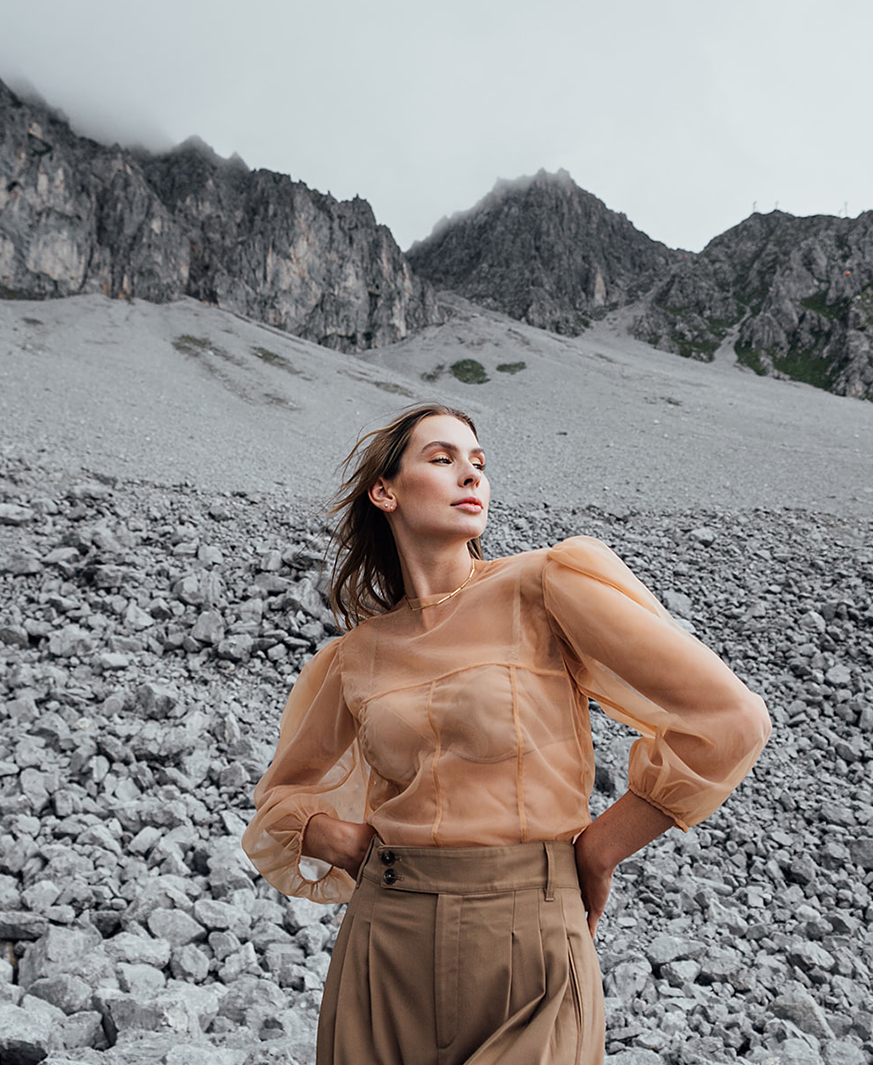 As a sustainable, mindful and responsible company, we are happy about every new label that wants to join us on the path towards a more sustainable future. That's why we've gathered some of our favourite fashion labels that create timeless and trend-spanning fashion collections from natural sustainable materials to inspire you.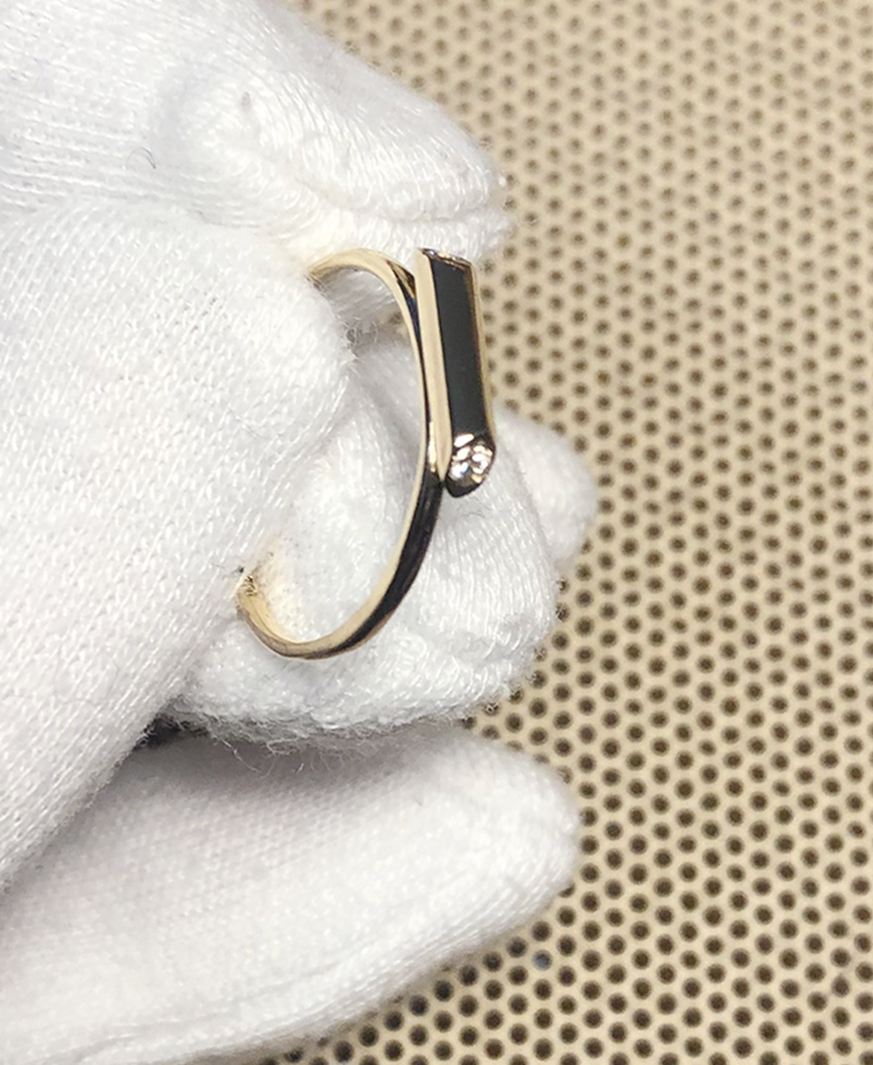 To preserve the beauty of your favourite pieces of jewellery in the long term and to give them a new shine every now and then, you should have them professionally cleaned at regular intervals. External influences such as the sun, cosmetics and sweat lead to unsightly discolouration over time. Take advantage of our refresh service and your jewellery will shine like the first day in no time.
Frequently asked questions about the Sphere ear stud
How soon can I expect to receive my Cosmic Dreams earrings after ordering?
For orders from Germany, we will ship your ordered jewellery within 3 weeks. If you order from our European delivery area (all EU countries as well as Switzerland, Norway and Great Britain), we will ship your order within 4 weeks. We need this time because your new favourite piece of jewellery is handcrafted 'Made to Order' for you.
What are the best occasions to wear the Cosmic Dreams hanging earrings?
We think: It doesn't take a special occasion to adorn yourself with your favourite personal jewellery. Every day can be worth making a statement with special earrings. However, the Cosmic Dreams hanging earrings look particularly beautiful with shorter hair or updos. You might prefer to wear the latter to occasions like weddings, business events or graduations.
Do the earrings require any special care?
Due to their design, the hanging Cosmic Dreams earrings have a slightly larger surface area and also a few more gaps than other models. Therefore, deposits can form over time, which need to be gently removed. You can either do this yourself with the help of a Jewelry Care Set, or you can make use of our Refresh Service and we will carry out a professional jewellery cleaning.